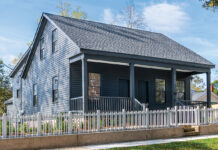 Newly restored Chinaberry Cottage has gone from an eyesore property to a structurally sound and attractive building.
From the Vietnamese Pho at Pho 88 to the Schnitzel at Osman's, here's what our food contributors are raving about this month.
Take a dive into a 1921 class photo from the Mobile County Training School in Plateau.
Even the most artistic souls need fresh inspiration from time to time. Five local artists share their go-to sources to kick-start creative thinking.
DIY maven Chelsea Lipford Wolf walks us step by step through the exterior transformation of her 1950s ranch house renovation.
Pull up a chair at Local and Company, Foley's newest dining destination.
After a long year stuck at home, you've earned a summer full of exciting activities and events. Get out there and enjoy it!
Physical therapist Kristye Chastang helps children achieve the impossible through hippotherapy at Bay Minette's Buckaroo Barn.