Chinaberry Cottage at the foot of Spring Hill has maintained the same disheveled appearance for years, so when it underwent an incredible transformation, many regular passers-by may have done a double-take. If you couldn't believe your eyes the first time you saw the cottage post-makeover, that's understandable. Where once sat a building so overgrown that the cherry-red walls were barely visible beneath a tangle of green, there now stands an immaculate structure sporting a bold charcoal exterior, neatly bordered by a white picket fence.
The history of the Old Shell standout dates back to 1862 when it was first constructed by Philip Pfau. Pfau, a bootmaker by trade, was an immigrant from Baden, Germany. He even had his own boot business — The Pfau Company. Little else is known about him except that he died in his home in 1896. He was 76 years old and had been a Mobile resident for 45 years. His cottage was sold in 1897 to an unknown person. Surviving documents state that the sale included the "household furniture, one horse, one cart and harness, one buggy and harness and one wine press."
In the following year, 1898, the cottage's future owner was born. Her name was Anne Randolph Crichton, and she was the woman who would tend the cottage with love and give it a place in Mobile history. She christened the cottage "Chinaberry" and adorned it with its iconic red paint color. As the daughter of Hugh Crichton, the founder of the town of Crichton, Anne spent her early years romping around the Gulf Coast. She must have had an audacious spirit, as she was among the first women to ever enlist in the U.S. Navy at the outbreak of World War I. Anne traveled extensively throughout her career, keeping detailed scrapbooks of all her adventures abroad. Eventually, she wanted to get back to her roots, and she purchased the Mobile property upon her retirement from the Navy in the 1950s — approximately 50 years after Pfau's death.
Not only was Chinaberry the dwelling of a remarkable woman, it is also an excellent example of early 19th-century Creole architecture. It consists of four rooms and a characteristic half-story attic. A defining feature of the layout is that there is no interior hallway — one enters a room by going through another room. Another distinct aspect of the dwelling is the kitchen, which is a detached structure. The property contains another outbuilding as well, a small chapel with lovely stained-glass windows, which was added by Anne. She was also an avid gardener, and her yard was known for its abundant blooms and verdant foliage. There were likely Chinaberry trees on the lot in her day as well, hence the name, but none remain on the property today.
After Anne's death, the house sat vacant and slowly began to deteriorate. Its history and classic Creole characteristics garnered Chinaberry a spot on local architectural historian John Sledge's Restoration Wish List back in 2013.
In 2018, Sledge's wish was granted when president and CEO of Burton Property Group, Philip Burton, decided to purchase the overgrown abode.
"I am a fan of historic Creole cottages, and it being close to the street, it felt as if it could be a commercial building — possibly a small restaurant or a bakery or someone's office," Burton reflects.
He would have to journey down a long road before the cottage's potential could be realized. After sitting vacant for more than 30 years, Chinaberry was in dire need of aid at the time of its purchase. "It was caving in on itself," Burton remembers. "While it looked probably not as bad on the Old Shell Road side, if you walked around to the rear, there were portions of the house that were collapsing. It was just a matter of time before the whole property was taken over by Mother Nature."
With an undertaking this massive, most would not know where to start, but for Burton, the necessary course of action was clear. "The first step was to stabilize the property, and that was the first thing that we did after we took possession," he says. "We cleared out the undergrowth to get sunlight onto it so that mold wouldn't be running rampant through the structure and creating a rotting environment or attracting termites." After that, "we assessed what could be salvaged and what needed to be removed. We got rid of any appendages or parts of the building that couldn't be saved." It was this methodical approach that enabled them to save 90 percent of the cottage and 100 percent of the two outbuildings.
Once the house was completely stabilized, Burton and his team were able to start planning what steps they could take to restore its quaint features. They also increased the square footage with a seamless extension, creating extra room for office spaces.
Some noteworthy original details of the house include pine hardwood floors, dainty porcelain doorknobs and two rustic fireplaces. One of the fireplaces features hand-painted flowers with inlaid mother-of-pearl centers. There is no way to know for certain if Anne painted the colorful petals herself, as no old photos of the interior remain, but their presence suggests her artistic touch.
Burton and his team were also able to salvage the iconic sign that hung on the eave of the front porch. The panel exhibits the word "Chinaberry" in elegant cursive, probably painted by Anne, as a smaller sign beneath it heralds her signature. It has been refurbished and is now displayed in the main corridor accompanied by vintage photographs of the building's exterior.
The most difficult part of the process, according to Burton, was just completing it.
"In the climate that we're in, with supply chain problems and labor shortages, just finishing it was a challenge," he says. Burton combatted these complications by dealing with unforeseen disruptions promptly. "We were pretty vigilant. As soon as something was uncovered that needed to be dealt with, we vigorously tried to resolve it as quickly as possible to keep the crews moving." Even so, the restoration took three full years to complete, wrapping up in late 2021.
Burton admits that taking on a historical rehabilitation project is a labor of love.
"You don't do these projects to get rich," he asserts. "You do them because they need to get done. I'm a fifth-generation Mobilian, and I wanted to see that house preserved."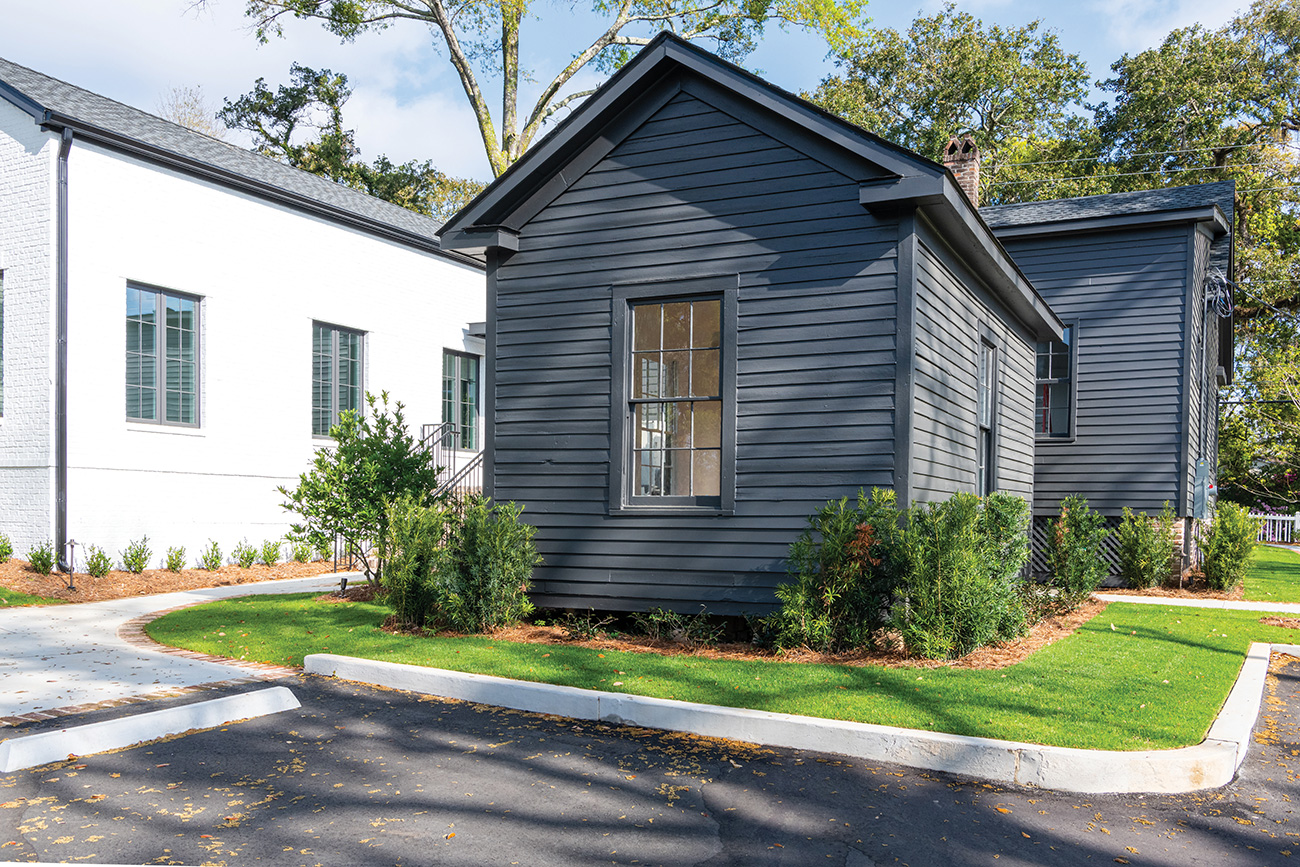 Burton hopes that Chinaberry will carry on a legacy of regeneration. "Mobile is a historic town, and if there are these little treasures within our community that we can continue to preserve and keep for future generations, I think that's a good thing to do. The city has come a long way, and these little historic structures, whether they're in Dowtown or Spring Hill or wherever, just add to the overall character of our city."
Sledge is full of praise for the project. "I am so pleased to see Chinaberry restored. As a member of the Mobile Historic Development Commission, I've followed its decline for decades. I am especially glad that they restored both outbuildings, and the landscape elements are splendid as well. Chinaberry's restoration is key to preserving and remembering Anne Crichton's artistic quirkiness, and I think it's terrific not to lose that house."