According to the analytics, these are the stories Mobile Bay readers couldn't get enough of this year.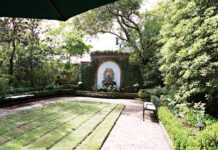 Take a walk with Todd Lasseigne, executive director of Bellingrath Gardens and Home, through some of Mobile's most stunning gardens.
Turn back time and peek into Orange Beach history with this photo of swimmers from 1928.
The secret to gardening? Just walk out there and garden. Take it from Granny.
Jenny and Richard Tremayne found more than a home when they bought a historic property on Austill Avenue — they discovered a love for entertaining.
Local designers share their go-to elements to create interiors that wow.
These easy tips and tricks, along with one local entrepreneur's soil test, can help you achieve the yard of your dreams.
From the Brisket Board at Red or White to the Sunset Salad at Sunset Pointe, here's what our food contributors are raving about this month.
Although Mobile's First National Bank will long be identified with the skyscraper which is now home to the New Year's MoonPie, the bank had a few former homes.
One local nonprofit uses the impact of interior design to bring healing to families in medical crises, one bedroom at a time.