Dive into the history of Mobile's Crystal Pool with this 1930s photograph
Designer Ashley Gilbreath brings layers of design to a busy Mobile family in her new book of projects from across the Southeast.
Wedding flowers find a new purpose after the ceremony is over, thanks to Mobile native Debbie Richards.
Jenny and Richard Tremayne found more than a home when they bought a historic property on Austill Avenue — they discovered a love for entertaining.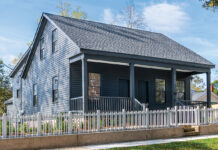 Newly restored Chinaberry Cottage has gone from an eyesore property to a structurally sound and attractive building.
Chelsea Lipford Wolf walks us through the second phase of her ranch house renovation: updating the outdated hall bathroom.
DIY maven Chelsea Lipford Wolf walks us step by step through the exterior transformation of her 1950s ranch house renovation.
1031 Meals focuses on wholesome, nutritious food, all without scrimping on deliciousness.
A minimalist white box in the heart of Spring Hill stands in proud contrast to the traditional homes for which the Port City is known.
Jennifer and Adam Alford trade in their food truck for a charming brick-and-mortar restaurant in the heart of Spring Hill.