Lisette Normann of The Fairhope Store and The Orange Beach Store reflects on her journey from candy vendor to lifestyle brand curator.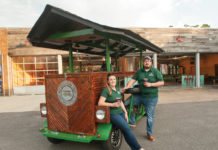 Meet Mackenzie and Matt Kelly, the brains behind Mobile's party bike.
After two years, a long-term resident prepares to leave the "theater of the real" that is the Grand Hotel. But if you know Patrick McDonald, don't rule out an encore.
MB's contributing food fanatics share the local dishes that made them hungry for more.
The immensely popular Theatre on the Bluff series from Eastern Shore Repertory Theatre will bring Roald Dahl's "Matilda The Musical" to the edge of Mobile Bay.
When a run-down home in De Tonti Square practically fell into his lap, Bobby Isakson jumped headfirst into a top-to-bottom renovation.
At a busy Mobile intersection, commuters have a front-row seat to the "poetry in motion" that is pickup basketball.
A real angler needs a reel repairman. That's where Ross Hutchisson comes in.
A supposed 14-year-old digs for oysters in the Bay.
Jack Edwards, representative for Alabama's First Congressional District from 1965 to 1985, relates two stories that bookend his political career.