Was there another train wreck similar to the Sunset Limited disaster?
Did the Bankhead Tunnel ever have toll booths?
Who was the impoverished French baroness who once lived in Mobile?
What is the history of the clock on the corner of Royal and Dauphin streets?
What's the history of the building on Broad Street that once housed the Red Cross?
Was a Mobile bookstore closed for selling a copy of "Uncle Tom's Cabin"?
When was Mobile's airport downtown?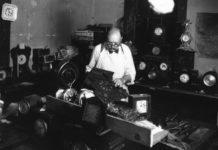 Who was the Mobile inventor who allegedly flew a plane before the Wright brothers?
What's the history of the Cheese Cottage building?
During some of Mobile's darkest days, a special group of citizens stared into the face of death for the sake of the greater good.