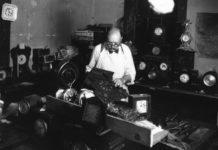 Who was the Mobile inventor who allegedly flew a plane before the Wright brothers?
What's the history of the Cheese Cottage building?
During some of Mobile's darkest days, a special group of citizens stared into the face of death for the sake of the greater good.
Do any Mobile buildings have cast-iron facades?
Did Al Capone ever visit Mobile during its bootlegging heyday?
What is the oldest house in Mobile?
Is it true that a Mobilian helped complete the Panama Canal?
What's the history of the old school on Broad Street?
Did Mobile ever have a cotton mill?
A revitalization effort is underway for the Mothers' Army and Navy League Memorial at the intersection of Government Street and Airport Boulevard. The National Society of Colonial Dames in...