There is something elemental about working with clay. A mass of earth is formed with wet hands, turning over and over, around and around, until it is molded and shaped into a thing that will hold water, serve food and nourish life. The artists who work in this medium share ideas, camaraderie and many a meal around their fired pieces of clay in a way that no other medium seems able to capture. It is a true family of creators.
At least this is the way Fairhope artist Susie Bowman describes the experience she has had in the world of pottery over the past 20 years. And as the now-former owner of The Kiln Studio in downtown Fairhope, she has certainly seen her fair share of clay come and go. The small gallery has a dozen wheels and three kilns, where local artists can create, together or alone, depending on their preference, and sell the finished pieces in the gallery. Bowman has acted as mentor, counselor, assistant and friend to any number of artists who have come through the doors of The Kiln over the years. She has brought countless national artists to town for workshops, always putting them up at her home where the group shares meals and exchanges ideas, supporting one other's efforts and practices. She has led group trips to Japan to study the iconic blue and white porcelain, an experience she describes as "mind blowing." And she has collected pottery — lots and lots of pottery. All the while, her own studio work has been pushed to the side with the hectic schedule of running a successful business. Until now.
Bowman recently sold The Kiln Studio to local pottery professor Megan Gulland Shifflet and her husband James to pursue life as a full-time studio artist. "I'm ready to hone my skill," she explains as she unpacks work from a recent artist-in-residence program at the University of Montana at Missoula. Small acorn-shaped containers, satsuma salt and pepper shakers, and blueberry serving plates are all perfectly formed and ready for firing as part of her Fruit and Nut series. During her five-week stay in Montana, Bowman says she hiked the mountains, floated the river and worked with clay. "I don't know another field that does it like ceramics, giving you an opportunity to build your work away from a job." During her residency, her rooming, studio space and all the necessary supplies were taken care of. "You just go and make stuff, build your body of work."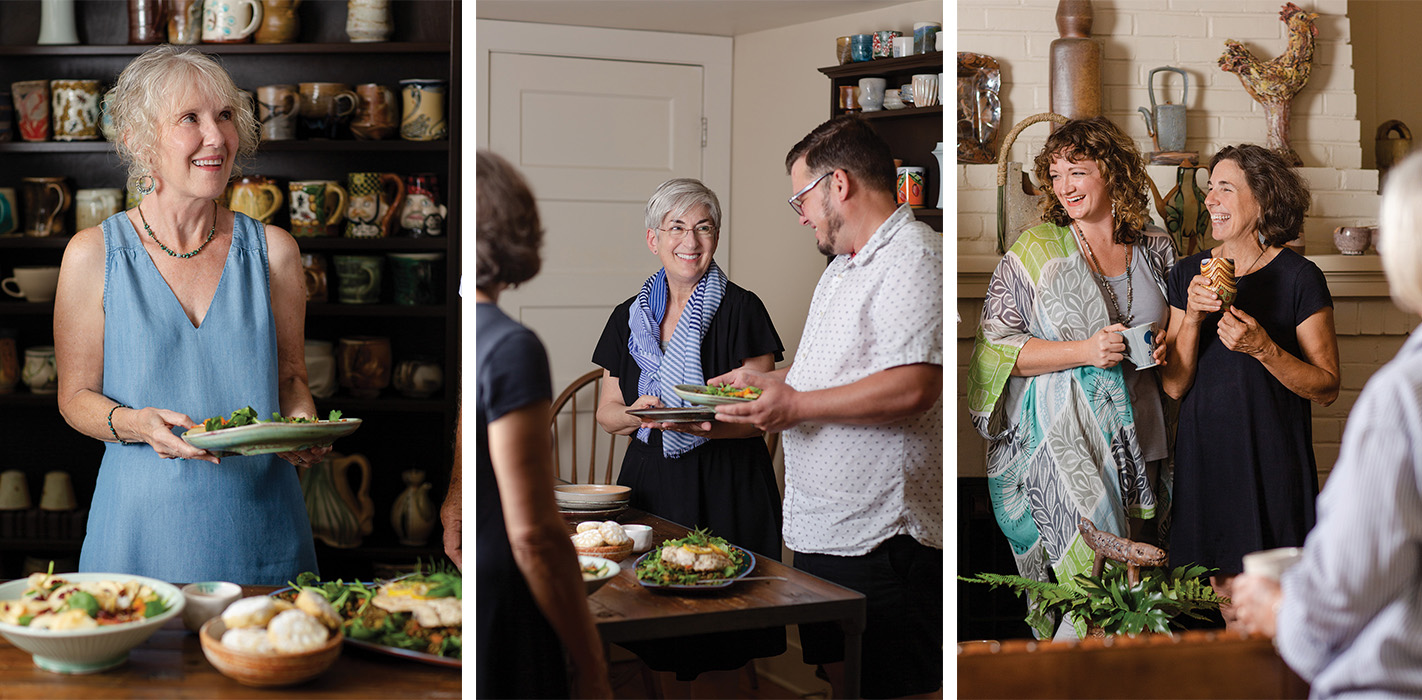 The day after she returned to Fairhope, Bowman's studio family gathered around, ready to hear stories of the summer and to share a meal. Everyone contributed a dish that was served family-style on plates, platters and bowls thrown by potters they all known by name — national artists, regional potters and even some of those gathered. The laughs come easy, the words are encouraging and the camaraderie is authentic and natural. Natural like the clay for which they share a passion.
Ma'amoul Date Cookies 
Recipe by Ruth Finamore                    
2 sticks unsalted butter, melted
1/4 cup olive oil
2 tablespoons granulated sugar
1/2 teaspoon ground nutmeg
1/2 teaspoon salt
1 1/2 cups unbleached flour
1/2 cup semolina flour
2 tablespoons fresh lemon juice
3 tablespoons whole milk
1 pound Medjool dates
confectioner's sugar
1. In a large bowl, mix melted butter, oil, sugar, nutmeg, salt and flours, using a spoon or your fingers. Add lemon juice and milk, one tablespoon at a time. Do not overwork the dough. Cover with a cloth and let rest 30 minutes.
2. Meanwhile, boil 1/4 cup of water and place in a small bowl with dates to soften. Drain water and mash the dates to a paste with a fork. Refrigerate for 15 minutes. Wet your hands with cold water and roll dates into balls, 1 to 2 teaspoons at a time. Set aside.
3. Form the dough into rounds the size of ping-pong balls. Cupping the dough balls in your hand, make a thumb print bowl and place the date ball inside. Then close the "dough bowl" so date filling is secure. Optional: Use a stamp to make imprint on cookies.
4. Place 1/4 inch apart on parchment covered baking sheet. Bake at 350 degrees for 20 – 25 minutes or until lightly golden. Do not overbake. Powder with confectioner's sugar when cooled completely. Makes 24
Crawfish Dip
Fairhope potter Deborah Pennington serves this flavorful dip with Fritos. She also made the bowl and plate on which the snack is served.
1 pound mild or hot Jimmy Dean sausage
1 large bell pepper, chopped
1 large onion, chopped
1 clove garlic, chopped 
olive oil
1 can mushroom soup
1 16-ounce package Velveeta Mexican cheese, cubed
1/4 teaspoon chili powder
1/4 teaspoon Tony Chachere's Seasoning, or to taste
1 pound cooked crawfish tails, fresh or frozen
1. Brown and drain the sausage. In a separate pan, saute chopped vegetables (use a small amount of olive oil if necessary), then add mushroom soup. Add cheese, seasonings, crawfish and sausage.
2. Cook on low until mixture is blended, stirring occasionally. Add more seasonings if desired, and keep warm. Serve alongside your favorite chips or crackers. Serves 10
Black Bean Corn Dip
The Kiln's new owner, Megan Gulland Shifflet, calls this her "crack dip" and makes it for her students on the last day of class. It is served here in a bowl made by Susie Bowman.
1/4 cup extra virgin olive oil
1/4 cup apple cider vinegar
1/4 cup sugar
1/4 medium onion, finely chopped
1 can black beans, rinsed
1 can corn, drained
1 4-ounce container crumbled feta cheese
1. Whisk olive oil, vinegar and sugar until sugar is completely dissolved.
2. Add remaining ingredients, stir and refrigerate. Dip is best when made the night before. Serve with scoop tortilla chips or use as a topping on tacos and salads. Serves 10
Citrus Apple Salad
Recipe by local potter Donna Kemp. The brightness of the salad dressing makes it fabulous on just about anything.
Citrus Dressing
6 tablespoons olive oil
2 tablespoons lemon juice, plus the zest of 1 lemon
2 tablespoons orange juice, plus the zest of 1 orange
1 1/2 teaspoons honey or maple syrup
1/4 teaspoon kosher salt
black pepper, to taste
1. Add all ingredients together in a jar or blender. Shake until well combined, or blend for about 10 seconds. Taste and add pepper as needed. Set aside.
Apple Salad
2 large red apples (honey crisp or pink lady)
1 bag pre-washed baby spinach
1 large orange, peeled and segments removed (or 1 can mandarin oranges)
2 ounces sharp white cheddar cheese, shredded
1/3 cup chopped pecans
1/4 cup chopped dried cranberries
1. Spiralize all of the apples. Place spinach in a large bowl or separate into smaller bowls based on how you will serve.
2. Top spinach with apples, orange segments, cheese, pecans and dried cranberries. Add dressing just before serving. Serves 8
Fresh Fish with Arugula and Lentils
Recipe by Susie Bowman
1 cup lentils
1/2 onion
1/2 bell pepper
1 carrot
1/4 cup coconut oil, divided
fresh herbs (Susie likes basil, rosemary, thyme and mint, but any will do)
1/2 cup olive oil
1 tablespoon curry
1 teaspoon coriander
3/4 teaspoon salt
pepper, to taste
2 pounds fresh fish (Susie prefers either salmon or snapper)
1 lemon, sliced
3 cups arugula
1. Boil lentils in 3 cups of water until tender, usually around 20 minutes.
2. While cooking lentils, dice onion, pepper and carrot. Saute in 1 tablespoon coconut oil, until slightly soft and starting to brown. Mince herbs and set aside.
3. When lentils are done, add sauteed vegetables, olive oil, curry, coriander, salt and pepper and stir. Turn off stove.
4. Meanwhile, melt remaining coconut oil in frying pan on medium and add fish with lemon slices on top. Cover and cook until it is the way you like it, depending on fish type.
5. On a platter, make a bed of arugula. Top with lentil mixture, place fish on top with lemon slices and sprinkle with minced herbs. Serves 6
Fresh Mountain Apple Cake
This recipe by potter Gail Moore is super moist and works as well for dessert as it does for an afternoon snack with coffee. It is served on a piece of pottery Susie collected on a trip to Greece.
3 eggs, beaten
2 cups vegetable oil
2 cups sugar
2 teaspoons vanilla
1 teaspoon baking powder
1 teaspoon baking soda
1 1/2 teaspoons salt
1 teaspoon cinnamon
1 teaspoon nutmeg
1 teaspoon allspice
1/8 teaspoon cloves
3 cups all-purpose flour
1 cup chopped pecans or walnuts
3 cups grated, peeled, tart apples
1. Beat eggs. Add oil, sugar and vanilla and mix well.
2. Blend dry ingredients together and add to creamed mixture. Beat well. Add nuts and apples. Stir well.
3. Pour into greased and floured Bundt pan and bake at 325 degrees for 1 hour or until toothpick inserted in center comes out clean. Cool completely before icing. Serves 24
Icing
1 8-ounce package cream cheese
1 teaspoon vanilla
3 tablespoons butter, melted
2 cups powdered sugar
Cream butter and cream cheese together. Add vanilla and powdered sugar and mix well. Spoon on top of cake and gently work down sides with spoon or spatula.