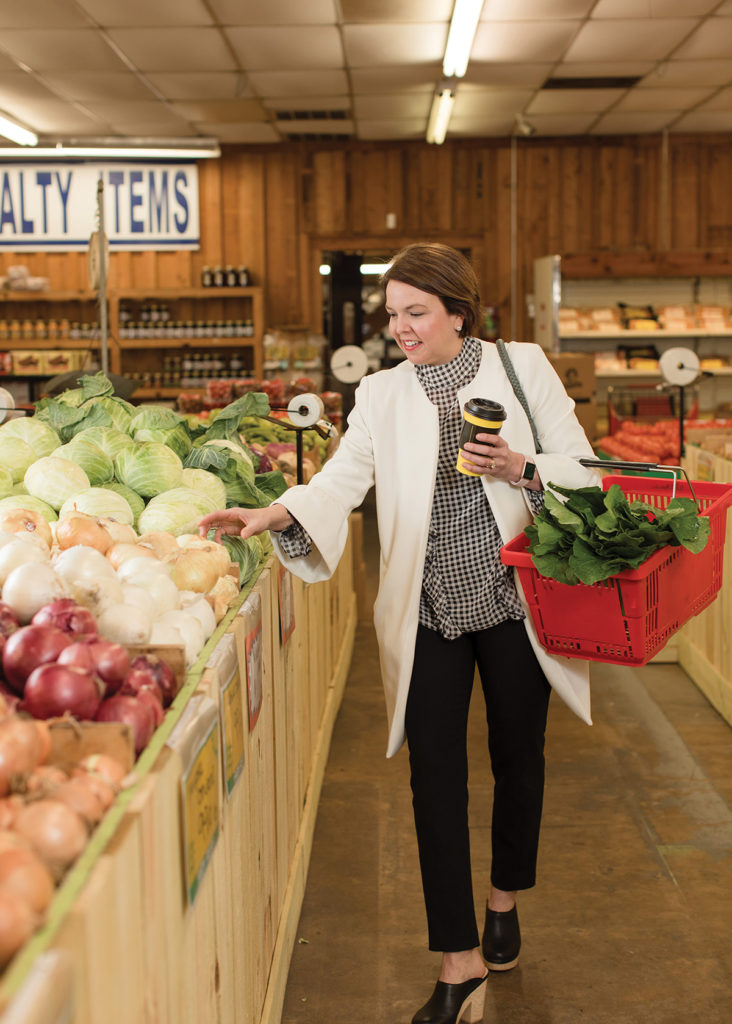 Chambliss Brister
A little extra help from planning and utilizing beneficial resources is all it takes for Chambliss Brister, managing partner of Fit Recruiting and mother to 8-year-old Parke and 4-year-old Koen, to have a home-cooked meal waiting for the weeknight dinner table.
"One of my favorite things in the world is gathering as a family for mealtime, and I am unable to accomplish this feat without a plan," she says. So she thinks through meals and enlists the help of grocery delivery to eliminate any unnecessary steps and stresses. She starts with a shared calendar that lists the family's activities, which she then coordinates meals around. During her Sunday downtime, she sits with her favorite cookbooks and chooses the meals she needs to prep for the week. Then, she stocks up the cart — online to avoid unnecessary grocery store distractions — as ingredients come to mind. "I cannot tell you the number of times I've gone to the store, forgotten the one item I went to get in the first place, and come home with $200 worth of stuff," she says. "My online cart helps me stay organized, and it's super convenient. I schedule my pickup, it's all loaded in the car and I'm off."
With ingredients in hand, she does all of her chopping, marinating and other necessary mise en place before the week begins, along with preparing weekday lunches if the time allows. That way, when the 6:30 dinner bell rings, it's assemble-and-go style for a quick and healthy dinner that fuels the entire family.
Chambliss' Trick for Survival Cook extra meat when making one meal to then incorporate into other meals later in the week or double recipes and store one in the freezer.
Mexican Shrimp and Corn Street Tacos
Chambliss altered this recipe from her favorite weeknight cookbook, "Cook Once, Eat All Week: 26 Weeks of Gluten-Free, Affordable Meal Prep to Preserve Your Time & Sanity" by Cassy Joy Garcia.
2 tablespoons salted butter or avocado oil
3 cups cooked shrimp
1 1/2 cups cooked corn kernels, fresh or frozen
2 tablespoons fresh lime juice (about 1 lime)
1 teaspoon coarse sea salt
1/2 teaspoon chili powder
1/2 teaspoon garlic powder
1/2 teaspoon paprika
12 miniature corn tortillas, or 8 regular-size corn tortillas
Kale Slaw (recipe below)
1/4 cup crumbled Cotija cheese
4 lime wedges, for serving
1. Melt butter in a large skillet over medium-high heat. Add shrimp and corn and cook for 2 minutes to warm through.
2. Add lime juice, salt, chili powder, garlic powder and paprika and toss to coat the shrimp and corn. Saute for 3 to 4 minutes, until the shrimp is slightly browned.
3. Place a small skillet over medium-high heat. Once hot, put one tortilla in the pan at a time and warm for about 30 seconds per side, until the tortilla is pliable and begins to brown slightly. Remove and keep warm in kitchen towel. Repeat with remaining tortillas.
4. To assemble the tacos, top the warmed tortillas with Kale Slaw and shrimp filling and garnish with Cotija cheese. Serve with lime wedges. Serves 4
Kale Slaw
1 cup sliced kale
chipotle-lime dressing
1. In a small bowl, toss kale with chipotle-lime dressing until it is fully coated.
Chipotle Dressing
1/2 cup mayonnaise
1 tablespoon water
2 teaspoons lime juice
1/8 teaspoon salt, more to taste
1/2 teaspoon chili powder
1 teaspoon smoked paprika
1/8 teaspoon chipotle powder
1. Add all the ingredients to a small bowl and whisk together until smooth. Adjust seasoning to taste. Can be stored in the fridge for up to 3 weeks. Makes 1/2 cup
Portia Green
Portia Green, executive director and soon-to-be principal at Prichard Preparatory School, has a full plate with her students and her children — 14-year-old Dalancey, 9-year-old Dalaney and 2-1/2-year-old D'Alo "Deuce" Jr. — but she never takes the daily adventure for granted.
"I have the privilege and honor to serve at Prichard Preparatory School," she says. "No one day is ever the same, which makes the job exciting and fun."
Balancing job and family takes a thoughtful routine at home. She, husband D'Alo and oldest daughter Dalancey prioritize cooking breakfast for the family each morning and sitting down for dinner together each evening. Portia strategically plans and purchases ingredients for weeknight meals to avoid frantically scurrying around as eager eaters await.
"Mealtime should focus more on family, laughter, memories at the table together and not stressing about food," she says.
So most nights, they keep it simple. Portia purchases her groceries online every Saturday evening, with the intention of preparing specific meals throughout the week. Her family favors fruits, vegetables and seafood, and her easiest approach to serving them up is a sheet-pan supper. Roasting everything together is a foolproof way to incorporate multiple vegetables and proteins into one meal without compromising precious family time. "I simply add rice or quinoa and dinner rolls to make the dinner complete," she says. Dig in.
Portia's Trick for Survival Look for recipes that are healthy but not time-consuming. Dumping everything fresh on one sheet pan is a major time-saver, and the clean-up is cut in half!
Roasted Garlic-Parmesan Veggies with Turkey Sausage and Shrimp
Portia follows a pescatarian diet, so local shrimp make frequent appearances on her family table.
5 small red potatoes
1 pound fresh green beans
1 large head broccoli
1 large bell pepper
7 – 8 sweet peppers
6 tablespoons grapeseed oil
12 ounces smoked turkey sausage
2 pounds shrimp, peeled and deveined
1 teaspoon paprika
1/2 teaspoon garlic powder
1 tablespoon dried oregano
1 tablespoon dried parsley
1/4 teaspoon sea salt or pink Himalayan salt
1/4 teaspoon black pepper
2 cups cooked quinoa, cooked according to package directions
fresh parsley, to taste
Parmesan, to taste
1. Preheat oven to 400 degrees.
2. Chop potatoes, green beans, broccoli, bell pepper and sweet peppers to roughly the same size. Toss in grapeseed oil and arrange on a large baking sheet.
3. Add sausage and shrimp. Coat with paprika, garlic powder, oregano, parsley, salt and pepper.
4. Roast for 35 minutes until vegetables are toasted and meat is cooked through.
5. Divide quinoa into bowls and cover with roasted vegetables, shrimp and sausage. Top with parsley and Parmesan. Serve with dinner rolls. Serves 6
Drs. Erin and Zach Reardon
The busyness of a doctor's life is easy to imagine, but two doctors, married and raising four children, is a head-spinning image. But for Drs. Erin and Zach Reardon, a general dentist and urologist, respectively, the everyday hustle and bustle is what keeps them grounded.
"We always sit down together for dinner even if the meal is mac and cheese or PB&J," says Erin, who plans meals with Zach for their four children: 6-year-old Jack, 4-year-old Manning, 2-year-old Molly and newborn Graham. "It is hectic every single night but always 100 percent worth the effort."
Erin fits in meal planning on her weekends off, predetermining what's for dinner to stay healthy, cost-efficient and resourceful with the time that's available. Zach, being the seasoned cook of the household, grocery shops and makes more elaborate dinners on the weekends that can then be repurposed into new meals during the week. Utilizing leftover proteins and prepping slow-cooker meals or casseroles ahead of time are time-saving strategies that keep them on track and well-fed.
"We usually divide and conquer," Zach says, an essential strategy for tag-teaming parents who both work outside the home.
"We plan ahead and work together," Erin mirrors. "In our house, Zach prepares dinner while I'm simultaneously bathing the kids, getting them dressed for bed and helping with homework. All of it needs to get done, and it takes both of us to make it happen."
The Reardons' Trick for Survival Use a Kamado Joe Grill or Crock-Pot to cook in batch on the weekends and save for busy weeknights.
Zach's Mediterranean Chicken Kabobs with Yogurt Sauce and Cucumber-Tomato Salad
Zach crafts his own recipes inspired by eating out at local Mediterranean restaurants.
3 boneless skinless chicken breasts
1 tablespoon ground cumin
2 teaspoons ground turmeric
1 1/2 teaspoons kosher salt, plus more to taste
1 1/2 lemons, zested and juiced, divided
2 tablespoons extra virgin olive oil, divided
2 cloves garlic
2 whole cucumbers, peeled and seeded, divided
6 ounces plain Greek yogurt
2 – 3 medium tomatoes or 8 ounces grape tomatoes, diced
1/4 red onion, diced
4 ounces feta cheese
1. Cube chicken into kabob-sized chunks and place in a freezer bag.
2. Combine cumin, turmeric and salt in a small bowl. Pour over chicken. Add zest and juice of one lemon and 1 tablespoon olive oil. Massage contents of bag to fully coat chicken. Allow to marinate 30 minutes or up to overnight.
3. When ready to cook, arrange chicken on skewers and grill for 12 – 15 minutes, rotating every 4 – 5 minutes depending on your grill.
4. To prepare the yogurt sauce, place garlic and 1/2 of a cucumber into a food processor. Add a pinch of salt. Pulse for 30 seconds to finely mince ingredients into a paste. Stir in Greek yogurt, the juice of 1/2 a lemon, a drizzle of olive oil and a pinch of salt. Mix thoroughly.
5. To prepare the salad, dice tomatoes, remaining cucumbers and red onion. Toss in a medium bowl. Crumble feta over salad. Drizzle with 1 tablespoon olive oil. Salt and pepper to taste. Mix gently.
6. To serve, keep chicken on skewers or remove and place on pitas. Serve with yogurt sauce for dipping and salad on the side. Serves 4
Lindsey Weems
The day-to-day duties for a mother of five occupy most of the daylit hours, and a lot of it happens behind the scenes as the kids shuffle from one place to the next. Lindsey Weems, CPA, a business analyst for Hargrove Engineers + Constructors, works side-by-side with husband David to ensure that 12-year-old Patrick, 10-year-old Joseph, 9-year-old Stuart, 4-year-old John and 2-year-old Lucy make it everywhere they need to be on any given weekday. That balancing act is constant at home, too.
"Teamwork!" is what Lindsey says it takes to coordinate a full household at mealtime. "There is a lot going on in the kitchen between 5 and 7:30 p.m., and the more you can work together as a family, the better."
Kick-starting the weekend with a bulk store run and online grocery pickup stocks the fridge, and getting most of the cooking done before the week begins keeps things running smoothly. A busy night is simplified with casseroles, tacos or roasted meat and vegetables that can be thrown together in a flash. Even seated in front of something simple, the act of sharing a meal is the ultimate triumph for the Weems family.
"It's not always pretty, but we recognize the importance of sitting down as a family and giving thanks at dinner as much as possible," Lindsey says. "As a friend of mine likes to say, 'Present over perfect.'"
Lindsey's Trick for Survival Consider premade options such as salad kits for an effortless adult dinner.
Chicken Bacon Ranch Casserole
Lindsey serves this dinner with a side of Parmesan-Roasted Asparagus, recipe on the following page.
12 ounces Alfredo sauce, homemade or store-bought
1/3 cup ranch dressing
1 cup shredded mozzarella cheese
1 cup shredded cheddar cheese
10 ounces pasta, cooked according to package directions and drained
2 1/2 cups cooked and diced chicken
7 strips bacon, cooked and chopped
1. Preheat oven to 350 degrees. Grease a casserole dish and set aside.
2. In a medium bowl, combine Alfredo sauce and ranch dressing.
3. In a separate bowl, combine mozzarella and cheddar cheeses.
4. Layer half of pasta, half of chicken and half of sauce in casserole dish. Stir and top with half of cheese blend. Repeat with remaining ingredients and top with bacon.
5. Cover with aluminum foil and bake 30 minutes until cheese is melted and casserole is bubbly. Serve warm. Serves 4 – 6
Parmesan-Roasted Asparagus
Lindsey brings some green to the table with cheesy asparagus that even the kids love.
1 pound asparagus, ends trimmed
1 tablespoon olive oil
1/4 cup shredded Parmesan cheese
1 teaspoon sea salt
1/4 teaspoon garlic powder
1. Preheat oven to 400 degrees.
2. Place asparagus in a casserole dish and toss with olive oil to coat. Sprinkle with Parmesan, salt and garlic powder.
3. Roast 12 minutes until fork tender. Serves 4