Chef Weston Simpson offers a special culinary experience with a sophisticated speakeasy vibe at his new venture, West Food Bar.
Switch up your seafood offerings, and try your hand at a traditional oyster roast. It's easier than you think.
Burgers and beignets are a match made in heaven at Bay Town Burger Co., West Mobile's savory sibling of Mo'Bay Beignet.
The Gulf of Mexico's bounty can be transformed into much more than gumbo with a little creativity and some inspiration from local chef "Panini Pete" Blohme.
Dig into the flavor of the Gulf Coast with three top female chefs and their go-to recipes.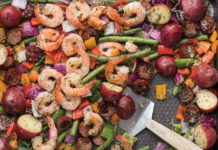 This easy sheet pan dinner brings all the flavor and none of the fuss, perfect for a busy weeknight.
Add a little spice to your weeknight dinner routine.
Armed with tips and recipes, five working moms and dads share how they make mealtime work.
Downtown Fairhope says "aloha" to Ohana Poke's Pacific vibe.
Grab a slice at Leinkauf's new pizza pub.