There's yet another reason to visit Gulf State Park – beachside dining at Perch.
Four chefs bring the heat to Gulf Shores to compete for a spot as state seafood representative—and bring their prized recipes right to your kitchen.
Chef Weston Simpson offers a special culinary experience with a sophisticated speakeasy vibe at his new venture, West Food Bar.
Switch up your seafood offerings, and try your hand at a traditional oyster roast. It's easier than you think.
Burgers and beignets are a match made in heaven at Bay Town Burger Co., West Mobile's savory sibling of Mo'Bay Beignet.
The Gulf of Mexico's bounty can be transformed into much more than gumbo with a little creativity and some inspiration from local chef "Panini Pete" Blohme.
Dig into the flavor of the Gulf Coast with three top female chefs and their go-to recipes.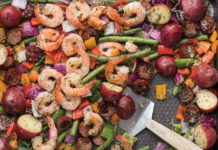 This easy sheet pan dinner brings all the flavor and none of the fuss, perfect for a busy weeknight.
Add a little spice to your weeknight dinner routine.
Armed with tips and recipes, five working moms and dads share how they make mealtime work.