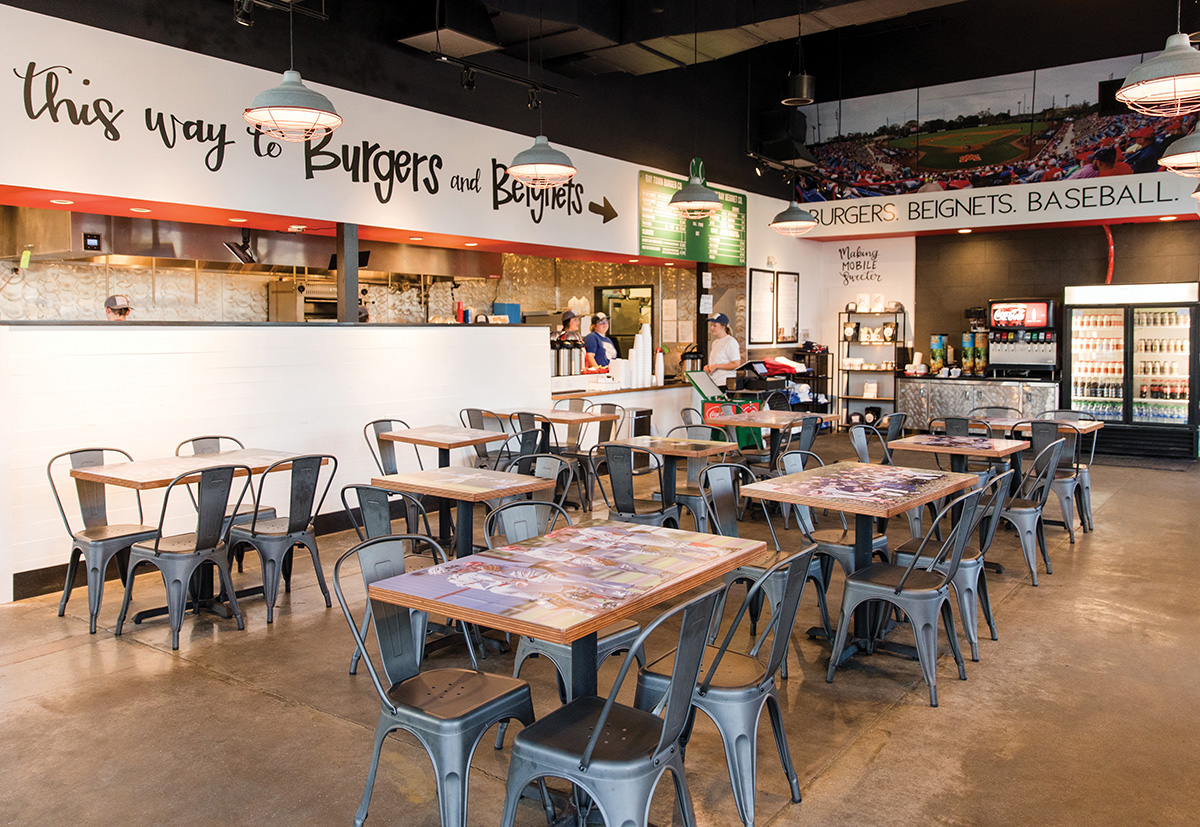 You've heard of the sweet and savory combos that we all know and (most of us) love, like pancakes and sausage, chicken and waffles, and pineapple pizza. Even burger patties sandwiched between two glazed donuts have taken their rightful seat in the salty-sweet spotlight. But burgers and beignets weren't a pairing that ever occurred to Jaclyn Robinson when she curated the concept for Bay Town Burger Co., a sister company for Mo'Bay Beignet Co., in the summer of 2021.
"Connor, my 16-year-old who has loved cheeseburgers since he was a baby, said, 'So, Mom, when are you going to make me a cheeseburger place?' halfway joking," Robinson says. "It never crossed my mind. I didn't even expect to do beignets, let alone this."
But the vision for Bay Town Burger somewhat divinely fell into place, much like the origins of the original Mo'Bay Beignet location almost exactly two years prior. In 2019, a friend of Robinson's mentioned that a vision of a cheeseburger came to mind while she was saying a prayer for her, and a printed image of a cheeseburger has hung on Robinson's prayer vision board ever since.
"I think we're supposed to have a burger place," she says. "I don't think this is about whether or not we wanted to do it. I feel like back in 2019, the Lord was preparing me then."
The West Mobile storefront is flooded with nostalgic memorabilia celebrating our most iconic national pastime: baseball. Inspiration for the decor stems from Connor and his 14-year-old brother Cole, both Faith Academy athletes with a passion for the game. Local players adorn the walls and tabletops; portraits from classic films "The Sandlot" and "A League of Their Own" decorate the restrooms; a replica of Chicago's Wrigley Field scoreboard even serves as the primary menu.
If Bay Town Burger is the home team, then Mo'Bay Beignet is the visiting team that keeps the game exciting. Everything offered on Mo'Bay's Dauphin Street, food truck, and Auburn menus is available at Bay Town Burger, along with their own signature array of savory dishes that can only be found in West Mobile. The simplicity of their offerings pairs perfectly with a pile of sugar-dusted beignets and flavored syrups for an out-of-the-park experience as sweet as a winning home game.
On the Menu
Bay Burger
The classic cheeseburger gets a Bay Town twist: A juicy beef patty comes dressed with lettuce, tomato and tangy, creamy Bay Sauce, richly spiced with Old Bay seasoning.
Grand Slam
Build your own Player's Choice burger piled with fan-favorite toppings, then pair it with seasoned Freedom Fries and Old Bay-laced Bay Sauce for a concession-ready special.
Beignet Burger
This secret menu exclusive features a burger patty and cheese surrounded by two squares of beignet dough, deep fried for a dream team pairing. Batter up.
Connor's Root Beer Slugger
Old-fashioned root beer straight out of a glass bottle fizzes over vanilla ice cream for a nostalgic summertime sip in a souvenir glass.
Bay Town Burger Co. • 7450 Airport Blvd., Suite D • Facebook
7 a.m. – 9 p.m. M – Th; 7 a.m. – 11 p.m. F; 8 a.m. – 11 p.m. Sa; 8 a.m. – 9 p.m. Su