Downtown Fairhope says "aloha" to Ohana Poke's Pacific vibe.
Grab a slice at Leinkauf's new pizza pub.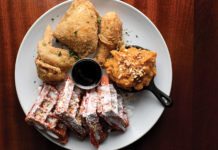 Downtown Mobile's hottest new restaurant serves up Southern staples with a little extra flair.
Truman's Diner throws it back to the 1920s and '30s.
LoDa's new gastropub offers a nod to Mobile's historic food culture.
Spanish Fort's new container park is a treat for every palate.
MB's contributing food fanatics share the local dishes that made them hungry for more.
A one-time Midtown drugstore, Nixon's now cures a craving for libations and sandwiches.