Coach Brown's BBQ is changing the game in West Mobile.
From the Chicken Shawarma over hummus at Sage Lebanese Cuisine to the Shrimp Lo Mein at Three Flavors, here's what our food contributors are raving about this month.
This trendy eatery combines Latin and Asian influences, bringing recipes from across the globe straight to West Mobile.
Matthew Golden's new West Mobile restaurant, Margaux, offers upscale dining with a family-friendly atmosphere.
Burgers and beignets are a match made in heaven at Bay Town Burger Co., West Mobile's savory sibling of Mo'Bay Beignet.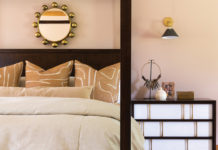 Between traveling to her law offices in Alabama and Mississippi and keeping up with three kids' activities, Shantrell Nicks craved a master suite in which to recharge — and she knew just the person to call to make it happen.