A meal cooked over a fire doesn't just taste delicious, it reminds us of gathering with those we care about to share an experience. The sizzle of the flame, the whirl of smoke and the delectable smell of searing meat conjures images of tailgating before the game, inviting friends over to enjoy the cooler weather or sharing an alfresco family dinner.
As fall weather arrives, it's an ideal time to get outside and grill. Yet, with so many types of grills, gadgets, and tools available today, it can be overwhelming to choose the best options for your goals.
Do you want a simple, portable grill? Do you want to stand by the grill or smoker, embracing the experience or do you want a "set it and forget it" techie approach? And how do you pick the best tools? Our experts are here to guide you in making your fall grilling hassle-free.
Grills 101
Steve Ascik, the owner of Eastern Shore Ace Hardware, and a passionate amateur griller, breaks down everything you need to know about grills, including how to select the one that's right for you.
Gas grills
Liquid propane and natural gas grills are easy to use and make searing meats and vegetables a snap. To slow-cook just lower the heat, turn off a burner and move meat away from direct flame. And although it's not charcoal cooking, you can incorporate a smoker box for woodfire flavor.
Gas choices range from inexpensive to extravagant. Those in the midrange price may be cheaper in the long run. The inexpensive ones, made of lightly painted steel or low-grade stainless steel, last only one or two years. Find better brands on display in hardware and appliance stores. Look for 100 percent stainless steel working components and a specific replacement warranty. Great options are stainless, cast iron and even griddles (think pancakes or eggs and bacon).
Upside: Easy to start, preheat, adjust the temperature and clean.
Downside: Refilling bottles or tanks, replacing burners and igniters, less moisture retention than covered charcoal. 
Pellet grills
What was once a newcomer to barbecuing is now widely accepted. Traeger invented these in 1985 and since then new features and improvements have followed. Wood pellets are fed to a firepot in the bottom of the grill to create heat and smoke which is controlled and circulated with a thermostat-blower device. There are many kinds of wood and blends available to use with this grill. Frankly, it's hard to fail with these if you follow directions and keep the hopper full of pellets. You can operate the premium models via Wi-Fi using your smartphone.
As with the other grill categories, if the price seems too good to be true, you will need to research to make sure you are making a wise purchase. And purchase from a dealer who can explain and support the warranty.
Upside: Great flavor and simple to use. The grill uses Wi-Fi and is mechanical so techies, engineers, and the like gravitate to this one. If you've ever bombed as an outdoor chef, redemption is here. 
Downside: Must have A/C power close by. One hundred percent indirect cooking (in most cases). A flame never actually touches your food, but searing is possible at higher temperatures. 
Charcoal Grills
For many, the original is the choice. Charcoal grills come in all shapes, sizes and price ranges. If you only barbecue a couple of times per year, limit the investment. Simple open-face grills work well for burgers, steaks and food you can sear and serve. You can also add wood chips for enhanced smoke flavor.
To take it up a notch, try a covered charcoal grill with indirect cooking capability. Ribs, roasts, fish and fowl all benefit from covered, indirect cooking as the cover seals in moisture produced by the meat. A built-in temperature gauge helps regulate heat like your kitchen oven. Grills, such as the Weber Kettle, control cooking through the adjustable air intake and exhaust vents. A little practice produces great results.
The ultimate tool in charcoal cooking is a ceramic Kamado-style cooker, such as the Big Green Egg. These grills cost more but last a lifetime and retain heat and moisture better than their metal counterparts. Make sure you buy a reputable brand with a lifetime warranty on the ceramics. If you are new to this type of grill, don't be intimidated — they are as simple to use as any covered charcoal grill and produce remarkable results.
Upside: Woodsmoke is the essence of outdoor grilling.
Downside: They must be cleaned regularly, and you must restart the fire each time you cook.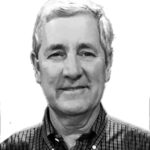 Sear-iously good steaks
"I love to do a reverse sear on my Big Green Egg. I start a steak at 200 degrees for around 20 minutes, then take it off, place in a cast iron skillet back on the grill at the highest temperature, and sear each side for 1 to 2 minutes while basting in unsalted butter and rosemary. When I bring the sizzling steak into the house on that skillet, it gets everyone's attention!" 
– Steve Ascik – Owner, Eastern Shore Ace Hardware
---
Getting Fired Up
The charcoal aisle of your local grocery or hardware store can be overwhelming. Let MB break it down for you.
clockwise from top left: 
Kindling – Pine Mountain Fatwood, $7, Springhill Ace Hardware Hardwood Lump Charcoal – B&B Better Burning, $10, Eastern Shore Ace Hardware
Mesquite Wood Chips– B&B Better Burning $8, Eastern Shore Ace Hardware
Local Pecan Cooking Wood – Big John's Cooking Wood, $13, Mosley's
Hardwood Pellets, Traeger Maple Wood Pellets, $19, Eastern Shore Ace Hardware
Charcoal Briquettes– Kingsford All Natural Original, $15, Springhill Ace Hardware
Cherry Wood Chips – Weber Firespice Smoking Chips, $7, Springhill Ace Hardware
Charcoal Briquettes
This charcoal works well for camping, tailgating or when you need a portable option. These briquettes heat up quickly and do not require extra lighter fluid. They are the most inexpensive option.
Lump Charcoal
This charcoal has no additives or chemicals and it produces less ash. But is more expensive than conventional charcoal. It heats up quickly and allows for a deep sear and intense flavor, depending on the type of wood used.
Pellets
Pellets are made from a variety of hardwoods and are manufactured to a uniform size and shape, allowing them to burn hotter and more evenly than other fuels. They can be in some grills as the sole source of fuel, and in others as a smoke-producer. They are more expensive and less widely available than charcoal.
Wood Chips
Used to add a smoky flavor to food, wood chips should be soaked in water prior to adding to your fire to prevent them from burning too quickly.
---
Tools for Grilling
Grill experts are a passionate bunch, and for each one who swears by one method, there's another who would never consider doing it that way. Despite this, experts do seem to have some consensus on how to select the best tools of the trade.
(clockwise from top left:)
Chef's Knife
Extra-large blade with an olive wood handle designed wide enough to fit your grip for
accuracy
Route83 • Chapel Farm collection • $330
Boning Trimming Knife
A versatile sized knife that can be used to bone, trim and slice
Route83 • Chapel Farm Collection • $129
Cast Iron Sauce Pot and Basting Brush
Minimizes mess and perfectly sized for marinades and BBQ
sauce
Big Green Egg • Eastern Shore Ace Hardware • $40
Wireless Meat Thermometer
No more guesswork! Communicates with your smartphone for exact meat temperatures and ideal cooking times
Master Plus •Eastern Shore Ace Hardware • $100
Scrubber
Barbecuing is a dirty job, and before you eat it's time to clean up
Andree Jardin Brush • Chapel Farm collection • $25
XXL BBQ Spatula
Big enough for all your flipping needs, from large cuts of meat to sliders
Traeger • EasternShore Ace Hardware • $50
Steel Tube Smoker
Add some wood pellets to this stainless steel tube and place in your grill to add smoky flavor.
A-MAZE-N Smokin' • Products Eastern Shore Ace Hardware • $30
Wood Grill Scraper
A safe and effective option for keeping your grill clean
Traeger • Spring Hill Ace Hardware • $30
Classic Tender Knife Set
Four handcrafted knives with German steel blades
Route83 • Chapel Farm Collection • $319
---
The Locals Know
Whether a weekend warrior or an expert meat man, everyone who cooks over fire has their own methods and preferences. We asked a few local grill masters to share their favorites.
Prime Time
"I love to grill NY strips. They are definitely underrated. Most places don't sell USDA Prime Strips like we do and that makes a huge difference. They are so buttery and tender."
– David Mosley – Manager and Head Meatcutter at Mosley's Meat Market
A Hungry Crowd
"Flank steak is one of my favorite pieces of meat to cook, especially for a big crowd. I jokingly call it the poor man's filet because I can typically make it taste better and melt in your mouth just as a filet would, but for so much less money. I marinate it for a minimum of six hours in a mix of spices, soy sauce, lemon juice and vinegar."
– Justin Bullen – Major Accounts    Manager, DEX Imaging
Cleaning out
"This time of year I like to cook venison roll-ups with backstrap, cream cheese, jalapenos and bacon— I'm trying to make room for this year's hunting season in my freezer. Typically, I use one to two chunks of pecan wood for flavor." 
– John Vulevich – Owner Big John's Cooking Wood
---
Resources
Eastern Shore Ace Hardware
6530 Spanish Fort Blvd • 626-3350
Spring Hill Ace Hardware
4364 Old Shell Road • 342-7420
Chapel Farm Collection
19130 Scenic Hwy 98 • 929-1630
Mosley's Meat Market
4678 Airport Blvd. • 344-5764 • 699 US-98, Daphne 626-1942
Grilling plans go up in flames? for tender, smoked ribs visit: Meat Boss
5401 Cottage Hill Rd. •929-1630