Exterior Designer Catherine Arensberg walks us through her creation of an easy and adorable fall decor project.
'Tis the season for an open flame, wafting smoke and a football game on the radio. For the novice grill master, it can be intimidating to light that first briquette. Let MB help you get started or perfect your technique.
Take a peek into this 1958 scene of The Loop Theatre which was once a favorite for moviegoers in Mobile.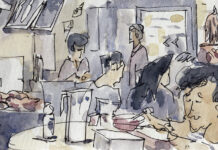 For writer Audrey McDonald Atkins, football and barbeque spell fall.
At roughly 1:15 a.m. on the morning of January 23, 1909, a group of two dozen armed, masked men strolled into what was then called the New Jail at 104 Church Street and held a gun on a deputy to obtain the keys to the cells. A prisoner was taken by force out onto the street and dragged west.
Margaret and Patrick were united in marriage at Sacred Heart Chapel on June 25, 2022.
Taylor and Charles were united in marriage at Ashland Place United Methodist Church on May 14, 2022.
Sarah and Jacob were united in marriage at St. Mary Catholic Church on April 2, 2022.
Mary Frances and Bailey tied the knot at the home of a family friend on April 29, 2022.
Ebie and Gaines were united in marriage at Sacred Heart Chapel on June 4, 2022.