Steam rises from the cast-iron skillet, temporarily curtaining Mary Alice Cain as she stands in front of the gas range in her mama's kitchen, sauteing shrimp. She turns her attention to the warm, thickened grits and then reaches across the counter for the large blue and white platter on which the Southern staple will be served.
"I remember when I couldn't even see the top of this counter," Cain reminisces, ladling the shellfish onto the bed of cheesy porridge. "My mom would pull up a little step stool for me to stand on so I could help stir."
Pasta is one of the first things she learned to cook, but by now, there's not much the self-proclaimed home chef can't tackle, foodwise. "Cooking kind of runs in the family," she modestly hints, glancing at mom Barkley Shreve, founder of Spring Hill Kitchen and Mamie's Famous Cheese Wafers. "My mom's mom was 'Mamie,' so I learned how to make that recipe pretty early on, too. Mama Mavis, my dad's mom, taught me how to mix together different ingredients to make cookies."
Nonchalantly added amidst the familial culinary rundown is Cain's great-grandfather, George Widney, founder of Dew Drop Inn, Mobile's oldest restaurant.
The 30-something Mobile native props herself up with one arm and muses on her own cooking style. "I'd say it's traditionally Southern with a modern twist. I grew up making traditional Southern food, but now that I live in Decatur, Georgia, a suburb of Atlanta, I'm able to carry the Southern tradition to that world while adding a bit of modern to it. I sort of shake it all together to make a healthy balance."
Cain, a registered dietician, is no stranger to shaking things up, thanks, in part, to her dad, Lewis Shreve. In 2017, the patriarch challenged his daughter to make a Derby pie using only ingredients found at Dollar General. She had her doubts, but to everyone's surprise, she succeeded. But could the store, perhaps better known for in-and-out purchases like household cleaners and toiletries, be used to create an entire meal? Cain was determined to find out, using the experiment as her master's project at Georgia State, the outcome of which were 30 healthy, family-friendly recipes made exclusively with food found at the dollar store. With a little family prodding, she submitted her findings to Dollar General, and within about a week of her initial email, Cain traveled to the company's headquarters and was subsequently signed on as an independent contractor. The collaboration resulted in the chain's "Better For You" series, found on their website, which currently includes about 75 recipes. "I work with a team of chefs," she explains of the development process. "I pick out which ingredients to use, but the big thing we focus on is adding nutrition."
While variety stores such as Dollar General have borne the brunt of criticism for edging out small businesses, some are instrumental in feeding residents in food deserts — areas where access to affordable, healthy food is either nonexistent, due to a lack of grocery stores, or restricted, due to being outside convenient traveling distance. While Dollar General does not tout itself as a grocer, Cain has proven that eating healthy doesn't have to be expensive, the evidence of which includes the spread-for-four laid before her that cost less than $25.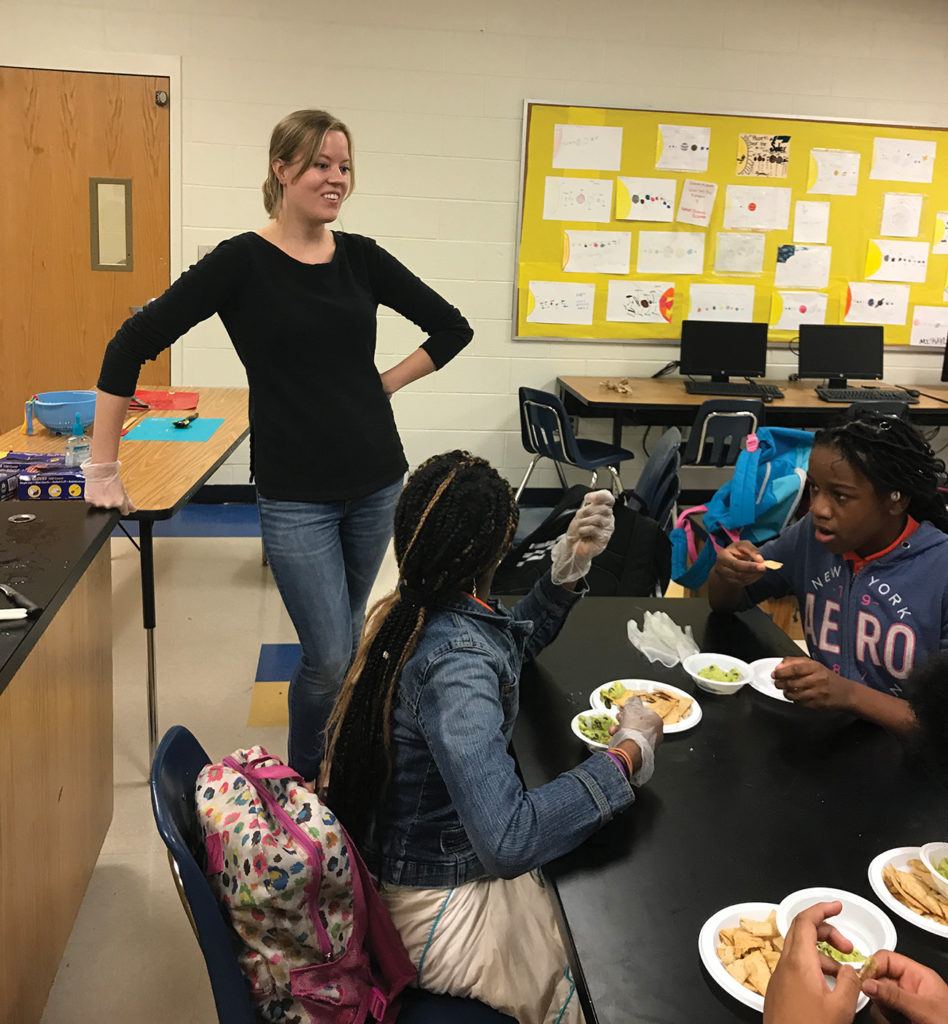 "It's been such a tough year for so many," she affirms. "Even if people don't go to Dollar General to get all the ingredients, these recipes serve as refreshing ideas for affordable meals." But being thrifty isn't Cain's only goal. "I think so many people are intimidated by the kitchen. It doesn't have to be scary. There is so much misinformation out there about food and nutrition and cooking. I try to take the research and the nitty gritty details of the science and break it down. Part of my life's mission is to show you how simple it is and that you, too, can cook."
When asked about additional areas of interest, Cain thinks back on her time teaching nutrition to middle schoolers as part of After-School All-Stars, a nonprofit organization devoted to expanding the learning day for low-income children. "I realized there was so much opportunity to educate children about making healthy choices," she states, eyes glimmering. "I think that's an age group we miss a lot of times. My goal is to get back into that community and educate, teaching young ones."
Though she works with the USA Poultry & Egg Export Council doing full-time marketing and promotional work, Cain satiates her dietary creativity with her continued relationship with Dollar General. And with increased awareness of the "Better For You" program, Cain's educational reach is far wider than she ever imagined possible. "A gal I grew up with works in an elementary school in Nashville, right next to a Dollar General," she shares. "The school took these recipes and are now incorporating them into their health classes."
Cain smiles like a proud parent, mirroring the grin on her own mother's face. Indeed, it's hard to believe that from an offhand, Derby-inspired challenge came the realization of a life's calling. "Everyone needs nutrition; it's not just for certain people," she emphasizes. "If I can help just one person or family make better decisions about their health or teach them how to cook and prepare healthier food, I'll consider my job done."
Mary Alice's Tips for Eating Healthy
Frozen vegetables and fruit are typically just as healthy as their fresh counterparts. Picked at harvest, the produce is immediately frozen, locking in all of its nutritional value.
Simply rinsing canned vegetables and beans removes a lot of added sodium.
Adding nuts to dishes like salmon or pasta is an easy way to incorporate more nutrients.
Looking for healthier recipe alternatives? Start small with simple swaps, like exchanging milk chocolate for dark.
Sneak fiber into any dish by adding legumes, such as black-eyed peas or kidney beans.
Herb Salad Dressing
Think outside the salad bowl — this delicious homemade dressing pairs with most anything.
1 cup olive oil
1/3 cup white vinegar
1 teaspoon garlic, minced
1/4 teaspoon salt
1/4 teaspoon black pepper
2 tablespoons fresh basil, chopped
1 tablespoon fresh parsley, chopped
2 teaspoons fresh chives, chopped
1 tablespoon lemon juice
1. In a 2-cup jar with a tight-fitting lid, combine all ingredients, cover with lid, and shake until thoroughly combined. Serve immediately or cover and chill until ready to serve. Serves 12
Pecan-Crusted Salmon
Eating healthy on a dime is possible, and this dish, chock-full of nutrients, is just one example from Dollar General's "Better For You" recipe collection.
1 tablespoon honey
1 tablespoon yellow mustard
1/2 teaspoon dried minced onion
1/2 teaspoon dried parsley flakes
2 (4-ounce) frozen salmon fillets
2 tablespoons chopped pecans
1. Preheat oven to 375 degrees.
2. In a small bowl, combine honey, mustard, onion and parsley; mix well. Place salmon on a rimmed baking sheet. Spoon honey-mustard mixture evenly over salmon and sprinkle with pecans.
3. Bake 12 to 15 minutes or until fish flakes evenly with a fork. Serves 2
Shrimp and Grits
This Southern staple is quick and easy, making it a realistic weeknight meal.
2 cups water
4 individual packets instant grits
1/4 cup shredded sharp cheddar cheese
2 teaspoons canola oil
1 (12-ounce) bag frozen raw shrimp, thawed and peeled
1 1/2 teaspoons minced garlic
1 tablespoon lemon juice
1 teaspoon hot sauce
1/2 teaspoon dried parsley flakes
1. In a medium saucepan over medium heat, bring water to a boil; stir in grits and cook 4 to 5 minutes, or until thickened. Add cheese and stir until melted.
2. Meanwhile, in a large skillet over medium-high heat, heat oil until hot. Add shrimp and garlic to skillet and saute 3 minutes or just until shrimp turn pink. Stir in lemon juice, hot sauce and parsley. Heat for 1 minute.
3. Spoon grits into a bowl, top with shrimp mixture and serve. Serves 4
Chocolate Truffles
These easy-to-make, scrumptious treats are perfectly portioned bites of dark chocolate heaven. No need to wait for a special occasion to enjoy these guilt-free morsels.
1/3 cup evaporated milk
2 tablespoons sugar
1 (10-ounce) package dark chocolate chips
1 teaspoon vanilla extract
1/4 cup roasted almonds, finely chopped, optional
1. In a medium saucepan over medium heat, combine evaporated milk and sugar; heat until mixture comes to a boil. Continue to boil for 1 minute, stirring constantly, then remove from heat. Add chocolate chips and vanilla and stir until mixture is smooth. Cover and chill 1 hour.
2. Using a small ice cream scoop, form 3/4-inch balls, and with your hands, shape them into balls. After rolling each into a ball, immediately roll it into the chopped almonds, if desired. (Rolling these immediately helps nuts stick best to chocolate.)
3. Repeat until all the chocolate is rolled into truffles. Place on a platter, cover, and chill 30 minutes or until ready to serve. Makes 20 truffles
Marinated Veggie Chow Chow
You'll be sure to eat all your veggies, thanks to the irresistible vinegar marinade. The added fiber from canned beans makes this a well-rounded dish.
1 (10.8-ounce) package frozen broccoli, cauliflower and carrots, thawed
1 cup frozen cut green beans, thawed
1/2 cup frozen pepper and onions, thawed
1 (15.5-ounce) can red kidney beans, rinsed and drained
1 (15-ounce) can black-eyed peas, rinsed and drained
1 1/2 cups water
1 cup white vinegar
3 tablespoons stevia sweetener
2 teaspoons garlic, minced
1 teaspoon yellow mustard
1/2 teaspoon salt
1 teaspoon dried parsley flakes
1. In a large bowl, combine all vegetables and beans; set aside.
2. In a medium saucepan over high heat, bring water, vinegar, sweetener, garlic, mustard and salt to a boil, stirring occasionally. Pour mixture over vegetables, add parsley and mix well.
3. Let vegetables cool, then cover and refrigerate until chilled. Serves 12