A is for Ashland Place, the iconic neighborhood beloved by many locals for its Craftsman- and Victorian-style homes and quaint sidewalks. Known for the church, preschool, gallery and pub that bear the same moniker, the historic district is named for Augusta Evans' home, Ashland, which once stood on Lanier Avenue.
B is for battle, as in­ -ship, House, and of Mobile Bay. You'd be hard-pressed to find a Bay-area youth who hasn't taken a field trip to or enjoyed a birthday party at the Battleship Memorial Park, also one of  our top tourist attractions. The landmark Battle House Hotel, right, opened in 1852, has housed many an important guest, most notably President Woodrow Wilson, exactly 100 years ago this year. Fought during the War of Northern Aggression, the Battle of Mobile Bay is known for Union fleet commander David Farragut's foul language regarding those darn torpedoes.
D is for the "Dolly Parton Bridge, " which carries four ample lanes of I-65 across Mobile-Tensaw River Delta. A pair of rounded arches calls to mind the voluptuous country singer and actress, who seemingly celebrated each of her 45 Grammy nominations with a surgery. The bridge is actually named for General W.K. Wilson, who decorated his chest with distinguished military medals.
E is for Ezell House. Built in 1867, the historic home, with its stunning architecture and spacious courtyard, was originally inhabited by Mayor Martin Horst. Today, the space is a popular reception site for brides.
G is for Griffith Shell, the quintessential service station on the edge of the Oakleigh district. Run by the brothers Griffith – Preston and Stephen – the gas station recently was the basis for a Mobile Theatre Guild production, an original satire titled "Don't Frack with Society Shell!"
H is for Hammerin' Hank Aaron, the most famous athlete from our talent-rich Bay area. Aaron, bottom right, heads a class of five Mobilians that have been elected to the Baseball Hall of Fame: Ozzie Smith, Satchel Paige, Willie McCovey and Billy Williams.
I is for Islands. We all have our preference, be it Ono, Dauphin, or even Gravine. One man lived alone on Goat Island, and Mon Louis and Petit Bois are très magnifique. Showcasing savvy PR skills, French settlers Bienville et al dropped the name Massacre Island, instead naming it Dauphin in honor of the heirs of French King Louis XIV.
J is for Joseph Stillwell Cain. Old Slac's gravestone says it best: "In 1866, Joe Cain dressed as a mythical Chickasaw chief, and might have seemed comic – but certain perceptive ones realized he represented the epitome of victory – for the Chickasaws were never defeated in all their history. So Joe Cain, with his masquerade, lifted this region from despair and revived the ancient French observance of Boeuf Gras – now known in Mobile as Mardi Gras – thus inaugurating the dispute as to who had Mardi Gras first – Mobile or New Orleans?"
K is for king, as in mackerel and cake, which should always be eaten separately. The stubborn fish is ideal for anglers trolling for a fight. The sugary cake is a Mardi Gras tradition. The unfortunate soul who receives the slice with the baby is charged with providing the next cake. Note: While swallowing the baby before anyone sees it may seem like a good idea at the time, it will undoubtedly get you in the end.
L is for LoDa, the nickname for the "Lower Dauphin" area of Downtown Mobile. Recent revitalization has seen an influx of new restaurants and bars, like Union, Moe's Original BBQ and the LoDa Beer Garden, to go with old favorites like Café 615, NoJa and Wintzell's. Take in Art Walk or a movie at the Crescent Theatre, and go from there.
M is for the Mitchell Cancer Institute, the $125 million state-of-the-art treatment and research facility. This innovative, world-class center, along with aeronautical giant EADS and shipbuilder AustalUSA, represent the burgeoning technology sector in the Bay area. Huntsville, you're on notice.
N is for nautical. Our past, present and future are indelibly attached to Mobile Bay. Our port is responsible for 67, 000 jobs, providing an economic impact of almost $8 billion.
O is for Oakleigh, the historic mansion and the district surrounding it. Built on 35 acres in 1833 by brick mason James W. Roper, the Oakleigh Historic Complex consists of the Minnie Mitchell Archives, the Cox-Deasy Cottage and the Cook's House. The Oakleigh Garden Historic District is named for the estate. Centered on Washington Square, the neighborhood is recognized for its majestic fountain, regal residences and eclectic dining experiences, like Kitchen on George, Cream & Sugar and Callaghan's Irish Social Club.
P is for Porches. Sometimes there's no better seat in the house than the one on a front (or back) portico. For centuries, porches have been a gathering place for neighbors and a way for Mobilians to seek reprieve from the sultry heat. Swings and waterfront views are sweet bonuses.
R is for rivers, and we've got a few, delivering 43 billion gallons of water per day to Mobile Bay. In alphabetical order, they are Dog, Fish, Fowl, Joan, Mobile and Tensaw.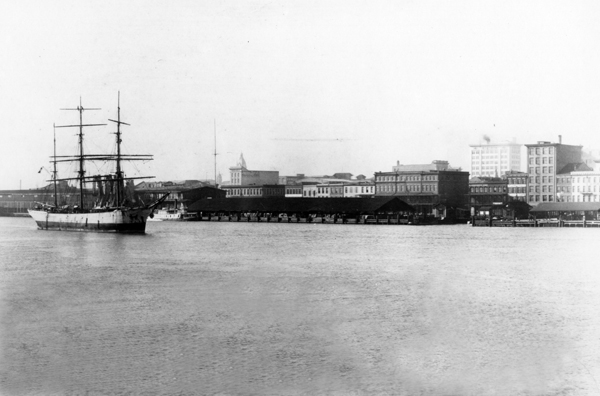 S is for Saenger, the historic theater in downtown Mobile. The beautiful venue has hosted  B.B. King, Yo-Yo Ma, Dr. John and Levon Helm, among many others. Fun fact: The Saenger was the setting for the very first America's Junior Miss scholarship competition.
T is for Twenty-seven Mile Bluff, where it all began. In 1702, d'Iberville established Fort Louis de la Louisiane on the Mobile River. The French colony would remain there until 1711, when it was moved to its current site. The first site of what would become Mobile is considered the French answer to
the English Jamestown.
U is for our universities, which provide higher education for almost 20, 000 students annually. Famous alumni: USA ­–
David Freese, 2011 World Series MVP with the Cardinals; Spring Hill – Paul Morphy, the first recorded chess prodigy in history; University of Mobile – Big Daddy Weave, a Christian contemporary band.
V is for the Visitation Monastery. Bishop Michael Portier founded this convent in 1832, and in January of the next year, it accepted its first class of 40 students. In the '50s, the gift shop began serving its famous heavenly hash.  
W  is for West Indies Salad. We owe this delectable appetizer, served best on saltines, to William Bayley, of Bayley's Restaurant, on Mon Louis Island on the way to Dauphin Island. Made with fresh, local seafood, the famous marinated crab dish is requisite for any Mobile feast.
Y is for Youtube. Speaking of "where the gold's at, " the infamous Crichton Leprechaun quickly became the imp heard 'round the world, garnering more than 22 million page views. Not exactly a banner moment for the Port City, unless there's truth to the cliché,   "no such thing as bad publicity."
Z is for the ZEW, Mobile's last locally owned music radio station. Catt Sirten's Sunday Jazz Brunch is a must-listen for those seeking a relaxing Sunday morning, and the station plays host to all of Eli Gold's calls of Alabama football games.
---
text by Stephen Potts and Mallory Boykin • illustrations by Kelan Mercer