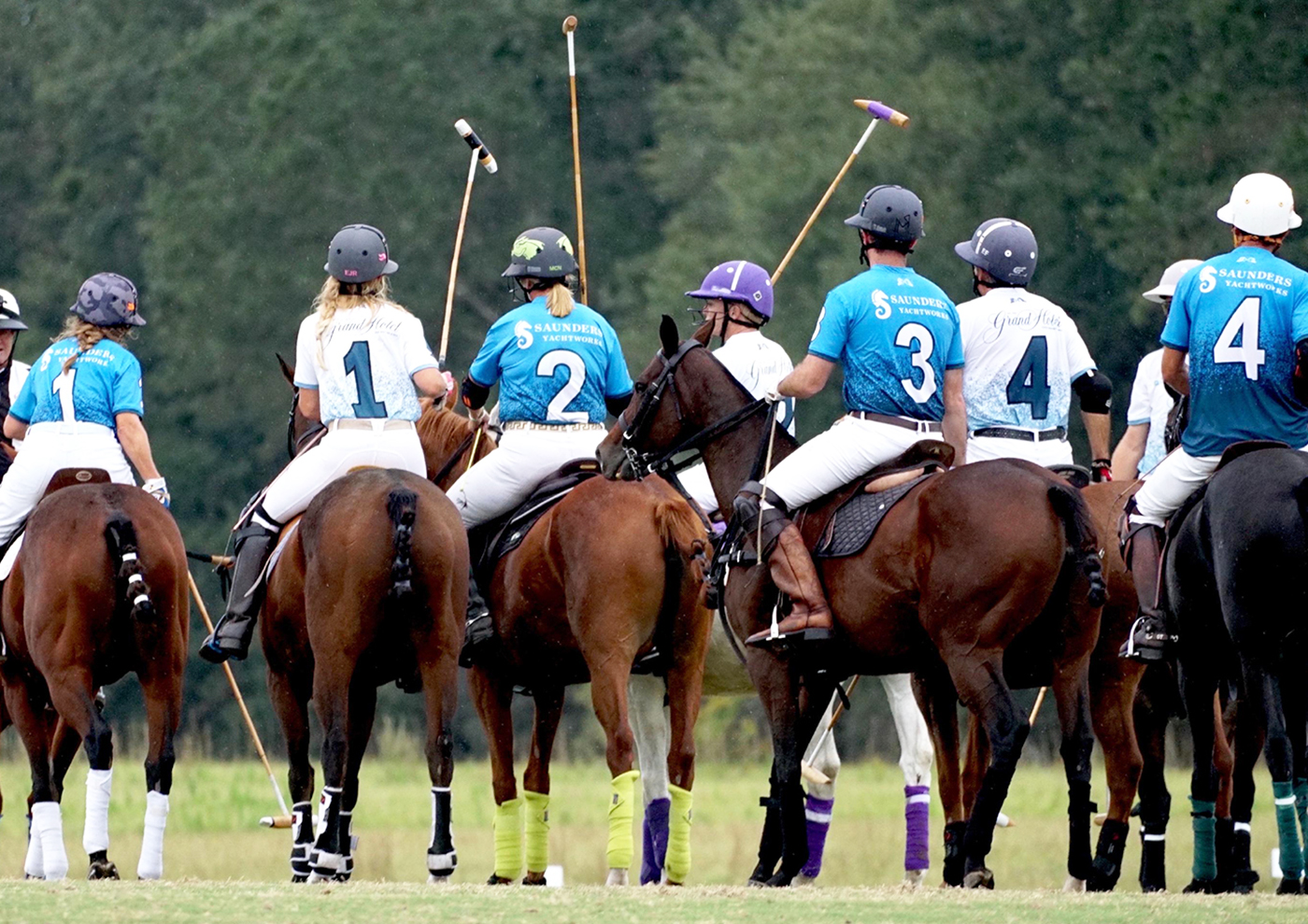 You can feel the horses coming before you see them. The ground almost vibrates as 8,000 pounds of animals going around 30 miles per hour chase after a small white ball. The horses and their riders race towards the end of the field, metal horseshoes sending grass clippings flying. The player out front winds up his bamboo mallet as someone riding hard right alongside him tries to ride him off the line, and yet another player directly behind extends a mallet to catch the swing in midair, causing what baseball fans might know as a whiff. The horses stop on a dime, almost sitting down on their haunches as they spin and turn, and the whole group takes off in the other direction. The vertigo must be real for the players and ponies alike, but the athleticism and bravery of both are not lost on the spectators. Folks in sunhats gather along the sidelines — at a safe distance from the flying hooves and sailing balls — to enjoy picnics and smiles in the late October sunshine.
This scene repeats itself most every weekend along the Gulf Coast, where polo has been played since the 1970s. Fairhope's Hutch Radcliff explains that the sport was brought to the area by a small group of horsemen, two of which were family members: his father and uncle. And while growing up around the sport might have given him a unique familiarity, he explains that he really didn't start to play until about the age of 30. These days, it is truly a family affair, with two brothers, a few nephews, his wife and one daughter all playing the sport. He says simply, "It's a big part of what we do."
For the spectator to get the most out of a game, however, it's important to understand what all these people are doing. According to Radcliff, the game is similar to hockey, except on a galloping horse, and without a goalie. He explains that each game is divided into four periods, known as chukkers, and that each chukker lasts seven and a half minutes. There are four players per team, plus an umpire to enforce the rules of safe play. Safety is of top concern. This high adrenaline sport, where players and horses operate at breathtaking speed with seven other players chasing them, is inherently dangerous. While players take this seriously, the near misses can cause a laugh. "There's an unwritten rule in every polo club that anyone who falls off their horse is required to buy the rest of the club a case of beer," says Radcliff. As long as there is no serious injury, it's all about friendly rivalries.
Polo is one of the oldest sports still played today, with origins in Iran around 500 B.C. It made its way to India and later England, after which James Gordon Bennett brought it to the United States in 1876. Many Americans today trace their familiarity with the sport to the now-King Charles, picturing Princess Diana and the royals in their finery and with grooms at the ready. But polo, at least in this neck of the woods, really isn't like that, according to Radcliff. "This is a tailgate event, not a fashion show," he says. "We intentionally keep polo family friendly."
If you've never had the opportunity to witness the sport of kings — and most of us haven't — now's your chance! Radcliff works with The Community Foundation of South Alabama, a hub for numerous charitable organizations, to host a tournament open to the community and raise money for charity. The event, taking place at the end of October, will have free activities for kids such as pony rides and face painting. For the older crowd, food trucks, Champagne divot stomping and tailgating competitions keep it exciting. As if you needed more excitement with all the equine athleticism and daring riding taking place just yards from your picnic!
At the end of the day, all this fun is for a really good cause. According to Rebecca Byrne, head of The Community Foundation of South Alabama, the purpose of the event is to raise both funds and awareness. The foundation has established a community endowment fund to award grants specifically to the Fairhope and Point Clear communities and ensure that everyone has an opportunity for life improvement. Byrne wants generations to come — our grandchildren and great-grandchildren — to always have a community endowment fund so that the area can be the very best it can be. Gathering to raise awareness about the needs in our own backyards is truly noble, and there is no more enjoyable way to do so than watching a noble sport unfold before you.
Chukkers for Charity
Sunday, October 30, 2022
12 to 5 p.m.
13456 County Road 48 in Silverhill
General Admission:$20 per adult in advance,$30 per adult cash at door
Free admission for children under the age of 12
Reserved Parking Packages Available
Tickets and more information can be found here:
https://www.communityfoundationsa.org/chukkers-for-charity
Want to read more? Check out this article on Radcliff's nephew and professional polo player from Mobile Bay Magazine!