With over 50 years of dedicated research, the Dauphin Island Sea Lab is still expanding horizons. They're just getting their feet wet with their new multi-stressor wet lab.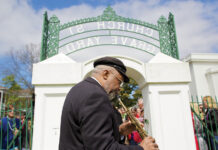 Dating back to 1883, the Excelsior Band has been delighting Mobilians for generations and breaking barriers along the way.
Mark your calendars with this month's top local events you won't want to miss.
Chef Will Sams' vision of an upscale coastal menu finds a niche in downtown Fairhope.
Fundraiser for the Community Foundation of South Alabama brings casual tailgating and family-friendly pony rides to the "sport of kings"
Mobilian Andrew LaMar Hopkins brings Gulf Coast Creole culture to the wide world with his colorful paintings rich with historical detail.