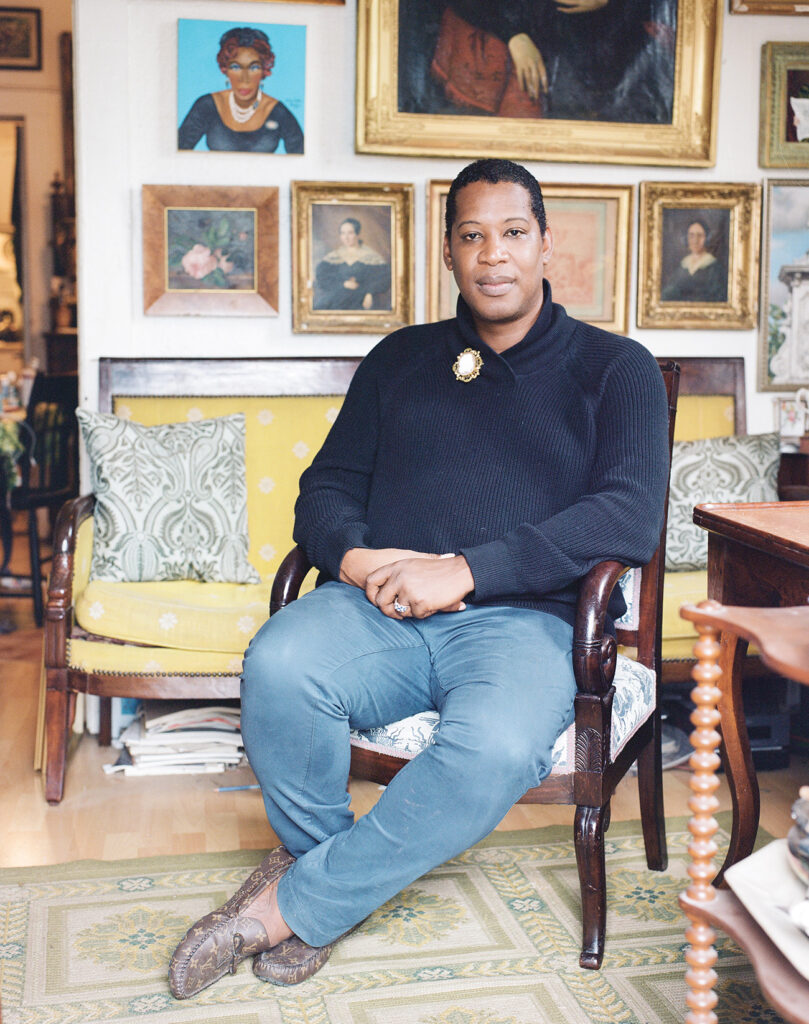 A young Andrew LaMar Hopkins eases through the door of the 1850 Museum at the Pontalba Apartments just off Jackson Square in New Orleans. The sweltering summer heat fades behind as Hopkins sidles up to the counter, tall and lanky for a 13-year-old.
The year is 1992, and Hopkins is visiting New Orleans with his mother on one of their monthly excursions, during which the pair would drive over from Mobile for the day to walk the streets of the French Quarter, gaping at architecture, antiques and ironwork. The cashier taking entry fees for the small museum is from Jamaica and tells Hopkins she loves his smooth Southern accent. He returns the compliment, and a friendship quickly unfolds. By the end of the conversation, the young man with a deep passion for the 19th century has won free admission to tour the historic building. Not more than five years later, he would be running the gift store in the same museum.
Hopkins' eyes have always been laser-focused on a time that was not his own — of the people, furniture and customs of the Gulf Coast when most of its inhabitants spoke French or Spanish, horse-drawn carriages carried ladies and gentlemen to candlelit soirees and mixed-race Creoles mingled in high society. The world he studies, and about which he has built a smashing artistic career, is a long way from the Toulminville of the 1980s.
Hopkins was raised mostly by his grandmother, Betty McGee, who he says wasn't terribly interested in art or architecture. But he remembers trips with her to downtown Mobile as a young child, watching the architecture change through the car window from suburban strip malls and convenience stores to 19th-century buildings full of character and history.
"I just remember being in a car as a very small child, just looking at the cast iron and the beautiful brickwork, the columns, and thinking, This is absolutely amazing. This is something special."
When his grandmother later moved "down the Bay," Hopkins was able to walk or ride his bike down Washington Avenue to the Ben May Main Library, where he would pore over books containing photos of buildings, paintings, vases and furniture. He soon began exploring the city's Local History & Genealogy Library next door, learning about Mobile's free people of color and the wealthy Creole society that held so much sway in town at one time. He researched his own family, which he says wasn't easy to do in a time before the Internet, and traced his roots back to the French explorer and cartographer Nicolas Baudin, who was given Mon Louis Island in 1710 and whose descendants later married into free people of color in Louisiana in the 19th century.
Hopkins' obsession intensified and became all-encompassing. While his contemporaries were playing ball in the street and eating pizza, he was dreaming of the past.
Finding His Way
Today, Hopkins sits in a French 18th century neoclassical directoire chair and offers up a spread of dainty treats on fine china and sweet tea from a silver tray — the ultimate Southern host. In his new artist studio on the second floor of an 1833 New Orleans building, complete with high ceilings, original cypress floors and French doors that open to a wraparound porch overlooking the Vieux Carré, he talks about his unconventional path.
Hopkins attended Holloway Elementary in Toulminville, then Pillans Middle School off Dauphin Island Parkway. After enrolling at Murphy High School, his mother, who had since taken him back to live with her, decided to move to New Orleans. Murphy, he remembers, was recognized as one of the top public schools in the nation in the early 1990s, so the transition to the New Orleans Public School system, which he describes as "positively third-world," was an adjustment.
"The school children cursed in the classroom, and the teachers didn't do anything," he says. "It was wild, just like two different worlds."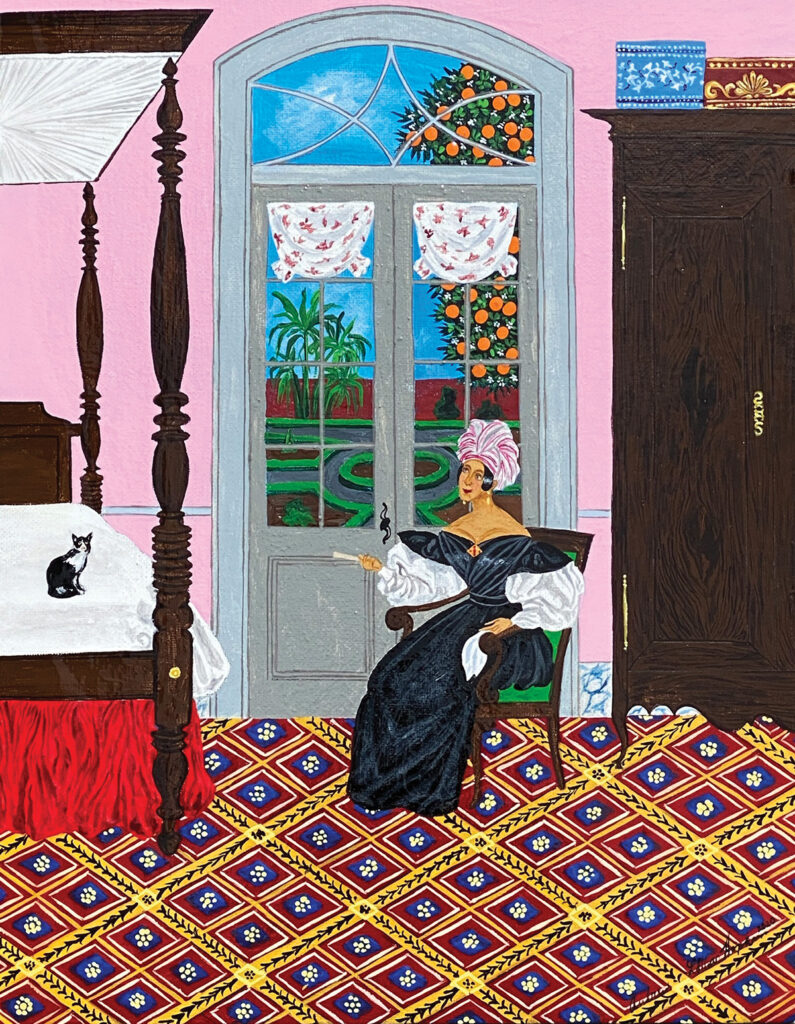 Although Hopkins found a small group of students who understood and accepted him, he confesses that teachers were his safe harbor all along.
"My first-grade teacher Kathy Bates — we've kept in touch all these years. She inspired me to draw and to paint and to be myself."
Once Hopkins settled in New Orleans, he became so close with another teacher and her family that he spent two to three nights a week at her house.
"I know that's unheard of nowadays," he admits, but Hopkins became a part of the family. "We both loved antiques, so we would go to estate sales, garage sales and antique shows."
As a mere 16-year-old, he even hosted a luncheon for her and a group of friends, pulling out silver and crystal that he had picked up on their shopping excursions.
"I've always had a group of teachers that supported me, looked out for me and rooted for me. I guess they saw something special." And often, having someone be your champion can make all the difference.
For a period of time, Hopkins found himself floundering as he sold antiques and miniature paintings of historical figures, artifacts and scenes for just a few hundred dollars. He had a brief stint as a shop owner on Magazine Street, where he could really flex his expertise of southern, Creole and French antiques and decorative arts from the 18th and 19th centuries. But before long, he was back in Mobile living in a house owned by a family member. The electricity was sometimes cut off as he struggled to sell his paintings.
"I was a true starving artist during that time in Mobile. Thank goodness I had a free house to live in," he recalls. "But something told me, 'If you paint it, they will come,' so I just painted my butt off and returned to New Orleans."
Nadine Blake Gallery gave him a show upon his return, and it more than sold out. That's when the next champion came into his life.
In late 2019, New York antiques expert Ellie Shushan, who Hopkins says is the "world's foremost authority of miniatures on ivory," was planning The Winter Show in New York City. This prestigious art, antiques, and design fair, held each year at the Park Avenue Armory, gathers many of the world's top experts in the fine and decorative arts. In recent years, a select group of contemporary artists have been included. Shushan invited Hopkins to exhibit.
Hopkins' paintings shine a light on what life was like on the Gulf Coast almost 200 years ago — a place that, he points out, has always been so different than the rest of the South.
"I think it's the most interesting place in America," he gushes with a deep, jovial laugh. "It was a melting pot, from Pensacola all the way down to New Orleans, and these black, white and mixed-race Creoles were colorful and interesting. I feel it is my duty to bring these people back to life."
His paintings are known for their historically accurate depictions of architecture, furnishings and dress, a skill cultivated over years of research and time spent buying and selling antiques. And he represents real people from the time period with stories to tell the viewer. If the paintings didn't resonate with buyers in Mobile in his early days, they certainly pique the interest of New Yorkers now.
In the days leading up to the show, a journalist who had pitched a 600-word story on Hopkins to an art publication in Brooklyn instead landed 1,000 words and a full-page layout in the Sunday New York Times.
"I ran around the French Quarter and bought up every copy of the paper the hotels had!" he remembers.
What began as one of the toughest years of Hopkins' life (he lost 11 loved ones in 2019, including his beloved grandmother) had turned a major corner.
"I felt as if all the people who had died that year were looking down on me, and not only that, but helping me in some way. Especially my grandmother, who sheltered me and loved me my whole life."
Upon his arrival in New York, Hopkins was honored with a stylish cocktail party meant to introduce Desiree Josephine Duplantier, his drag alter ego with an appropriately Creole name, to the elite of the art and antiques world. Because of the New York Times article, which he admits helped make him a success, a number of high-profile magazine editors and gallery owners attended the soiree. The New York Times went on to critique his 13 paintings in The Winter Show, and everything sold out. If you are ever in doubt that life is as much about timing as it is hard work, Hopkins is certainly the example. He followed this sensational debut with three paintings featured in his first New York gallery exhibition not long after.
"I was the least-known artist in the show — some were selling art in the $100,000 to $1,000,000 price range! But all three of my paintings sold, and they offered me a follow-up solo show."
Hopkins now has representation in a New York gallery and his own paintings sell in excess of $10,000. It's a long way from the $200 works he was unable to sell in a small gallery on Royal Street in downtown Mobile, paintings that barely kept his lights on, but he tries not to let success go to his head.
"It was a long road. This is certainly something I have worked hard for and earned."
Work in Progress
Hopkins has rented this new studio in the Vieux Carré so he can paint larger canvases in preparation for his next big New York Show.
"My place in Treme doesn't have the room," he explains over tea.
One look around the parlor filled with delicate French antiques, each of which he can relate the history and significance, makes it clear his passion for this bygone era runs deep.
But this larger-than-life personality isn't just living in the past. Every day for Hopkins is a balance of hard work and historical research with modern-day luxuries like Champagne, antiques and spectacular dress up. His daily mantra is "Creole right now, honey!" as he shares glimpses of his life with fans and art collectors around the world on his social media channels. By celebrating the lives of the people who came before us, the people who cemented our very culture, Hopkins is bringing a little bit of modern Gulf Coast flavor to the world.