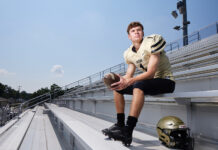 You're on your own, kid! Standouts and superstars, these 12 exceptional Bay-area kids reach for the sky while making our local area proud.
In this annual recognition, MB honors 13 local teens who give meaning to the phrase, "You're going places, kid!"
Mobilian Andrew LaMar Hopkins brings Gulf Coast Creole culture to the wide world with his colorful paintings rich with historical detail.
Is it true that one of NASA's first astronauts was from Mobile?