Denver Persinger
Recent graduate // Spanish Fort High School // Wrestler and Advocate
Why He rocks
During his six years wrestling for Spanish Fort High School, Denver has made it to the individual state championships four consecutive times and has been a team captain for two years. He has received many accolades, including the Hardest Worker award three times and the Academic Achievement award three times. Denver won the Wetumpka individual tournament and placed second at the annual Swede Umbach Invitational.
Off the Mat
When he's not wrestling, Denver runs One More Moment, the nonprofit he and his mother founded. "During my sister's battle with mental health, we came to the shocking realization that there are surprisingly few resources to help us navigate how to help her," he explains. "We hope to give not only a plethora of resources to the families of teens in crisis but also a means to connect them with other parents facing similar struggles to show them they are not alone."
Future Plans
Denver plans to attend the University of Denver this fall to pursue a double major in computer science and business management.
Biggest Influence
"My parents are the biggest influences in my life," he says. "They have constantly shown me the importance of hard work and how, no matter what, I should pursue a career I have genuine love and joy for. I give credit for everything
I do to them.
---
Victoria Blakley
Recent graduate // Davidson High School // Lead Ballerina
Why She rocks
Victoria began dancing 15 years ago and has been focusing on ballet for the past nine years. Last year, she was cast as Tiana in Mobile Ballet's production of "The Princess and the Frog," making her the first African American to dance a lead role in a Mobile Ballet original production. "Younger dancers looking up to me motivate me to never stop doing what I do," she says.
Off the Stage
When she's not working hard in class or wowing the audience in ballet performances, Victoria enjoys learning more about the different aspects of cosmetology. "Specifically, nails interest me," she says.
Future Plans
Victoria will complete her college training in the Alonzo King LINES Ballet B.F.A. program at the Dominican University of California. "I hope to be a part of a nationally known dance company once I've completed my college courses," she says.
Biggest Influence
"Everyone who has supported me through not only school but all of the dance conventions, master classes or simply giving me a ride to dance," she says. "All of my teachers have really made an impact on me, and I continuously thank them for all the motivation and corrections that have gotten me where I am now."
---
William Jameson
Recent graduate // St. Paul's Episcopal School // Scholar Athlete
Why He rocks
William made waves — the good kind — as a swimmer for St. Paul's Episcopal School. He has been selected as an All-State swimmer every year in high school and contributed to a new all-time, all-classification state record in the 200-yard medley relay in 2020 for his alma mater's varsity swim team. He was recently a class winner of the Larry Striplin Jr. Scholar-Athlete award, given to seniors who excel in both athletics and academics.
Out of the pool
Swimming isn't the only athletic arena William is involved in; he runs track and field for St. Paul's as well. He is also gifted in academics. He was the valedictorian of the Class of 2022, a National Merit finalist and made a perfect score on the AP English Language and Composition Exam, one out of only 11 students around the world to do so.
Future Plans
William has been accepted into the Air Force Academy and spent the summer training at boot camp. He hopes to continue swimming at the Air Force Academy and ultimately aims to become an Air Force officer and pilot, with ambitions of flying F-35s.
Biggest Influence
William lists his parents as his biggest motivators. "They have always supported me and encouraged me to try my best."
---
Randy Tyrone Stewart
12th Grade // LeFlore High School // JROTC Leader
Why He rocks
Since starting JROTC during his freshman year, Staff Sargent Randy has quickly moved up the ranks, winning several accolades along the way. Recently, he was the recipient of the Howard Johnson Jr. award, which is given to a cadet who exhibits outstanding character. He has also received the Superior Cadet award — three times! — as well as the Mobile Area Chamber of Commerce Outstanding Army JROTC award and the Super Kids honor. Randy is on track to become a battalion commander next year.
At Ease
Besides being a standout in JROTC, Randy is involved in the psychology club at school and assists with a variety of different service projects. His favorite subject is science. "Chemistry, to be more specific," he explains. In his free time, he enjoys gaming.
Future Plans
After graduating high school, Randy plans to enlist in the Army Reserves while attending college to further explore his love of science. "I intend on majoring in chemistry and eventually become a chemist," he says.
Biggest Influence
Lieutenant Colonel Robert Barrow, director of army instructors, and First Sergeant Bruce Smith, an instructor who recently retired, are Randy's JROTC role models. "LTC Barrow basically runs all the events," Randy says, "and 1SG Smith was my instructor for two years. He gave me that little push to get involved."
---
Kaitlynn Aikin
Recent graduate // Daphne High School // Automotive Technician
Why She Rocks
Since first taking an automotive class at the North Baldwin Center for Technology (NBTech) in the fall of 2020, Kaitlynn has earned several distinctions. She was the first female from NBTech to compete in automotive technology for Skills USA, coming in fifth in the district and seventh in the state. She was also awarded Outstanding Club Member for Automotive at NBTech and Outstanding Student for Automotive at NBTech. "I am very competitive and want to know as much
as I can," she says.
Out of the Shop
When she's not working, Kaitlynn enjoys pole vaulting, track and field, archery and swimming. She also dabbles in painting and
various arts and crafts activities.
Future Plans
Kaitlynn is enrolled at Universal Technical Institute in Dallas to study diesel technology. "After school, I would either like to work at a dealership or go work on an oil rig," she says.
Biggest Influence
Kaitlynn lists Kelli Adkins, a counselor at NBTech, as her role model. "She was always very supportive of me and saw something I didn't see in myself," she says. "She helped me grow as a person and guided me to where I am today. Because of her, I try to live every day with the positivity that she has!"
---
David Klimjack
Recent graduate // Bayside Academy //Math and Science Whiz
Why He Rocks
Not everyone knows an extensive amount about roller coasters, but, then again, David Klimjack is not everyone. His enthusiasm for roller coasters began when he rode The Hulk at Universal Studios in 2015. Since then, he has immersed himself in the subject and built more than 40 of his own through a virtual program. "I really want to create something that you look at and think, 'Wow, that could actually be built in a theme park and people would really love it,'" he says.
Off the Rails
When he's not riding — or virtually building — roller coasters, David focuses on music. "I have played the piano for 12 years," he says. He's also an avid chess player and has been the captain of his school's team for four years.
Future Plans
David will attend Emory University in Atlanta in the fall to pursue a major in either biochemistry or neuroscience. He plans on attending medical school after his undergraduate years and will use his summer to connect with doctors to see how the medical world works. "And, of course, my family and I will make our way down to Orlando to visit the parks!" he adds.
Biggest Influence
"My parents are the definitive influence in my life," he says. "I really believe the way that they raised me in this caring and supportive manner has shaped who I am."
---
Jakayla Armstrong
Recent Graduate // Murphy High School // Eagle Scout
Why She rocks
One day, at church, Fredrick Young, a troop leader of Scouts BSA, approached Jakayla about joining the church's troop. She had past experience in the Girl Scouts and advanced quickly through the program, making history by becoming the first female African American Eagle Scout in Alabama. For her Eagle Scout project, Jakayla chose to create care packages for 33 residents at Wilmer Hall Children's Home. "I chose Wilmer Hall to shine a light on their organization," she says.
Out of the Woods
In her free time, Jakayla enjoys working, getting her hair, lashes, and nails done as often as she can and traveling. "Experiencing new places and meeting people will never get old to me," she says.
Future Plans
In the fall, Jakayla will be attending the University of Alabama to major in kinesiology. "My goal is to get my doctorate in physical therapy after completing undergrad," she explains. "With my doctorate, I want to become a sports physical therapist."
Biggest Influence
"I watch my mom daily strive to provide a great life for our family," she says. "Watching how hard she works for me really pushes me to go above and beyond and be the best version of myself."
---
JahKobe Shaw
Recent graduate // Williamson High School // Football and Classroom Standout
Why He Rocks
Jahkobe Shaw is a running back and wide receiver on the football team at Williamson High School. He made the all-star team in both the 11th and 12th grades and averaged 1,000 yards in the regular season. His accomplishments on the field led him to win the Player of the Week award, and, unsurprisingly, he leads his teammates as
team captain.
Off the Field
A strong student with a 4.3 GPA, Jahkobe was valedictorian for the Class of 2022 at Williamson. When it comes down to balancing sports, life and school, his process is simple: "I just make a schedule on a piece of paper or calendar and make sure I get my work done early before Friday nights," he says. He also enjoys playing video games, fixing devices and filming YouTube videos in his free time.
Future Plans
Jahkobe plans on attending the University of South Alabama in the fall to pursue a major in computer science. He also intends to be a walk-on for the Jaguars football team.
Biggest Influence
Jahkobe's big brother Jahquinton, who also played football at Williamson, is the person Jahkobe turns to when he needs advice. "He guides me through everything I do," he says.
---
William Neumann
12th Grade // UMS-Wright Preparatory School // Politico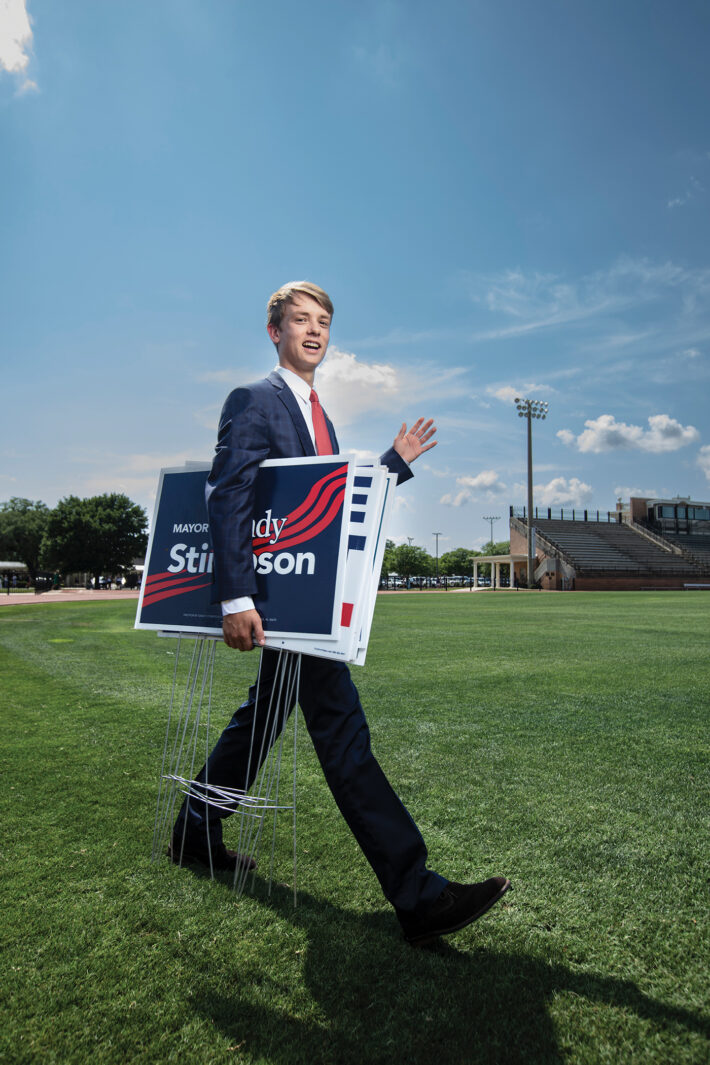 Why he rocks
When William saw an opportunity to intern with Sandy Stimpson's re-election campaign, he jumped at the chance to further explore his passion for politics, which was sparked by the 2016 presidential race. Since then, he has branched out to become involved with the campaigns of Katie Britt and Kay Ivey. "I have a consistent desire to make an impact on my community, my country and the world," he says.
Off the Campaign Trail
William has been a Student Government Association representative for UMS since the 9th grade and is the founder and president of the Worldly Discussions Club. When he isn't busy with school and work, William likes to play tennis, ride his bike, listen to podcasts and read. "I go to the tennis court many times a week and enjoy competing in tournaments, when possible," he says.
Future plans
He plans to study international relations in college. And, if you see William's name on the ballot in the not-so-distant future, don't be surprised. "I want to run for office one day," he adds. "Hopefully at a national level."
Biggest Influence
My dad is the embodiment of hard work and selflessness," he says. "I try to follow his moral compass in everything I do. He has shown me that anyone with a good work ethic, selflessness and a positive attitude can succeed."
---
Hard Work. Curiosity. Leadership. – It Just Runs in the Family
Meet the Grinstead sisters
Julia Grinstead
12th Grade // McGill-Toolen Catholic High School
Why She rocks
What does Julia not do? She is part of McGill's Aquinas program, on her school's HiQ / Scholars Bowl team, vice-captain of the physics team, a member of McGill's varsity soccer team and plays club soccer for Mobile United. She is also an Azalea Trail Maid and volunteers teaching middle schoolers at her parish. To top it all off, Julia received a perfect 36 on her ACT and 1450 on her PSAT. She is currently ranked first in her class at McGill.
Out of the ClassroomIn her rare free time, Julia plays soccer and enjoys watching sports. "I am a huge Alabama fan," she says. "My dad and I watch nearly every football game together, whether it be on our couch at home or from my phone while riding to a soccer game."
Future Plans
Julia has been attending the U.S. Air Force Academy and U.S. Naval Academy seminars this summer. "I've developed an interest in attending the service academies, but they are a huge commitment," she says. "I am going to the summer seminars to see if I enjoy the lifestyle the students there experience."
Biggest Influence
"I've known so many inspirational people, but the biggest influence is definitely my dad," she says. "He has been my role model since I was very young. We spend a lot of time together, and he's both my biggest fan and toughest critic."
---
McGowin Grinstead
Recent graduate // McGill-Toolen Catholic High School
Why She Rocks
With a 4.43 GPA and a 34 on her ACT, McGowin's hard work is evident — and so are its rewards. The AP Scholar with Honors and member of the Aquinas Academy at McGill-Toolen Catholic High School has been admitted to Harvard University. "God is always my every motivation," she says, "but I also think it's important to work hard for the people who have supported me, for my parents who have made all of this possible, and for my teachers and friends who have always wanted to see
me succeed."
Out of the Classroom
In her spare time, McGowin writes poetry. Her writing has been featured in her school's literary magazine, Ingenium, where she is a staff member, and has won multiple awards.
Future Plans
Considering her talent for writing, it isn't a surprise that McGowin has plans to major in English when she begins college in the fall. "I hope to one day enter law school or work for a publishing company," she says. "And, of course, move back to the South!"
Biggest Influence "Anyone who knows me knows I absolutely adore my little brother," she says, "and my sister, Julia, is probably my favorite person to talk to about anything. My twin sister, Milligan, and I are also very close — you've never met anyone sweeter than Milligan."
---
Milligan Grinstead
Recent graduate //McGill-Toolen Catholic High School
Why She Rocks
Milligan's academic achievements are some for the books. She is a National Merit finalist, scored a 35 on her ACT and is the valedictorian of the Class of 2022 at McGill-Toolen Catholic High School. She is a member of the National Honor Society, and, in her junior year, she won the Rensselaer Medal, which is awarded to the top junior in mathematics and science student as chosen by the faculty. She was also one of the two winners of the Rotary Club of Mobile Student of the Week scholarship. "My family's support and encouragement are so motivating," she says.
Out of the Classroom
In addition to working hard on academics, Milligan plays classical piano and competitive tennis. "I have been playing piano since first grade," she says. "I've been on McGill's tennis team since seventh grade and on varsity for 11th and 12th grades."
Future Plans
Milligan, along with her sister McGowin, has been accepted into Harvard University in the fall. "I plan to major in mathematics," she says. "I'm still open to possibilities, but I am considering becoming a college professor. After tutoring peers in math and physics, I realized I find joy in teaching."
Biggest Influence
Milligan designates her mom as her role model. "Her work ethic and her loving care for our family is simply inspiring," she says.
---
Aaron Covin
12th Grade // Murphy High School // Jazz Prodigy
Why He Rocks
Aaron has made the Alabama All-State Band's Red Band, its highest-ranking, several times and performed as part of the All-State Jazz Band. Currently, he is the principal trumpet player for the Mobile Symphony Youth Orchestra and the Jazz Studio. Recently, Aaron became a member of the iconic Excelsior Brass Band, with whom he played his first show when he was around 13. "I think it's an honor to be in at such a young age, considering how long they've been around," he says.
Off the Stage
Aaron's musical talents aren't limited to trumpet; he also enjoys playing the piano. Other skills include photography and filmmaking, and he even managed a news website for a short amount of time. "I like to keep myself busy," he explains.
Future Plans
In the next couple of years, Aaron plans to go to college to study journalism or filmmaking, two interests that he would like to explore.
Biggest Influence
"My father, easily," Aaron says. "I wouldn't be anywhere near where I am now if it weren't for him." In fact, Aaron originally wanted to play saxophone, but when his dad brought home a trumpet on "take it or leave it" terms, Aaron picked it up, and the rest is history.
Related: Wonder Kids 2021 · Wonder Kids 2020 · Wonder Kids 2018