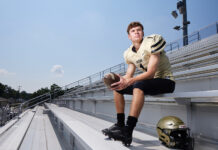 You're on your own, kid! Standouts and superstars, these 12 exceptional Bay-area kids reach for the sky while making our local area proud.
In this annual recognition, MB honors 13 local teens who give meaning to the phrase, "You're going places, kid!"
From the classroom to the swimming pool and everywhere in between, local teens continue to shine. Here, meet 12 such youngsters setting out to make their mark on the world.
Meet 11 students who have exceeded all expectations for anyone their ages. Despite such trying times, these young men and women are the embodiment of excellence.