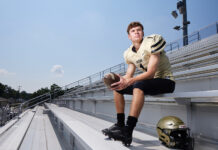 You're on your own, kid! Standouts and superstars, these 12 exceptional Bay-area kids reach for the sky while making our local area proud.
Mobile Bay's Annual Honor recognizes the environmental guardians of our communities
In this annual recognition, MB honors 13 local teens who give meaning to the phrase, "You're going places, kid!"
On May 4, St. Paul's Episcopal School will host the Mobile premiere of a film about one of the greatest college football teams of all time — the 1899 Sewanee Tigers.
Katrina refugee and ovarian cancer "thriver" Lexi Mestas opens up about finding purpose in life and food. Here, she shares her story and recipes.
Athletes are being drawn to the timeless and fast-paced sport of lacrosse.