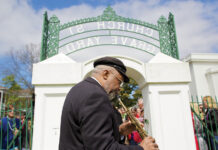 Dating back to 1883, the Excelsior Band has been delighting Mobilians for generations and breaking barriers along the way.
Mobilian Andrew LaMar Hopkins brings Gulf Coast Creole culture to the wide world with his colorful paintings rich with historical detail.
Local author Emily Blejwas boils down the history of Creoles in Mobile.