NEW HEIGHTS
Cruise to an altitude of 2, 000 feet in a hot air balloon ride above Baldwin County. Up, up, and away is an adventure from a 70-foot-tall, 60-foot-wide, inflatable globe with more hot air than a congressional committee. "A trip may cover north of Gulf Shores, east of Fish River, west of Elberta, or south of Summerdale, " says Gulf View Ballooning owner Tommy Rachel. As for the final destination, the answer, my friend, is blowing in the wind: "Weather conditions are studied before going up, " Rachel says. "We know the direction, speed, and generally where we will land."
Gulf View Ballooning • 113 Magnolia Springs. 970-3598. gulfviewballooning.com
Riders get to experience the whole hot air balloon process, assisting with the set up, launch and packing of the balloon. Participants are encouraged to wear long pants and shirts with sleeves, but tennis shoes or boots are required.
Photos by Lila Harris of Aquatic Soul Photography
HOME OF THE BRAVE
Aviators in the U.S. Coast Guard go through an eight-week educational process to receive designation training in an MH-60T helicopter. After earning their wings in Pensacola, students go to the Coast Guard Aviation Training Center in Mobile. "Before coming to us, they are already designated as a Coast Guard aviator, " notes public affairs officer, Lt. Commander Catherine Carabine. "Our course provides instruction in hoisting, search and rescue case execution and fine-tunes a pilot's aviation skills through simulator and aircraft flight training." They also train on the real thing, like the MH-60T rescue chopper. The $17 million aircraft is capable of "short" 300-mile excursions offshore at speeds up to 200 mph.
Coast Guard Aviation Training Center • 8501 Tanner Williams Road. 441-6560. uscg.mil/hq/atcmobil/ 
The U.S. Coast Guard has 198 aircraft in its arsenal. In 2012, the brave men and women responded to 20, 510 search and rescues and saved more than 3, 100 lives.
OFF THE RAILS
These wheels encourage foot traffic. For $35 a month for a year, the Old Shell Trolley Club will shuttle members of the private service to and from the LoDa area. "There are plenty of things to do Downtown that people are reluctant to take advantage of because they don't want to drive, " says Jeb Shell, one of the five founders. "The Old Shell Trolley Club is about promoting a safe means of getting people down there to take advantage of the cultural and dining opportunities on every corner. We're invested in Downtown's continued revitalization and expansion." Members can be picked up from designated spots in Spring Hill and Midtown, though the club plans to include even more areas. Joining requires a member sponsor, but the trolleys are available for charter by anyone.
Old Shell Trolley Club • 604-6626. oldshelltrolleyclub.com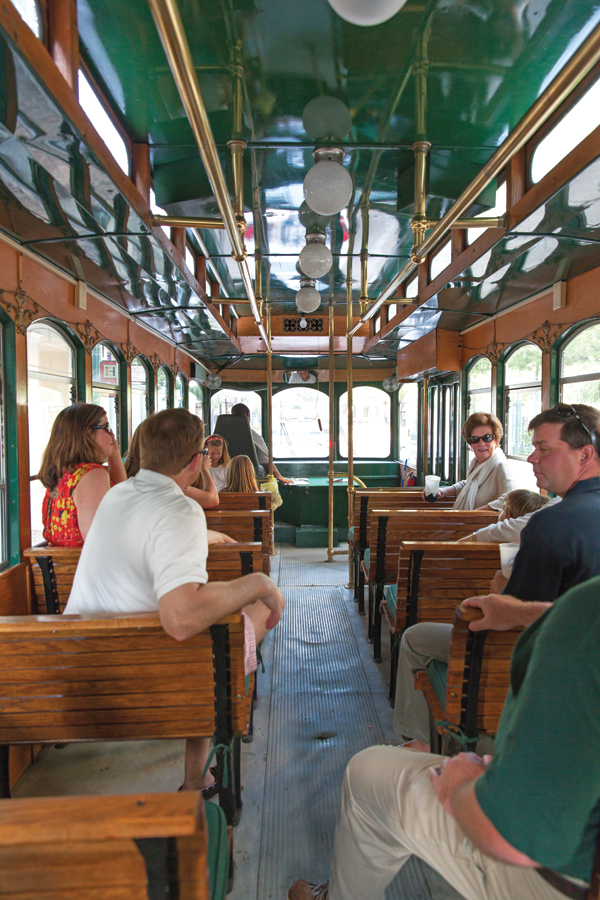 Back in 1839, Spring Hill and Downtown were connected by a horse-drawn wagonette line that ran down Old Shell Road. Then, in 1892, Mobile got with the times and started running an electric trolley service along the route. While the original service ended in 1940, the modern line provides a safe, economical and green way to get around the city.
Mobile Harley-Davidson has 12 different current model bikes available to rent. Rental fees range from $85 to $675 depending on the length of time. Rentals include raingear, a helmet, 24-hour roadside assistance and short-term luggage storage.
HOGS WILD
Ordinary cityscapes appear new and different when you are whizzing by them on a lightning-fast Harley-Davidson motorcycle – but that view will set you back about 20 grand. Since that's quite an investment for an Easy Rider wannabe, "riders rent to see if they want to commit before buying a new one, " says David Howell, of Mobile Harley-Davidson. Many reserve a Harley for four hours, a day or a week's getaway. However, before experiencing the wind in your hair and gnats in your teeth, read the restrictions: A valid operator's license is required. Riders must be 21 and demonstrate the ability to handle two wheels. Leather jacket not included.
Mobile Harley-Davidson • 3260 Pleasant Valley Road. 471-2174. mobilebayharley.com
BIG SHRIMPIN'
A commercial shrimp boat, which burns 30 to 50 gallons an hour, can cover up to 400 miles of water along the Gulf Coast. "Crews typically stay out five to seven weeks, " notes Dominick Ficarino, owner of Bayou La Batre's Dominick's Seafood. Talk about a waterfront view! "Our range is wherever the shrimp are." Commercial shrimpers measure their catch in dollars, not pounds, and last year's was good. Dominick reported that in July of 2013, one boat brought in a record haul worth $369, 000.
Dominick's Seafood • 1490 Shell Belt Road, Bayou La Batre. 824-7962.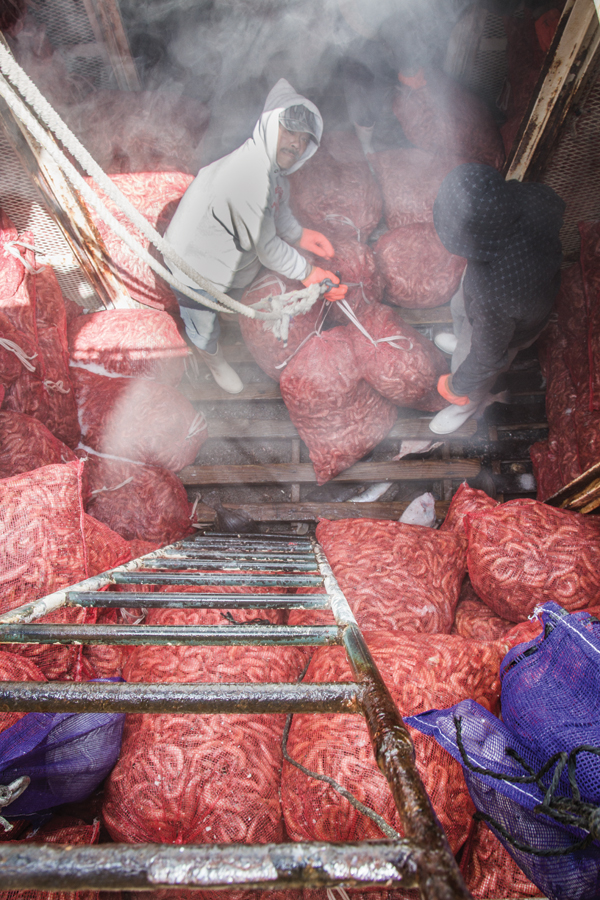 Dominick Ficarino says his shrimp boats (above left) can cover anywhere from the Texas Gulf to the East Coast.
Photo by Matthew Coughlin
Motorists are encouraged to arrive at the ferry 30 minutes to an hour before departure. And, while you can get out of your car and walk around the ferry while the boat is in motion, just like the rides at Walt Disney World, all hands and feet must be kept inside the vessel.
Photo by Kathy Hicks
CRUISE ON OVER
The Fort Morgan and Marissa Mae Nicole ferries make eight trips apiece each day, shuffling travellers to and from Dauphin Island and Fort Morgan. "The Most Scenic Drive on the Gulf Coast, " should be atop every Mobilian's bucket list. The 40-minute commute by an automobile laden watercraft offers stunning seascape vistas normally unseen from a Hyundai in the Gulf. Plus, the Mobile Bay Ferry is pretty hip with technology. Follow it on Twitter for updates on delays and weather conditions.
Mobile Bay Ferry • 1606 Bienville Blvd., Suite B., Dauphin Island. 861-3000. mobilebayferry.com
DOWN ON THE WATER
An airboat propeller spins at 3, 000 rpms when that baby is wide open, zipping down the Delta at 45 mph. "But normally we cruise at about 20 to 35 mph, " says Delta Airboat Express owner, boat captain and lover of all things aquatic Geoff Woodliff. Based in Spanish Fort, his wilderness tour business offers expeditions varying from a fun speedy ride to close encounters with alligators, all of which also offer some superb glimpses of the Downtown Mobile skyline.
Delta Airboat Express • 3733 Battleship Parkway, Spanish Fort. 370-7089. airboatexpress.com
Delta Airboat Express offers up a variety of excursions for those wanting to get up close and personal with Delta life. For those that don't have a lot of time and like to go fast, there is the Half Hour Fun Run. But, if you prefer a leisurely pace and want to learn more about the flora and fauna around you, there is a One Hour Eco Tour. And, don't forget about the Half Hour Night Tour, which has the best odds of a gator sighting.
---
text by emmett burnett • photos by Todd douglas