When Jake Pose steps out of his truck and onto the 33-foot center console fishing boat he keeps in Fly Creek Marina, he is fresh off an overnight shift as a bar pilot for the Port of Mobile. He was up late waiting to bring an ocean-going vessel up the ship channel into the port, but the promise of a day's fishing soothes the pains of no sleep.Waiting for him on the dock is his business partner, Dustin Bedgood, a fellow waterman who makes a living taking out-of-towners fishing on Mobile Bay. The charter captain is loading offshore rods with big Shimano reels into the rod holders on the back of the boat in preparation for the trip. The guys are heading for the open waters of the Gulf with hopes of bringing a few swordfish and maybe some tuna back to the restaurants and discerning clients along the Eastern Shore who have come to rely on them for weekly fresh fish.
Fin Fanatics
The friendship between these two boat captains and fishermen started just a few years ago, about 80 miles offshore. "We were the only two people out there fishing for swordfish in the daytime," Pose explains with a laugh. "I'd see him, he was always catching fish, and I knew I wanted to be friends with that guy."
Bedgood returns the sentiment, laughing that Pose was practicing while he was catching. "He was the only one crazy enough to be fishing that far offshore alone in his center console." The two connected on Instagram and became fast fishing buddies. Bedgood fishes seven days a week if he can, and Pose knows the water like the back of his hand. The two make a natural partnership. The business, however, was slower to evolve.
While the life of a bar pilot can be demanding, the job also offers big chunks of time off. "One week on, one week off," Pose explains. During his down time, he fishes. "I was just fishing for fun but had more than I could eat and was giving it away. At the same time, I was frustrated that so few of the restaurants around here serve local seafood, and so few customers even know the difference." He decided to change that, one fish at a time.
From Hobby to Business
On a Thursday afternoon, customers queue up at the Fairhope Farmers Market near the library as Bedgood and Pose unload coolers full of tuna fillets. The Fairhope Fish House, as they call themselves, usually delivers their catch to customers' doorsteps, but this week the demand was too high. Clients came to them for their fish, most of which was swimming in pelagic waters less than 24 hours earlier.
In addition to having the freshest fish around, Fairhope Fish House heavily researched the best ways to handle and process each fish, saying they use Japanese quality methods for their tuna. Ironically, they explain, most of the other folks around here who fish like them — and there aren't many — sell all the catch right off the boat to distributors that supply restaurant kitchens in New York City and beyond. Very little day-boat fish caught in the northern Gulf of Mexico makes it to local plates. The hope is, they explain, that even if their fish isn't the only fish offered on the menu, it will make an enticing special worth dining out for and will leave customers wanting to know what made that fish so much better than anything else on the menu. If it is good enough, and sparks interest, people will begin to educate themselves on the differences between their product and the other guys'.
"Swordfish used to have a bad name around here," Bedgood says. "All the restaurants were serving South American sword — it's not fresh, it tastes terrible. Tastes like ammonia." Bedgood and Pose are working hard to show Bay residents what swordfish — their own fresh, local treasure — is supposed to be.
The difference between Fairhope Fish House and other suppliers doesn't end with handling and taste, however. They also have a newer way of going after the catch, a technique discovered a decade or so ago. While most local fishermen drop lines at night, when swordfish are closer to the surface of the water (within 300 feet), Fairhope Fish House looks for them in the daytime, when they're swimming 1,500 feet down. "Daytime swordfishing is harder," Pose says, "but that's why I like it."
While the duo mostly goes after pelagic fish ("Hardly any commercial fishermen do pelagic around here," Pose says), Bedgood also fishes the Bay when he gets the chance. He is a little less willing to disclose his inshore methods for that, saying so many people fish the Bay that he's not seeing the supply like he used to.
When the conversation turns to the Bay, these fishermen turn serious. "I am worried about the quality of our waters," Pose says. "The population explosion, the runoff, the sewage spills." With the oyster beds and grass beds dwindling, close to extinct he says, he's worried it may be too late to turn the Bay around. As men who make a living off the natural resources of our area, this concern is not a passing one. It is on their minds every day as they head slowly out the channel from Fly Creek into Mobile Bay and the Gulf beyond.
"Everything with nature is a delicate balance," Pose adds. And the business, he says, is a balancing act as well. Both men have full-time jobs and are juggling their fishing schedules with work, family, weather and demand for the product.
"We run a fine line with our supply and demand," he continues. With only two fishermen, there is a limit to what they can do. But the pair have plans for a market in Fairhope very soon. Combining their fish with Mobile Bay shrimp, crab and even oysters, they envision a little retail space where tuna, sword and more will come right off the boat and onto the ice for sale. Until then, they are just walking that line between passion and profitability.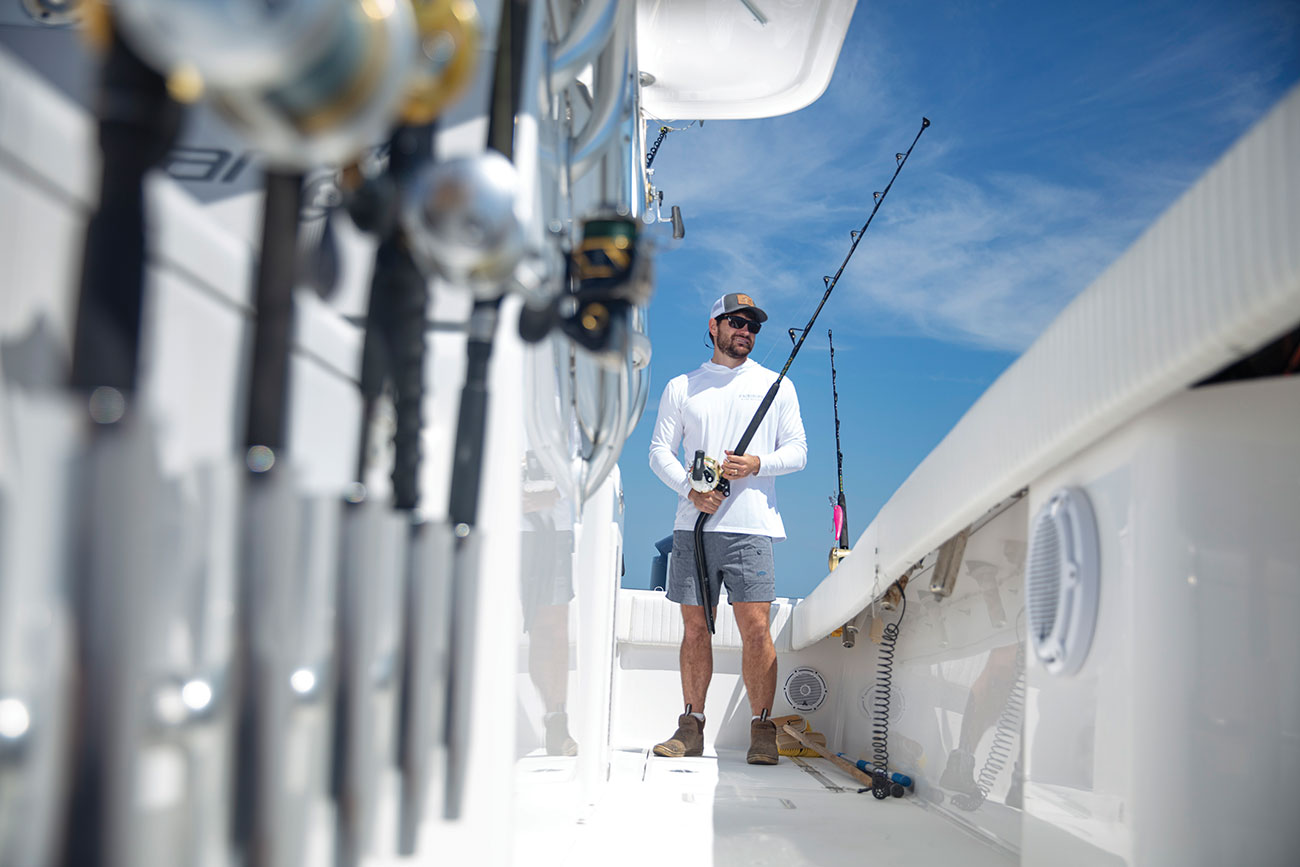 What's so special about how they handle fish?
Pose and Bedgood use Japanese-inspired methods to ensure the highest quality.
1) We use the Ikejime method of fish kill. This Japanese technique of instantly killing a caught fish by inserting a thin spike into the brain is not only humane, it ensures the highest quality meat. By causing instant brain death, the fish immediately stops moving, preventing further muscle stress that could cause the buildup of lactic acid and ammonia, making the fish sour, soggy and less tasteful. Furthermore, the blood contained in the fish flesh retracts to the gut cavity, which produces a better colored and flavored fillet and prolongs shelf life.
Following the spike, with tuna a thin wire or piece of filament should be passed down the fish's spinal cord to prevent any lingering muscle movement. A 400 pound monofilament is firm enough and has the right diameter to do the job.
2) Bleeding the fish with a pectoral cut will immediately lower its body temperature and remove any bacteria located in the bloodstream that may foul the flesh. It will also ensure a nicely colored meat.
All big-game fish should be bled for 10 to 15 minutes after iki-spiking.
3) Gut the fish within 30 minutes of catching. Remove everything, including the gills, and give the cavity a good washing with sea water. Swordfish skin should also be scrubbed and the bloodline removed.
4) Rapid chill your catch in an ice slush. Pack the gut cavity with as much ice as possible. Tuna are extremely warm-blooded in comparison to other fish and require a lot of cooling to prevent spoilage. Not every boat can accommodate a slurry or ice bath, but the colder you keep your tuna, the better it will be.
---
Get Schooled by Fairhope Fish House
How do you store fresh fillets?
1) We never wash our fillets with fresh water because it changes the color, texture and taste.
2) For a homemade vacuum seal, fill up your sink with water and submerge a zip-top bag of fish, then zip it closed under water. This will force all the air out and, if done right, no water should get in.
3) Try to keep all air and juices off of the fillet, as that's what gives it that fishy smell. Check it every day, and if any juices are in the bag, remove the fish, pat it dry with paper towels, then put it back in the cleaned zip-top bag.
4) We don't recommend that you freeze fresh fish. It changes the quality big time, especially with tuna.
How long will it last?
Seafood is best enjoyed within a couple days of being caught, so eat fresh fish as soon as possible. While it's best the first night or the next day, it should be good for three or four days, if not more. "I have made sushi with our tuna up to six or seven days after cleaning with no change in taste or smell," Pose says, "but it depends on how well it's been stored." When fish gets that fishy smell, it's time to turn it to crab bait.
Sign up for Fairhope Fish House emails to find out what fresh catch they are bringing in each week and how to purchase: fairhopefishhouse.com