Pete Blohme's newest outpost provides classic Gulf Coast dining at the former Lake Forest Yacht Club.
A Baldwin County mainstay that has long been known for quality meals is now pushing the envelope and using cutting-edge practices to make the best plate of fish possible — water to plate, with a short rest in between.
For the water-loving Cookseys, Dog River is the place of past memories, future plans and seafood boils in between.
Chef Will Sams' vision of an upscale coastal menu finds a niche in downtown Fairhope.
Four chefs bring the heat to Gulf Shores to compete for a spot as state seafood representative—and bring their prized recipes right to your kitchen.
Some of the world's best seafood comes through Lower Alabama — let us help you find it.
Switch up your seafood offerings, and try your hand at a traditional oyster roast. It's easier than you think.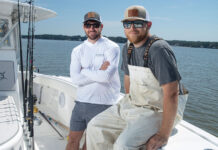 Two coastal entrepreneurs connect locals to fresh, local seafood through their business, Fairhope Fish House.
A healthy dose of butter and lemon takes fresh Gulf shrimp to the next level.
In honor of MB's 50th anniversary, we dive deep into some old standby recipes — along with the people and ingredients that made them possible.