A pier in the small town of Coden has been a place for friendship, family and the camaraderie that comes with hooking a "big one" for nearly 80 years.
Meet two outdoorsmen who have found a way to turn their fishing obsessions into thousands of followers, millions of views and a career doing what they love.
The brothers running Resmondo Boat Works are doing more than repairing boats; they're keeping their father's legacy alive.
From mid-June through September, the elusive blackfish, also known as the tripletail, makes its way into Mobile Bay.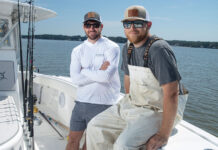 Two coastal entrepreneurs connect locals to fresh, local seafood through their business, Fairhope Fish House.
A tiny house on Fish River proves bigger isn't always better, especially when it comes to relaxation.
A moonlight encounter with a tarpon 33 years ago sent Ernest Ladd down the angler's path of frustration, elation and conservation.
Leave the boat at home and enjoy these 10 local fishing spots with nothing more than your favorite bait, rod and reel.