Modern society never tires of the fad diet. The challenge of discerning fact from fiction faces consumers time and time again as these "new" fads emerge — although most are far from inventive. Generally, food trends cycle through our pantries, are then proven unsustainable and lose their momentum, only to be reintroduced to the market with new, fashionable names and fictitious claims.
Even with the nation's uptick in food consciousness, about 75 percent of Americans still consume too much added sugar, saturated fat and sodium from processed and refined foods, according to the Office of Disease Prevention and Health Promotion. How, then, to find the balance to accomplish the health-related goals set from year to year? Once the Christmas and New Year's confections stale and the influx of Carnival king cakes and MoonPies runs dry, where to begin?
Enter our version of a "detox," the buzzword that triggers thoughts of 30-day cleanses, radical exercise regimens and foods that you don't want to eat. But in its simplest form, all a detox serves as is a way to eliminate the overly processed stuff currently filling your body and replenishing it with nutritious and delicious whole foods that, when incorporated into a daily lifestyle, create sustainable and doable change.
Louise McCown, a managing director for clean beauty brand Beautycounter, is a self-proclaimed "wellness warrior" who catalogs her self-care chronicles in her blog "Learning Out Loud." When her father passed away from a heart attack 12 years ago at the age of 52, she stepped back to evaluate her life — 25 years old, engaged, working a job that exhausted her. She was ready for a more fulfilling life change.
"I didn't know anything about cooking or health and certainly didn't figure it out overnight, but I started the journey then," McCown says.
In subsequent years, she viewed countless health and wellness documentaries, read books and consulted with health-conscious friends and peers to kick-start a wellness regimen in her home. When she joined Beautycounter in 2014, she established daily lifestyle choices that diverted her and her family from the unhealthy products surrounding them.
"As I began to switch out all of my personal care products and home cleaning products, my kitchen clean out was part of the process," McCown says. "As a mom of four little ones, I practice the 80/20 rule. Eighty percent of the time I'm completely mindful, but the remaining 20 percent is full of grace, sugar and pizza!"
Little health guides like the 80/20 rule keep her pantry healthful and balanced. Other tips that guide her eating habits include meal planning to keep priorities (and budgets) in check, shopping on a full stomach to avoid impulse purchases and browsing the perimeter of the store to ensure the majority of her grocery cart is filled with the freshest ingredients. She appoints friends as accountability partners to keep her cooking and exercise schedules on track, and uses make-ahead meal prep as a tool for preparing full weeks of healthy and tasty dishes and snacks to keep on hand in order to have better-for-you foods at the ready.
To begin your own lifestyle conversion, start by experimenting with more nutritious versions of your favorite dishes, such as including leaner cuts of meat or more vegetables. But indulge when it's merited. "Know that one day will not ruin you," says McCown, but remain conscious that the healthful choices are generally the ones that will make you feel, and subsequently look, your best. With a few modifications, your holiday guilt will melt away and any new food guilt will cease to exist.
Louise McCown's Tips for Starting a Detox in a Healthful Way
McCown enjoys fresh-pressed juices as an accompaniment to a wholesome diet, but to kick off a cleanse, she sometimes uses them as the backbone to start her eating habits on the right foot. While juicing is not the key to perfect health, it is a resourceful way to ensure your body gets the daily nutrients it needs in the necessary quantities.
"I did my first real cleanse eight years ago," says McCown. "It was a full month of juicing daily, truly clean eating with zero processed foods, no dairy, no wheat and completely grain free. I never knew I could feel so good." Getting to this stage can be a challenge, so heed McCown's advice while making the process your own.
1. "Know your limits. With juicing, it's important to be realistic with how long you can do it. I know that I can handle a three-day cleanse comfortably. Even one day is a great place to start. Five days is just too long for me and my lifestyle."
2. "Set yourself up beforehand to be able to manage it mentally and physically. The week leading up to your cleanse, you should be eating as many veggies and unprocessed foods as possible. Up your water intake big time. Cut back on caffeine the week before as well to minimize headaches and fatigue."
3. "During a full cleanse, you can always include clean soup recipes and sip on organic bone broth. I like to include soup for my dinner — just make sure to have soup that is mostly broth and good veggies."
Crunchy and Colorful Chopped Salad with Ginger-Tahini Dressing
They say the easiest way to regulate your diet is to "eat the rainbow." By filling your plate with color, you know that you're getting an array of nutrients, vitamins, minerals and flavors.
2 cups kale
2 cups Brussels sprouts
2 cups purple cabbage
2 carrots
1/2 red onion
2 tablespoons tahini
1 lemon
2 teaspoons honey
1/4 cup extra-virgin olive oil
1 inch fresh ginger, peeled and minced
1 clove garlic, minced
salt and pepper, to taste
2 cups broccolini, blanched
1/2 cup pumpkin seeds
1/2 cup pomegranate seeds
2 radishes, thinly sliced
1. Finely chop kale, Brussels sprouts, cabbage, carrots and red onion with a food processor or sharp knife. Pour into a large serving bowl and set aside.
2. To make dressing, zest and juice lemon and whisk together with tahini, honey, olive oil, ginger, garlic, salt and pepper.
3. Pour half of ginger-tahini dressing into bowl with vegetables. Toss to fully coat.
4. Top with broccolini, pumpkin seeds, pomegranate seeds and radishes. Drizzle with remaining dressing and serve immediately. Serves 4.
Pea Pesto Farro with Gulf Shrimp
When food is locally sourced, you know it's the freshest available. Enter Gulf shrimp. Served over a bed of farro and naturally sweet pea pesto, the entire food pyramid is represented in one dish. If you can't find whole farro, semi-pearled or pearled work just as well.
2 lemons, zest and juice divided
1 teaspoon dried oregano
1 teaspoon salt, divided
1/2 teaspoon black pepper, divided
red pepper flakes, to taste
1 pound Gulf shrimp, peeled and deveined
1 cup farro
2 cups vegetable broth
1 1/2 cups frozen peas, defrosted
1 clove garlic, minced
1/4 cup walnuts, toasted
1/4 cup Parmesan cheese, finely grated
1/2 cup plus 1 tablespoon extra-virgin olive oil, divided
Fresh parsley, chopped, for garnish
1. In a large bowl, combine zest and juice from one lemon, oregano, 1/2 teaspoon salt, 1/4 teaspoon pepper and a pinch of red pepper flakes. Whisk to combine. Toss shrimp to coat and set aside.
2. In a medium pot, combine farro and broth. Bring to a boil, reduce to a simmer, cover and cook 20 minutes (or the time designated on package).
3. Meanwhile, in a food processor, combine peas, garlic and walnuts until a thick pesto forms. Add Parmesan and the juice of one lemon and pulse to combine. Slowly drizzle in 1/2 cup olive oil, pulsing until smooth. Season with remaining salt and pepper.
4. When farro is al dente, drain any remaining liquid and toss with pesto. Pour into a serving bowl.
5. Right before serving, heat remaining 1 tablespoon olive oil in a medium saucepan over medium-high heat. When oil is shimmering, add shrimp. Cook 1 – 2 minutes on each side until pink and cooked through. If the pan is crowded, cook in two batches.
6. Top the farro with shrimp. Garnish with parsley and lemon zest. Serve warm. Serves 4.
Guacamole Veggie Bowl
Tex-Mex doesn't have to be greasy and heavy to be delicious. Make up a batch of guac and a platter of accoutrements, pile them up on a bed of lettuce, and you won't even notice that the heavy meat and tortillas are missing!
1 red bell pepper
1 green bell pepper
1 yellow bell pepper
1 red onion, divided
1/4 cup extra-virgin olive oil, divided
1 can black beans, unsalted
1 teaspoon cumin
1/2 teaspoon chili powder
2 limes
1/4 cup fresh cilantro, divided
salt and pepper, to taste
2 ripe avocados
1 Roma tomato
1 clove garlic, minced
4 cups lettuce, thinly sliced or shredded
salsa of choice
1. Preheat oven to 400 degrees.
2. Julienne peppers and three-quarters of the red onion. Place on a large, rimmed baking sheet. Toss with 1 tablespoon olive oil and salt and pepper to taste. Roast for 20 minutes, tossing once halfway through cooking, until tender and caramelized.
3. Meanwhile, drain and rinse black beans. Warm in a small pot, then toss with cumin, chili powder and juice of half a lime until beans are warmed and flavors are infused. Remove from heat and stir in 1 tablespoon cilantro.
4. While vegetables roast and beans cook, prepare guacamole. Slice avocados in half, twist to open, and remove pit by gently tapping with the sharp edge of a knife until it separates from the flesh. Slice flesh into cubes and spoon into a large bowl, discarding the skin.
5. With a fork, mash avocado until desired consistency is reached. Immediately stir in juice of one lime.
6. Finely dice remaining red onion and Roma tomato. Stir into mashed avocado along with 2 tablespoons cilantro, salt and pepper (avocado needs plenty of salt).
7. In a serving bowl, whisk together juice from remaining lime half, remaining 2 tablespoons olive oil, garlic, remaining tablespoon cilantro, salt and pepper. Toss lettuce in dressing to fully coat. Arrange on a large platter.
8. Pile guacamole into the center of the lettuce. Top surrounding sections of lettuce with roasted vegetables, prepared black beans and salsa. Serve immediately. Serves 4.
Grain-Free Granola
Whole grains certainly have their place in a balanced diet, but nuts provide a comparable amount of fiber and protein to benefit digestion and weight management, as well as unsaturated fats for lower cholesterol and heart health. This granola contains no added oils, refined sugars, sugar substitutes or artificial sweeteners. Serve over nondairy yogurt for a bowl full of plant-based goodness!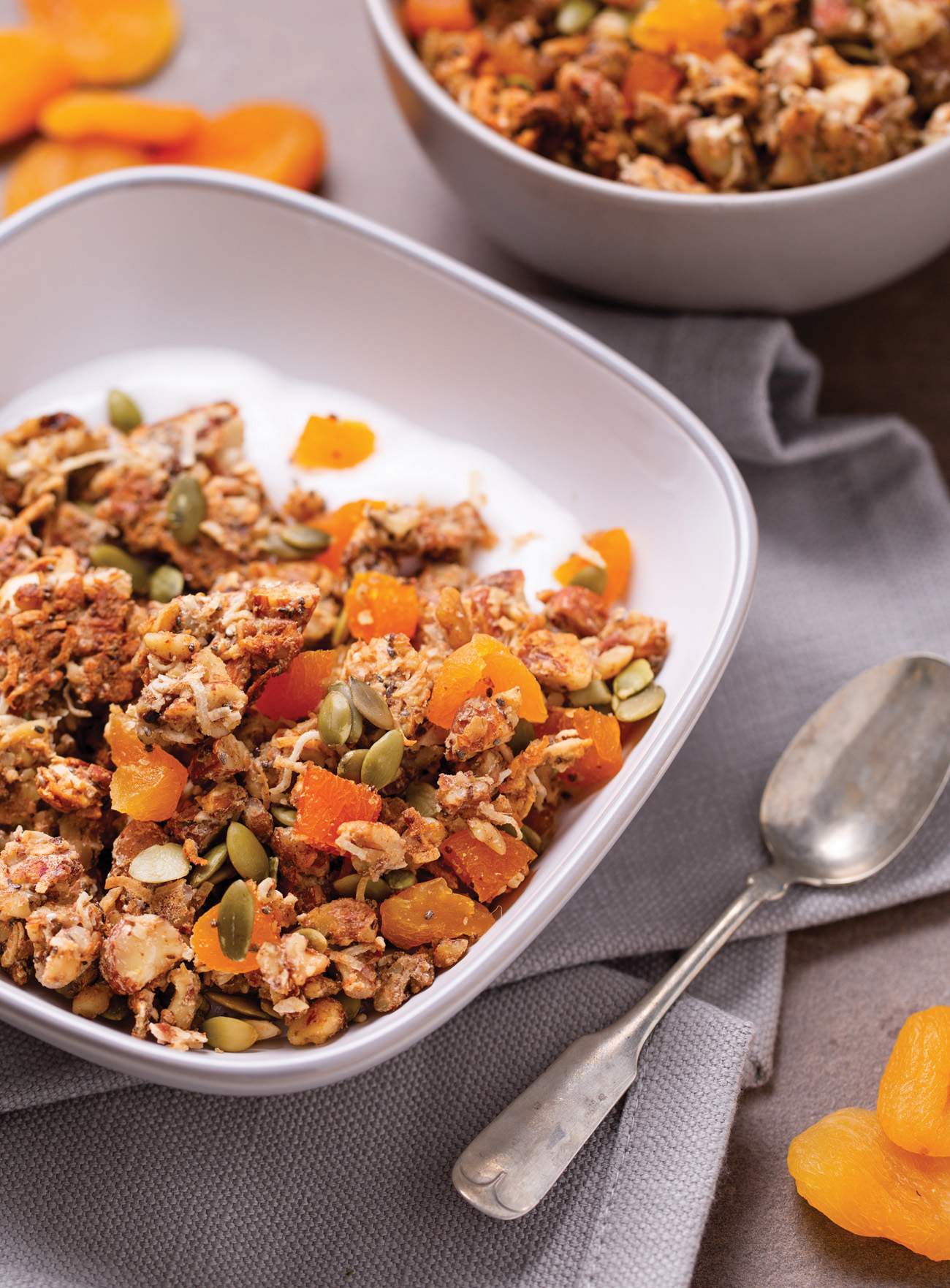 15 dates, pitted
3 tablespoons golden flax seeds
2 cups raw almonds
1 1/2 cups raw pecans
1 1/2 cups raw walnuts
1 cup unsweetened coconut flakes
3 tablespoons chia seeds
3 egg whites
1 cup dried apricots, or other unsweetened dried fruit, diced
1/2 cup raw pumpkin seeds
unsweetened nondairy yogurt, such as coconut milk yogurt, for serving (optional)
1. Preheat oven to 325 degrees.
2. Place dates in a small bowl and cover with hot water. Set aside.
3. In a food processor, pulse flax seeds into a fine powder. Add nuts and pulse into small pieces.
4. In a large bowl, combine flax seed and nut mixture with coconut and chia seeds. Set aside.
5. Drain dates and blend in a food processor until a loose paste forms, adding soaking liquid as needed to reach desired consistency.
6. Meanwhile, whip egg whites until soft peaks form. Fold into date paste until combined.
7. Stir nut mixture into egg white mixture and toss to combine, ensuring that each piece is coated.
8. Spread mixture evenly across a large, rimmed baking sheet, pressing into a firm rectangle. Bake 20 minutes.
9. Break apart into coarse clusters with a fork. Stir in apricots and pumpkin seeds. Reduce heat to 250 degrees and bake 15 minutes.
10. Cool completely and store in an airtight container. Serves 16.
Three Ingredient Swirled Fudge
For dessert lovers, keep added sugar to a minimum by making treats at home with naturally sweet ingredients. Unsweetened almond butter has a nutty and subtly sweet flavor on its own. Dark chocolate satiates chocolate cravings and adds an extra antioxidant boost without being loaded with the unhealthy stuff. And talk about easy!
1 cup 70 percent cacao dark chocolate, chopped
1 1/4 cup almond butter, divided
6 tablespoons coconut oil, divided
1. Line the bottom and sides of a loaf pan with parchment paper and set aside.
2. Melt chocolate, 1/4 cup almond butter and 2 tablespoons coconut oil over the stove or in the microwave. Stir until smooth and pour into bottom of pan. Refrigerate.
3. Melt remaining 4 tablespoons coconut oil in a small bowl. Cool slightly. Stir in remaining cup almond butter until completely smooth. Pour over chocolate mixture in loaf pan and swirl -with a butter knife.
4. Refrigerate in pan at least two hours or overnight, until completely firm.
5. Lift parchment paper from loaf pan to remove fudge. Slice in half lengthwise, then slice each half in quarters to create eight equal rectangles. Store in an airtight container in the refrigerator to maintain optimal texture. Serves 8.
Louise McCown's Matcha Latte
"Matcha is full of so many wonderful benefits like antioxidants (137 times those in brewed tea), and it helps your digestion and even your metabolism," says McCown. "Plus, it's a slower release of caffeine, so I don't get jittery like coffee can trigger."
1 teaspoon matcha powder
1 tablespoon collagen peptides (optional)
1/4 cup hot water (not boiling)
2 tablespoons creamer (McCown prefers Silk Almond Milk Sweet & Creamy Creamer)
1. Combine matcha powder and collagen peptides in the bottom of a small mug. Pour hot water over and whisk to dissolve, ensuring there are no lumps.
2. Froth creamer in a separate cup. Pour on top of prepared matcha and serve. Serves 1.