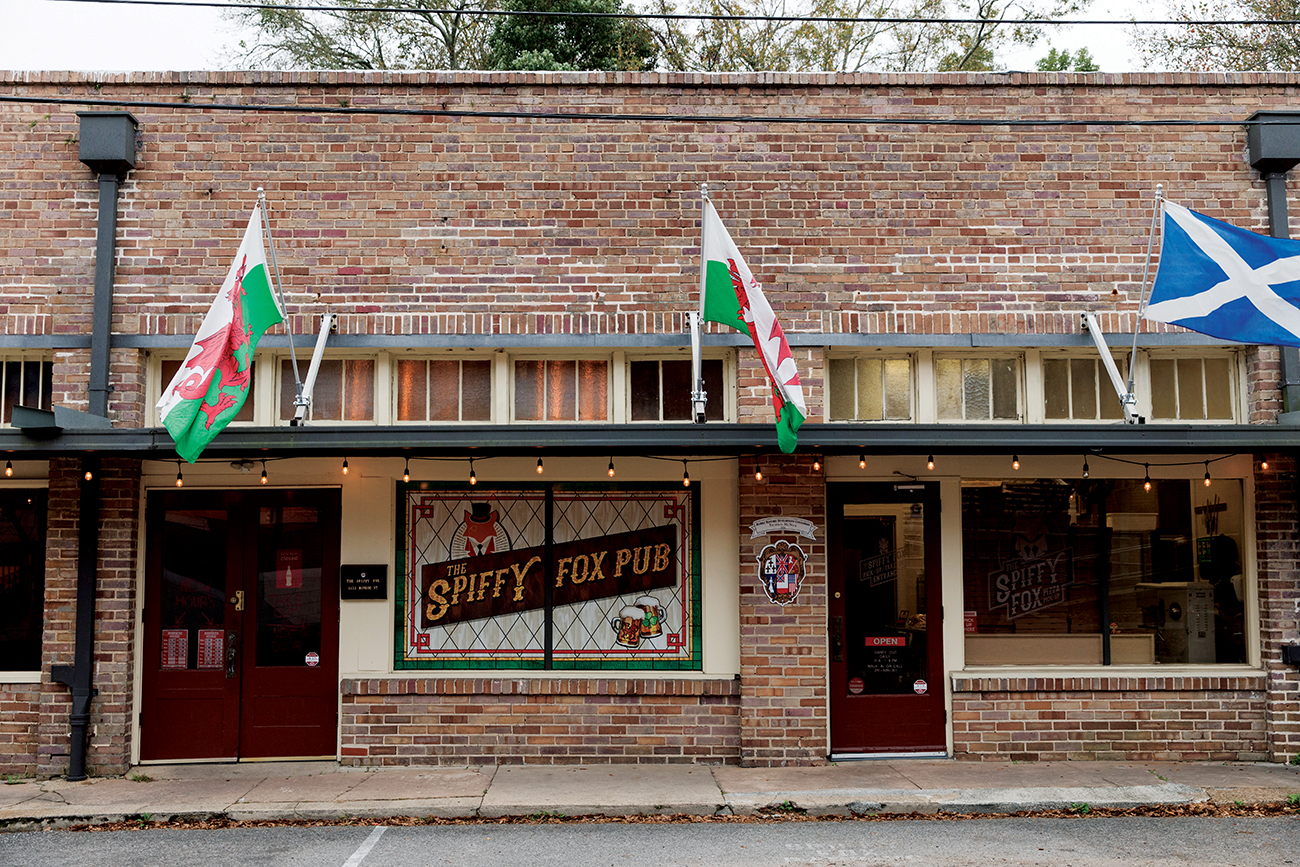 In the window of an unassuming duplex on the occasionally one-way Monroe Street, flags fluttering in the breeze across from Leinkauf Elementary, peers an exuberant bemonacled fox alongside two brews and four words: The Spiffy Fox Pub.
If you aren't well-versed in gastropub tongue from overseas, the title might leave you scratching your head. But owners Zachary and Anne Morgan, of Welsh, Irish and Scottish roots, know a thing or two about traditional pubs.
Although plastering "drunken" on a building just steps away from an elementary school seems crass, Anne determined that "spifflicated," the Prohibition-era synonym for tipsy, was not only less off-putting but also easily abbreviated to "spiffy." At first glance, a spiffy fox appears classy and alludes to English foxhunters in dapper red coats and hats. But for those in the know, it still simultaneously alludes to drunken bar fare of yore.
The husband and wife duo met in college, where Anne studied to become a nurse and Zachary a priest. When they moved to Anne's home state of Minnesota, Zachary enrolled at the Minnesota School of Bartending on the side, attaining a sommelier license alongside his trade as a liturgist. He opened a brewery next door to a pizza parlor — expanding his ever-growing resume to include the skills of a beer sommelier, all while also working at the Cathedral of St. Paul — and it was there that he pulled yeast cakes from the brewing process to produce the first pizzas of his own.
Spiffy Fox pies are no run-of-the-mill platforms for Parmesan. With the freshest ingredients, Zachary begins with housemade dough that cold ferments for three days, allowing small bubbles to form. After incorporating air into the dough, it's massaged and stretched rather than rolled or tossed to maintain as many air pockets as possible. This process gives impeccable rise and texture to the foundation, which is then topped with handmade sauce — consisting only of the brightest Stanislaus tomatoes from California — Irish cheeses and locally-sourced toppings.
"A liturgist's job in the sanctuary is to make sure that you create an environment that's conducive to a prayerful atmosphere," Zachary says. "In the kitchen, it's just a different venue … It's just pizza, and it's just pub grub, but we do it with an eye for detail and quality that makes the dining experience worth coming in to enjoy."
On the Menu
Pub Fries
Duck fat fries have three distinct flavors when served with sweet and spicy cilantro-jalapeño mustard, punchy remoulade and creamy buttermilk ranch.
Fish and Chips
Traditional cod pairs with in-house tartar sauce and pub fries with a side of Zack's Red Beans and Rice.
'Bama Bangers and Fries
Special-ordered Conecuh brats sit in split-top rolls with Creole mustard, dilled onions and candied jalapeños, for kick, alongside beans and fries.
Tuscan Pie
A blanket of verdant spinach drapes chicken, sun-dried tomatoes, salty capers and white sauce on a crispy crust with sweet balsamic glaze.
The Spiffy Fox Pub • 1455 Monroe St. • 509-1311 • thespiffyfox.com