Tucked away in the shade of oak trees on the north end of downtown Mobile, sits the De Tonti Square Historic District. The neighborhood does not, in fact, have a square. It does, however, boast a tight-knit, diverse group of residents and business owners who are dedicated to making it a vibrant community.
The area was first developed in the 1820s and 1830s, when Mobile was first bustling as a major Gulf port. The brick townhouses, some of which are still standing, were built in the 1850s when the cotton market was thriving. Now, the district is made up of a nine-block area bounded by Adams, St. Anthony, Conception and Claiborne streets.
As Mobile grew to the west and more businesses left downtown, the area saw a general decline. Then, in 1972, the neighborhood was included on the National Register of Historic Places, as the area began to slowly see a change. Buildings that were once residential were converted into offices, and businesses, primarily legal firms, capitalized on the proximity to downtown Mobile.
Reynolds Brabner, known to most as Rennie, has lived in De Tonti Square since 1976. He recalls the days before the revitalization. "We had to take the neighborhood back from the hookers, the winos, the junkies and the shot-houses that sold bootleg whiskey by the drink, while card and dice games were underway."
A pioneer during the resurrection of the area, he and his wife raised two children Downtown. "We had to be careful how we told parents to bring their children to our house, " he says. "Up Conception from the Square or Congress off Water Street was OK, but down Congress from Broad was like asking a non-downtowner to drive through a third-world slum."
But slowly, things changed. Abandoned properties started being purchased and renovated. In addition to businesses moving into the district, more houses returned to their residential foundations. "The result is a neighborhood that is never abandoned, " Brabner says. "People who live here are always around on weekends and nights, while office workers are around in the daytime. We think this is one of the reasons De Tonti has one of the lowest crime rates in the city."
While many people were leaving Mobile for the Eastern Shore, Melissa Rankin did just the opposite. She owned her own home in Fairhope when she married her husband, Clay. A native of Fairhope, he wanted to live in an urban community like he had experienced while working in Washington, D.C. They acquired a parcel of land on Conception Street and began construction. "I thought I was crazy in love to leave Fairhope and move into downtown Mobile, " says Rankin, who now serves as the president of their neighborhood association. "I told him I would give him a year." They rented out their Fairhope home, because Melissa planned to return to the Eastern Shore once they had children. However, several years and two children later, they still call De Tonti home.
LEFT Officers Jason Martin, riding Epona, and Richard Bettner, riding T.C., take their horses on a walk.
RIGHT Jeff Noble lends his daughter, Norma Kate, a bird's-eye view.
Many people are choosing to retire to the area. Renea Burns and her husband recently relocated, and rave about their new community. They traded in their Spring Hill house for an apartment, and soon plan to build their "retirement" home in the neighborhood. "We loved raising our family in our Spring Hill house, but we enjoy living in a walking urban environment now."
Likewise, younger families are calling De Tonti Square home. Lydia Noble and her husband, Jeff, live in a historic residence with their daughter, Norma Kate. While navigating the renovation of an old home – and its steep stairs – with a toddler has been a challenge, they have friends in the neighborhood to turn to for advice. "It is a pleasure to see the young families gathering together to salvage the historic homes and buildings to raise their children in Mobile's first and oldest neighborhood, " says Lydia, a local wedding planner.
ABOVE Amanda Solley waters plants and vegetables in the De Tonti Square community garden.
The Powers of the People
The strong sense of community has drawn many, which can be attributed in part to the vitality of the De Tonti Square Neighborhood Association. Business owner Henry Brewster has been impressed by their commitment to service. "When projects come up, people turn out and work, " he says. "When we meet, we have good information and dialogue, followed by action."
One project that rallied the neighbors was the creation of a community garden, which utilized green space owned by the city. With the help of the City of Mobile's Neighborhood and Community Services department, the space now consists of 13 raised beds. The garden, which opened in the spring of 2009, is open to area renters, property owners and residents. Any excess food from each plot is donated to anyone who wants it. As proof of their dedication to the project, gardeners toted water from their homes until the city installed a water meter and spigot on site this year.
Their latest undertaking is the construction of a city-compliant swing set, which will allow neighborhood children to play in the grassy lot. Fundraisers have been held at the park to raise money, and at press time, the installation date for the playground was set for July 27.
In the summertime, when neighbors were looking for a reason to gather regularly, they decided to meet every Tuesday night to play croquet. Those who don't play sit around the picnic tables visiting, while others garden. DSNA neighbor David Lay and wife Naomi have hosted an annual Mad Hatter's Croquet Match party for the last several years, and the group has recently been challenged to a game against another neighborhood association.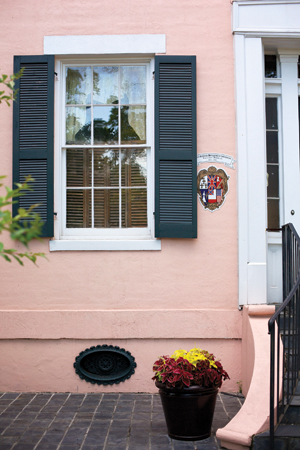 LEFT The historic streets of the city's oldest neighborhood have been given fresh life, thanks to an influx of new residents.
RIGHT Jack Rankin scoots along the sidewalk.
One of the many benefits of living in De Tonti Square is its proximity to Mobile's business and entertainment district. As a result, residents of De Tonti, like those who live in larger urban cities, can walk everywhere. They walk to work, church, the Cathedral Square farmers' market, dinner with friends, and events at the Saenger and Crescent theaters.
Melissa Rankin describes it best: "The absence of my commute to and from Fairhope has added two hours to my day. Instead of trying to avoid a car accident or sitting still in traffic, I am swinging my children on a tree swing, walking my dog, swimming at the pool with my family, playing croquet with neighbors, playing music on my porch swing or working in our community garden."
Not only do the homes evoke the feel of bygone days, but so do the people. De Tonti Square represents everything that a neighborhood should be. "If you are sick, your neighbors look out for you. If you suffer a loss, your neighbors bake a cake, " Rennie says. "If there is a threat to the neighborhood, we ban together. If we see a need, like the new swings, we raise the funds and do what needs to be done to fix it."
For a neighborhood that was once largely abandoned, De Tonti Square is again a lively little hamlet.