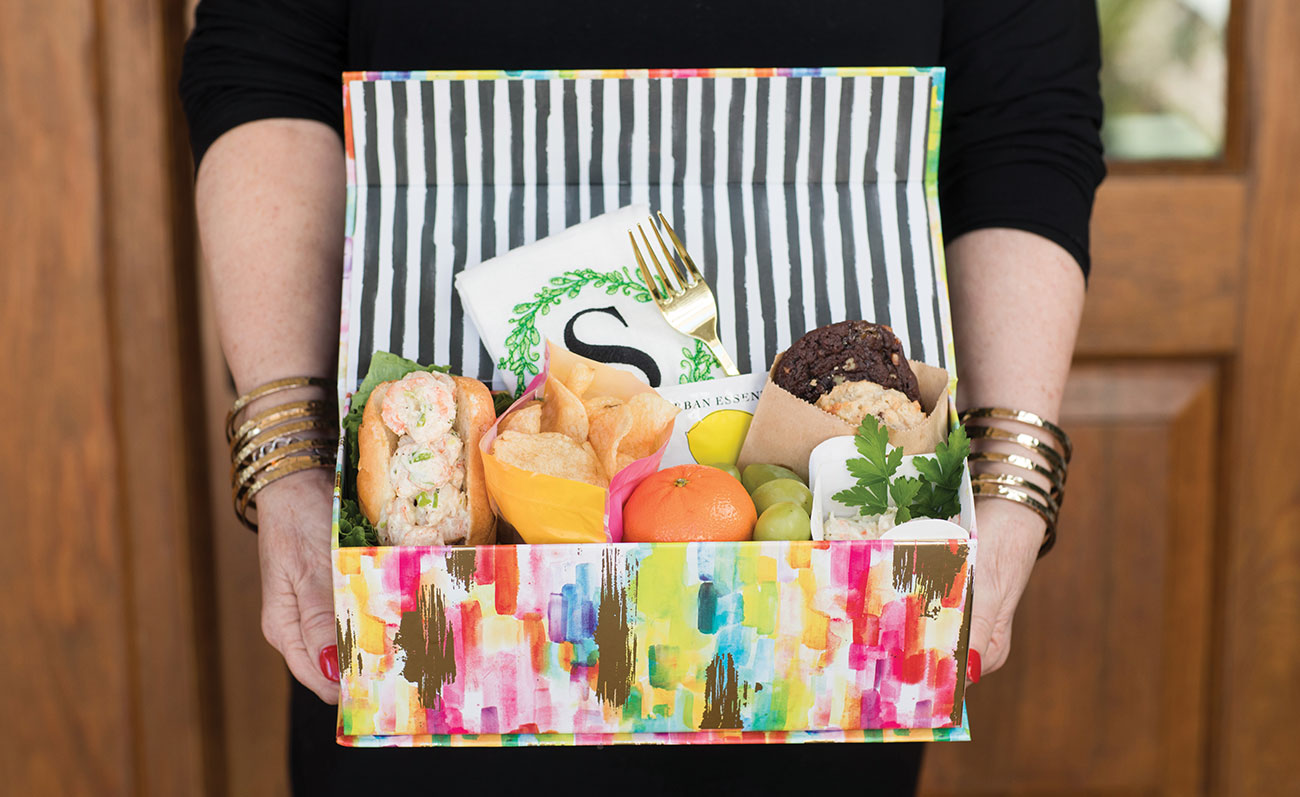 Meet our Host
Beverly Smith, known as Jingles to the grandkids for her endless array of bangle bracelets and big earrings, has a flair for entertaining. While she can certainly set a magnificent table, some of her most memorable fetes involved simple food (think takeout pizza or bowls of candy) presented in a magnificent way. With COVID-19 restricting our options for entertaining, Beverly wows us again with ideas for keeping it safe.
1. Portion It Up
With beautiful springtime weather upon us and more people vaccinated every day, folks along the Gulf Coast are feeling the itch to gather on the porch or patio for some non-computerized face time. The key to safely entertaining in a post-pandemic era is to limit touch, and portioning out food before guests arrive is not only safer but can be incredibly chic, too! Tiny paper cups hold the perfect serving of pasta salad, personal chips and dip, or red beans and rice. The goal is to keep guests from sharing serving spoons, so get creative with the contents!
2. Personal Picnic
Have tiny boxes or baskets prepared for each guest with everything they need for a scrumptious lunch. Sandwich, chips, fruit, cookies and coleslaw (in a tiny Chinese takeout box) complete with utensils make everyone feel safe and welcome.
Hostess Tips:
– Beverly buys cute kitchen towels and ties them on top of each picnic basket for a napkin the guests can keep!
– Beverly swears by her wide-mouth funnel, made for canning, to fill individual containers with no mess!
3. Bottle Service at the Bar
Set your bar with individual bottles so guests can grab and go. No pouring from the same wine bottle, no communal stirring spoon. Just mini Champagnes, tiny wines and bottled beer on this bar cart with minimal touch.
Cocktail for one
If only beer and wine on the bar just doesn't suit, pre-mix your cocktails and offer in single-serve bottles! Gin and tonics, old fashioneds or margaritas can be bottled and ready on ice.
4. Wrap It Up
Tiny bags make the perfect presentation for luncheons or even alfresco dinner parties. Fill cellophane bags with bar mix, slide shrimp rolls into little brown bags or wrap brownies in parchment paper. Then add a colorful string closure, a cute label or some washi tape so the casual offering has plenty of panache.
Hostess Tip
Hoping to limit the single-use items in your life? Us, too. Opt for paper, bamboo or recyclable cups, silverware and boxes.
"Respect the comfort level of every guest. This pandemic is a whole new ball game, like nothing we've ever been through before. Let people know if they feel they have to decline, it won't be the last time they get invited."

Beverly Smith
5. Mini Charcuterie
Elegant entertaining can still be safe with these precious individual charcuterie boards. Guests can grab and munch as they sip and visit at a safe social distance.
A Little Help
Not sure you can pull it off? Lots of local restaurants and retailers will make your charcuterie mix for you. Beverly picked up this spread in a to-go container and replated it on individual wooden boards.
Charcuterie Selections • Battles Wharf Mini Mart, Fairhope | Individual charcuterie boards • Wildflowers, Fairhope
Hostess Tip
Find a cute trash can and set it near the food so guests can toss their own garbage. This limits the amount of contact with throw-away plates or dirty napkins. The same goes for a stylish bus bin that should be at the ready to catch glassware, forks or plates. Bonus for the hostess — cleanup is a breeze!
6. Setting the Spread
While paper cups and to-go boxes might sound sterile, it can truly make for an enticing spread. Give your guests options, add some pops of color and a few decadent sweets, and your no-touch buffet will feel more like a treat than a pandemic must-do.
Hostess Tips
Label everything. Letting guests know what is in each little bag makes sure they feel comfortable and welcome. A simple sharpie or paper tag will do the trick nicely.
Beverly buys little towelettes in luscious essential oil fragrances for a quick hand wipe between bites. Herban Essentials Towelette • Chapel Farm Collection, Fairhope