A neighborhood party goes whole hog on pulled pork, all the fixings and a heavy load of fun.
From specialty cheeses to elegant garnishes and everything in between, food enthusiast Maggie Shreve gives us her best tips and tricks on how to curate delectable bites and host cozy gatherings.
Fairhope's Maggie Weir brings friends together for a fun holiday fete — making handmade garland to fragrantly deck the halls.
For these seven die-hard college football fans, it isn't game day without the right food on the table. Here are the dishes — and teams — they can't live without.
Summertime hosting has never been easier. Just follow these effortless entertaining tips from the ultra-stylish Elizabeth Damrich.
Hostess Beverly Smith shares tips for setting up your home bar — the foundation for perfectly memorable gatherings.
With pandemic restrictions easing and everyone eager to gather with friends, hostess Beverly Smith shares creative solutions for safe serving.
A growing community of hostesses finds fellowship and inspiration in the art of setting a table.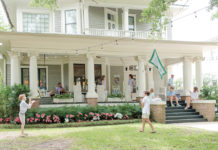 Fresh air and a deep front porch call neighbors together during social distancing in Oakleigh.
Your grill can dominate more than just burgers and steaks. Give these unexpected grilling ideas a try this weekend.