Fairhope native Ellis Ponder is Alabama Football's chief operating officer, and Nick Saban's right-hand man.
Hotel headaches and travel trouble led one Mobile family to the ultimate DIY project: a complete school bus makeover.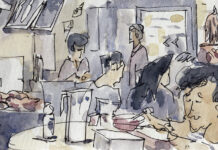 For writer Audrey McDonald Atkins, football and barbeque spell fall.
There are many words to describe Police Chief Jimmie Flanagan's office, but "orange" is not one of them.