A photo on Dauphin Island in the late 1950s offers insight into surfing and beachwear.
Take a trip to Gulf Shores of the 1950s with this photograph of the one-time sleepy beach town.
There's more than meets the eye in this historic photograph of pioneers at Camp Beckwith.
Sift through the fine details of a photograph from MAMGA's 1975 luncheon.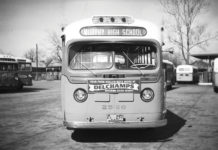 Dissect the details of this 1951 image of a city bus.