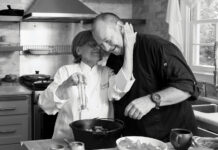 Explore the Thanksgiving recipes and story behind mother-son cooking duo Nancy and Will Hughes.
Enjoy this collection of some of the tastiest dishes and drinks featured in Mobile Bay this year. Bon appétit!
As a mom to young children, Kathleen Galloway Collins is looking to pass her childhood traditions on to her own family. She's starting in the kitchen with her favorite: her family's peppermint layer cake.