1. Lobster Ravioli with Saffron Cream Sauce
A honeymoon trip of a lifetime and a zeal for all things food and wine led to a love for pasta and an innovative new business for one Bay-area native. Recipe by Anna Cowart, owner of Cowart Kitchen. Featured in "Pasta Amore," November 2022
Serves 6-8
4 lobster tails
4 cloves of garlic, minced
2 cups ricotta cheese
1 cup freshly grated asiago cheese
4 teaspoons lemon zest
1⁄2 teaspoon salt
1⁄2 teaspoon pepper
prepared pasta dough
4 tablespoons butter
2 shallots, thinly sliced
2 cups dry white wine
4 cups heavy cream
large pinch of saffron
juice of 1 lemon
1 teaspoon salt
1⁄2 teaspoon pepper
1.Bring a large pot of salted water to a boil and add lobster tails. Cook for 1 minute per ounce. Remove and set aside to cool.
2. In a large mixing bowl, add garlic, ricotta, Asiago, lemon zest, salt and pepper. Stir to mix well.
3. Set one lobster tail on a cutting board and then use a large, sharp knife to cut down the center of the shell. Reach in and pull out all the meat. Roughly chop the lobster meat and add to the filling, mixing well. Follow ravioli instructions on page 26 to form and cook pasta.
4. Melt butter in a large sauté pan over medium-high heat. Add shallot and cook until translucent and soft, about 5 minutes. Pour in wine and use a spatula to scrape any bits stuck to the bottom of the pan. Let simmer for about 5 minutes, then add heavy cream, saffron, lemon juice, salt and pepper. Return to a low simmer for another 7-10 minutes, until the sauce is slightly thick and creamy.
5. Arrange prepared and boiled ravioli on serving dishes. Top with sauce and serve.
2. Curried Crab and Watermelon Salad
This beautiful salad is served plated, and the flavors are bold and exciting. If your gathering is a little more casual, the curried crab makes an excellent dip with blue corn tortilla chips. Featured in "Cool Summer Potluck Inspiration," July 2022
SERVES 4
1/3 cup mayonnaise
juice of 1 lime
1 1/2 teaspoons curry powder
2 green onions, chopped
2 tablespoons chopped mint
1 teaspoon kosher salt
freshly cracked pepper, to taste
1 pound jumbo lump crabmeat
8 watermelon triangles,
1/2-inch thick
1 cup baby arugula
1. In a medium-sized mixing bowl, whisk together mayonnaise, lime juice and curry powder. Fold in onions and mint. Season with salt and pepper.
2. Pick through crabmeat for shells and then add to mayonnaise mixture. Gently fold to combine and place on ice until ready to serve.
3. Arrange 2 watermelon triangles on each of the 4 plates. Top with crabmeat mixture and sprinkle with arugula leaves. Cracka little more pepper over the top of the watermelon and add a pinch of salt. Serve immediately.
3. Marissa's Coca-Cola Cake
Marissa Deal's great aunt shared this recipe with the family on an old dog-eared index card. Featured in "Coca-Cola Cake and a Culinary Homecoming," April 2022
1 1/2 cups mini marshmallows
2 tablespoons unsweetened cocoa
1/2 cup vegetable oil
1/2 cup butter or margarine
1 cup Coca-Cola
2 eggs, beaten
1 teaspoon baking soda
1/2 cup buttermilk
2 cups flour
2 cups sugar
dash of salt
1. Preheat the oven to 350 degrees. In a saucepan, mix marshmallows, cocoa, oil, butter and Coca-Cola. Bring to a boil and stir occasionally until well blended. Remove from heat and cool slightly.
2. In a separate bowl, add eggs and baking soda to the buttermilk and stir until combined. Add to the saucepan mixture and stir ingredients together.
3. In a medium-sized bowl, combine flour, sugar and salt. Add liquids from the saucepan into the bowl of dry ingredients and stir by hand.
4. Pour final mixture into a greased 9-by-13-inch pan. Bake for 30 minutes or until a toothpick inserted in center comes out clean. Serves 12 – 16
ICING
1 stick butter or margarine
3 tablespoons cocoa unsweetened
6 tablespoons cola
1 box (approximately 4 cups) confectioner's sugar
1 cup chopped pecans or peanuts
In a saucepan, combine butter, cocoa and cola. Bring to a boil and gradually add confectioner's sugar. Beat well and then stir in nuts. Pour on the cake as soon as it comes out from the oven.
4. Shrimp Creole
This is an old-fashioned recipe from the Junior League "Jubilee" cookbook. It uses bacon grease, margarine and some vague quantities. The results, however, are amazing! The dish is great to make ahead for a crowd and is served over hot rice with French bread and salad. Featured in "A Historic Austill Avenue Home Built for Entertaining," June 2022
1 tablespoon bacon grease
1 stick margarine
3 large onions, chopped
4 garlic cloves, chopped
2 large bell peppers, chopped
1 bunch celery, chopped
1 bunch parsley, chopped
3 large cans diced tomatoes
1 large can tomato juice
1 can tomato paste
1 bottle catsup
sugar, to taste
salt and pepper, to taste
Worcestershire sauce, to taste
Tabasco, to taste
pinch of thyme
1 bay leaf
10 pounds raw shrimp, peeled and deveined
1. Melt bacon grease and margarine in a large pot.
2. Add onions, garlic, peppers, celery and parsley, and sauté until browned.
3. Add tomatoes, tomato juice, tomato paste and catsup. Let sauce cook the better part of the day.
4. Add remaining ingredients and continue a gentle simmer for about one hour.
5. Remove from heat and let stand at room temperature for several hours. Reheat about 20 minutes before serving. Serves 25
5. Banana Cream Pie
Recipe by Camille Turner. Featured in "Artist In Residence: At Home With The Turner Family," September 2022
3 or 4 bananas, sliced, divided
Baked pie shell
8 oz. carton of sour cream
1 cup milk
Small box of instant vanilla pudding
Cool Whip
1. Spread half of the sliced bananas over the bottom of a baked pie shell.
2. Combine the sour cream and milk and stir in the pudding.
3. Blend until slightly thick and pour over bananas.
4. Top with another layer of bananas.
5. Spread Cool Whip over the top.
6. Stuffed Crab
The stuffed crab is easy to freeze for drop-in company. This recipe makes the perfect stuffing for baked flounder, too. Recipe by Camille Turner. Featured in "Artist In Residence: At Home With The Turner Family," September 2022
SERVES 4
6 oz. box of stuffing mix
½ cup butter
½ tsp. poultry seasoning
½ tsp. parsley flakes
1 cup crab meat (can substitute cooked shrimp or rotisserie chicken)
1 ½ cups water
Paprika, to taste
Chopped rosemary, for garnish
1. Combine all ingredients except crab meat
and paprika and cook according to stuffing
mix directions.
2. Add crab meat.
3. Scoop into ungreased muffin tin and freeze.
4. Allow to set, then drop in freezer bags and freeze until you are ready to cook.
5. To cook, place in custard cups or crab dishes with a pat of butter and a sprinkle of paprika.
6. Cook at 350°F for about 20 minutes until golden brown.
7. Garnish with chopped rosemary and serve.
7. Beans and Greens Soup
Promising more than just good luck, dark, leafy vegetables are a nutrition powerhouse. Try this delicious beans greens soup and start the year on a healthy note. Featured in "4 Recipes for Winter Greens," January 2022
1 tablespoon olive oil
1/2 yellow onion, diced
1/2 pound smoked sausage, sliced
4 cloves garlic, minced
1 teaspoon dried thyme
4 cups chicken broth
1 can diced tomatoes
2 cans cannellini beans, drained and rinsed
3 cups finely diced greens (we used kale)
salt and pepper, to taste
Heat oil in large stockpot over medium heat. Saute onion and sausage until onion is soft, stirring occasionally to prevent burning. Add garlic and thyme and stir until garlic is soft and translucent. Add remaining ingredients and stir until well combined. Bring to a boil and then reduce to a simmer. Cover and cook for 1 hour, stirring occasionally. Check seasonings and serve with crusty French bread or cornbread. Serves 6
8. Honey Lime Shrimp Tacos
An avid cook, Rosie often makes tortillas from scratch. Weeknights, however, call for something quick from a package. For her tacos, Rosie uses store-bought almond flour tortillas are preservative-free and feel homemade. Recipe by Rosie Swanson. Featured in "Weeknight Rush: Easy Recipes for Busy Parents," August 2022
BLACK BEAN AND SILVER QUEEN CORN QUINOA SALAD
SERVES 6
1 cup uncooked quinoa
1 can black beans, drained and rinsed
1 medium colored pepper, chopped
1/2 cup chopped red onion
1 1/2 cups Silver Queen corn kernels, cut off the cob
3/4 cup flat leaf parsley, chopped
1/2 cup cilantro, finely chopped
1-8 ounce can chopped mild green chilies
1 bunch curly green kale,
tough ribs removed and chopped small (3 cups)
salt and pepper, to taste
Cumin Lime Dressing (recipe below)
1/3 cup crumbled cotija or feta cheese
1/3 cup toasted pepitas
1. Cook quinoa according to package directions. When ready to use, fluff with a fork.
2. In a large mixing bowl, combine all remaining ingredients, except dressing, cheese and pepitas. Salad can be made ahead and refrigerated overnight until serving.
3. When ready to serve, toss salad again, top with cheese and pepitas and serve alongside Honey Lime Shrimp Tacos.
HONEY LIME SHRIMP
SERVES 6
1/2 cup lime juice (4 – 6 limes)
1/2 cup honey
2 cloves garlic, minced
1 teaspoon freshly ground pepper
1/2 teaspoon smoked paprika
1 teaspoon salt
handful of cilantro, chopped
1 tablespoon olive oil
1 1/2 pounds shrimp, peeled and deveined *
1. Combine all ingredients except shrimp and oil in a medium mixing bowl. Mix well.
2. Whisk in oil and adjust seasonings to taste. Pour half the marinade mixture into a large zip-top bag and set the remainder aside. Add shrimp to bag and toss to coat. Seal and place in refrigerator for 15 – 30 minutes. (Do not exceed 30 minutes.)
3. Preheat a grill pan or outdoor grill. Thread shrimp onto wooden skewers and grill for 2 – 4 minutes on one side. Turn and baste with remaining marinade. Grill for another 2 – 3 minutes, or until opaque and cooked through.
* You can substitute pork tenderloin or chicken breast for the shrimp. Increase cooking time for each protein.
MANGO SALSA
3 ripe but firm mangos, peeled and chopped (about TK cups)
1 medium red bell pepper, chopped
1/2 cup green onions (white and green parts), chopped
1 fresh jalapeno, deseeded, membranes removed, and chopped
1 large lime, juiced
1/4 teaspoon salt, or to taste
1/2 cup cilantro, finely chopped
2 dashes ground cumin
1. Peel and chop mangos and add to a medium bowl along with the rest of the ingredients. Stir well to combine. Refrigerate until use.
* Chef's note: Be careful when cutting away the membrane of the jalapeno, as it contains a lot of the heat. Wash hands well after handling.
CUMIN LIME DRESSING
MAKES 1/2 CUP
1/4 cup olive oil
3 – 4 tablespoons lime juice
3/4 teaspoon ground cumin
1/8 teaspoon smoked chipotle powder
1/2 teaspoon salt, to taste
1. Combine ingredients in a small bowl and whisk well.
9. Rosemarino Cocktail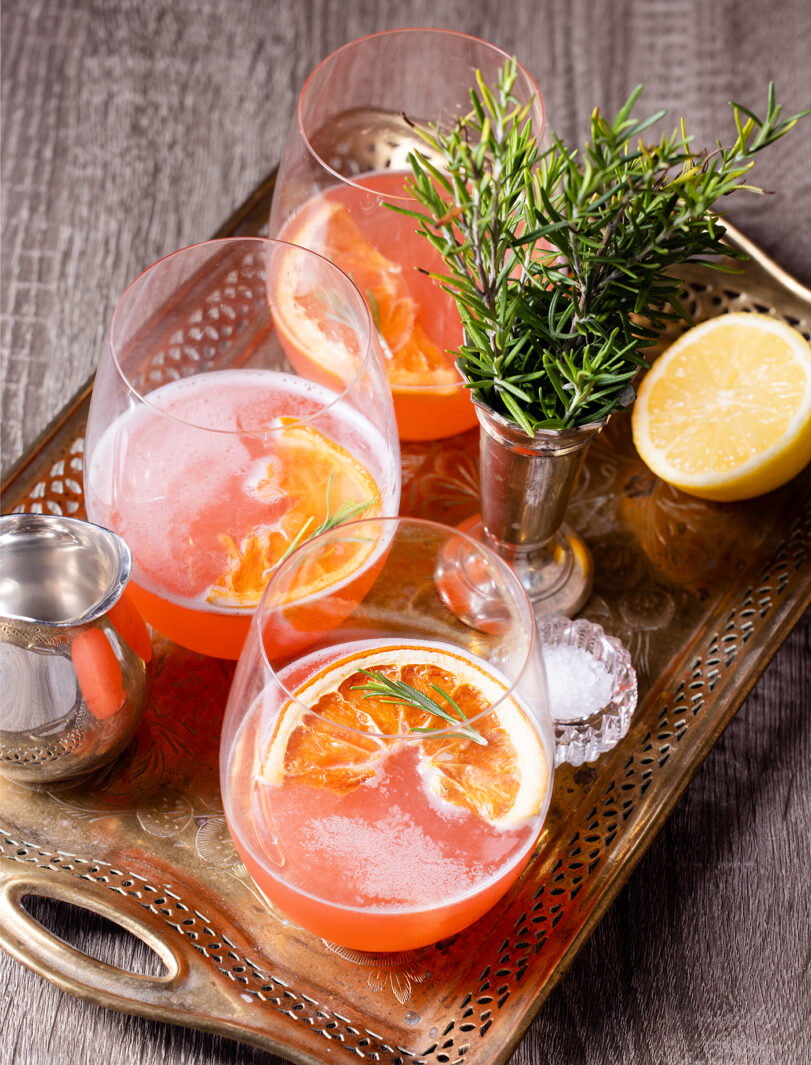 Beautiful dried citrus wheels inspired this tart fall cocktail that is balanced by savory, woody rosemary and just a hint of sea salt. The bold color and crisp bite will brighten up any holiday gathering. And – a welcome bonus – it is easy to make. Featured November 2022
2 ounces fresh ruby red grapefruit juice
1 1/2 ounces vodka
1/2 small lemon, juiced
1/4 ounce agave syrup
2 small sprigs of rosemary
dash of sea salt
dried grapefruit wheel, for garnish
1. Fill a small cocktail shaker with ice. Pour in the grapefruit juice, vodka, lemon juice and agave. Gently crush one rosemary sprig between your fingers and add to the shaker along with a dash of salt. Put on the lid and shake vigorously for about 20 seconds. Strain into a martini glass and garnish with a dried grapefruit wheel and remaining sprig of rosemary. Serve immediately. Makes 1 serving.
Dehydrated grapefruit slices by Pink House Alchemy, $21
SOLD AT: PROVISION, 100 N SECTION ST., FAIRHOPE, 251-850-5004
Hint: They sell dried lemons, limes and oranges, too! The cocktail possibilities are endless.
10. Peach Tomato Caprese Salad
Writer Dooley Berry serves this cool salad on hot summer evenings. Featured in "The John Kitch Tomato," May 2022
2 large heirloom tomatoes, thinly sliced
2 large peaches, pitted and sliced into half moons
1 (8-ounce) ball fresh mozzarella, thinly sliced
6 fresh basil leaves, julienned
1 tablespoon extra-virgin olive oil
1 tablespoon balsamic reduction*
flaky sea salt and fresh-cracked pepper, to taste
1. Layer tomatoes, peaches and mozzarella on a serving platter, overlapping slightly between layers.
2. Sprinkle basil over salad, then drizzle olive oil and vinegar reduction.
3. Sprinkle with salt and pepper to taste and serve immediately. Serves 4
* To reduce vinegar: Bring one cup balsamic to boil, then simmer to desired thickness, being
careful not to burn.