Enjoy this collection of some of the tastiest dishes and drinks featured in Mobile Bay this year. Bon appétit!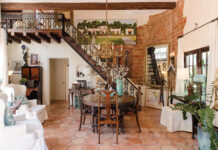 Fairhope artist Rex Turner and his wife Camille combine a mix of old and new in their historic home.
Say hello to our new favorite summer sandwich. Fresh blackberries muddled with crisp basil offer a sweet, fruity twist on the savory classic.
Enjoy the great outdoors before the dog days of summer arrive. Here are 10 picnic lunch recipes to make ahead and bring on your adventure!