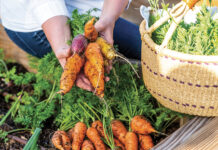 Newcomer Beth Branch has already made a positive impact with her community garden, which has deepened friendships and united her Fairhope neighborhood to serve a good cause.
Enjoy this collection of some of the tastiest dishes and drinks featured in Mobile Bay this year. Bon appétit!
As a mom to young children, Kathleen Galloway Collins is looking to pass her childhood traditions on to her own family. She's starting in the kitchen with her favorite: her family's peppermint layer cake.
Nour Hasan draws on her upbringing as the daughter of two artists to inspire showstopping confections with a creative sensibility.
These quick and easy treats will become instant holiday staples. Perfect for gift giving or enjoying at home!
This Fresh Mountain Apple Cake recipe by potter Gail Moore is super moist and works well for dessert or an afternoon snack with coffee.