Enjoy the great outdoors before the dog days of summer arrive. Here are 10 picnic lunch recipes to make ahead and bring on your adventure!
Red snapper season has officially arrived, and we have all the recipes you need to help you cook what you catch.
Fresh summer berries are the perfect way to style this festive sweet treat.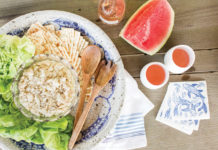 These classic seafood recipes have fed the area for generations and continue to do so with a fresh approach.
Plucked from our hometown waters, a fresh bounty of plump blue crabs prepared three classic ways makes for the best summer crab boil.