Fresh summer berries are the perfect way to style this festive sweet treat.
Whether picked at a roadside stand or in your garden, summer vegetables are demanding their moment to shine.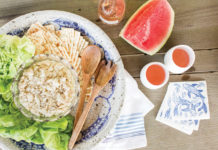 These classic seafood recipes have fed the area for generations and continue to do so with a fresh approach.
Plucked from our hometown waters, a fresh bounty of plump blue crabs prepared three classic ways makes for the best summer crab boil.