Along the side of the highway in communities from Wilmer to Elberta, roadside stands have popped up in recent weeks offering the promise of fresh, locally grown produce. Handpainted signs tease the first silver queen corn while mountains of okra pile up next to crookneck squash and Japanese eggplant. Before long, watermelons will be swimming in a horse trough of ice water in the parking lot, calling your name as you drive by.
Nothing is sweeter than summertime fruits and vegetables still warm from the lower Alabama sunshine, and now is the perfect time to try out a fresh new recipe for the tried and true local offerings.
Grilled Squash Ribbons and Prosciutto with Mint Dressing
Adapted from a recipe in Food and Wine Magazine
1 teaspoon lime zest, finely grated
1/4 cup fresh lime juice
1/4 cup mint, chopped
2 garlic cloves, very finely chopped
1/4 cup extra-virgin olive oil, plus more for brushing
salt and freshly ground pepper, to taste
2 medium zucchini, sliced thinly, lengthwise on a mandolin
2 medium yellow squash, sliced thinly, lengthwise on a mandolin
6 ounces prosciutto, thinly sliced
bamboo skewers, soaked in water
1. Heat a grill. In a small bowl, combine lime zest and juice with mint, garlic and olive oil. Season with salt and pepper. Set aside.
2. Skewer zucchini, squash and prosciutto in alternating ribbons until each skewer is full. Lightly brush with olive oil and season with salt and pepper.
3. Grill the skewers over high heat until the edges of the vegetables are lightly charred, about 1 1/2 minutes per side. Remove to a platter and drizzle with the mint dressing. Serve immediately. Serves 4
Roasted Ratatouille
Normally a side dish, we think this would make a great family-style appetizer when pulled right from the oven. Serve with toasted rustic bread and allow family to tear and dip right into the ratatouille.
3 cups eggplant, cubed
3 cloves garlic, minced
2 cups cherry tomatoes, halved
6 ounces roasted red peppers, cut into 1/4-inch strips
6 sprigs fresh thyme, plus more for garnish
2 tablespoons capers, drained
1/3 cup extra-virgin olive oil, plus more for drizzling
kosher salt and freshly ground pepper, to taste
toasted rustic bread, for serving
1. Preheat oven to 500 degrees with a large ovenproof skillet on the center rack. Meanwhile, add all ingredients to a large bowl and toss to coat. 2. Remove skillet from oven and add vegetables. Roast, stirring twice, for 15 minutes or until eggplants are soft and tomatoes have burst. Sprinkle with fresh thyme leaves and serve with slices of bread. Serves 4
Tomato Galette
Avoid a soggy bottom on this rustic pie by making sure to drain the tomato slices well before assembling.
1/2 cup cold unsalted butter, diced
1 1/2 cups all-purpose flour
1/3 cup shredded Parmesan cheese
5 tablespoons ice water
1 1/2 pounds heirloom tomatoes, sliced 1/4-inch thick
1 1/2 cups finely grated firm cheese, such as cheddar or Gouda
2 garlic cloves, thinly sliced
1 large egg, beaten
flaky sea salt, to taste
freshly ground black pepper, to taste
1 tablespoon chives, finely chopped
1 tablespoon basil leaves, finely chopped
1. Add butter, flour and Parmesan to a large bowl and quickly mix with a pastry mixer until well combined. Add ice water 1 tablespoon at a time and use a fork to incorporate it into the flour. Add enough water until a shaggy dough forms. Use your hands to finish pulling the dough together and form into a disk. Wrap in plastic wrap and refrigerate for 1 hour or overnight.
2. Meanwhile, arrange tomatoes on a double layer of paper towels. Sprinkle with salt and allow to sit for 20 minutes until a good bit of moisture has been released.
3. Preheat oven to 400 degrees. Unwrap dough and roll out on a lightly floured sheet of parchment paper to a 14-inch circle. Transfer parchment to a baking sheet. Scatter cheese over dough, leaving a 1 1/2-inch border. Pat tomatoes dry and arrange tomatoes over cheese. Sprinkle with garlic slices. Bring edges of dough up and over filling, overlapping as needed to create about a 1 1/2-inch border. Brush dough with egg wash. Sprinkle tomatoes with salt and pepper. Chill in freezer 10 minutes.
4. Bake galette, rotating once, until crust is golden brown and cooked through, about 45 minutes. Let cool slightly on baking sheet. Sprinkle with chives and basil and serve hot or room temperature. Serves 6
Oven-Roasted Okra
Crispy oven-roasted okra is healthier and far less messy than fried okra, while tasting every bit as good. Prepare more than you think you'll need — the okra cooks down to nothing.
6 cups okra, sliced
1/4 cup olive oil
kosher salt and freshly
cracked pepper, to taste
1. Preheat oven to 375 degrees. Place okra on a rimmed baking sheet and top with olive oil, salt and pepper. Stir to coat, then spread out in an even layer.
2. Roast for 35 minutes, stirring once or twice during cooking, until the okra is charred and crispy. Serve immediately. Serves 4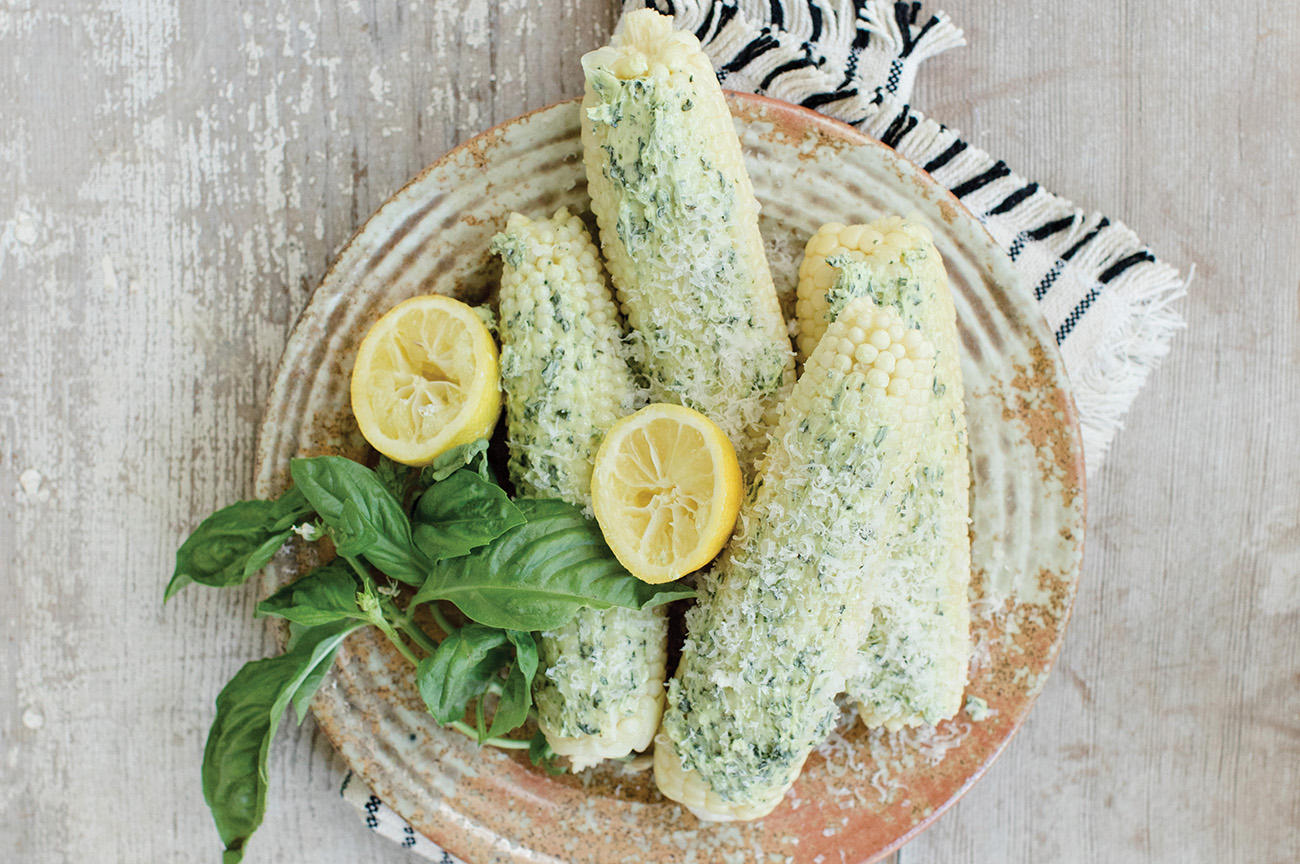 Corn on the Cob with Basil Butter
1 stick unsalted butter, softened
1 cup lightly packed basil leaves
1 garlic clove, finely chopped
kosher salt, to taste
6 ears local white corn, husked
flaky sea salt
grated Parmesan, for serving
lemon wedges, for serving
1. Bring a large pot of salted water to a boil. Meanwhile, combine the butter, basil and garlic in a food processor until slightly whipped, scraping down the bowl as needed. Add salt to taste and let food processor combine one more time before removing butter to a small bowl. Set aside.
2. Place corn in the boiling water and cook for 5 minutes. Use tongs to remove corn and set aside on a platter to cool until it can be handled.
3. Generously slather the basil butter over the corn and sprinkle with sea salt and a little Parmesan cheese. Serve with lemon wedges. Serves 6
Corn and Zucchini Orzo
This pasta salad makes a great vegetarian lunch, or pair with oven-roasted salmon for a perfect hot-weather dinner. It would also be wonderful topped with grilled shrimp!
3 ears corn, shucked
1 large zucchini, quartered lengthwise, or several smaller zucchini, halved lengthwise
4 tablespoons extra-virgin olive oil, divided
kosher salt, to taste
pepper, to taste
1/2 pound orzo
1/4 cup tahini
3 tablespoons fresh lime juice
1/2 teaspoon chili powder
1 1/2 cups coarsely chopped cilantro, divided
1 tablespoon red onion, thinly sliced
2 ounces feta, crumbled
1. Light the grill. Place corn and zucchini pieces on a large plate and brush with 1 tablespoon olive oil. Season with salt and pepper. Grill over medium heat until charred, about 10 minutes. Transfer to a cutting board and let cool. Remove the kernels from the corncobs and chop the zucchini. Transfer to a large bowl.
2. Boil the orzo in salted water until it is al dente, according to package instructions. Drain and rinse under cold running water. Remove to a tray lined with paper towels to dry completely.
3. In a large bowl, whisk the remaining 3 tablespoons of olive oil with the tahini, lime juice, chili powder and 1/2 cup of the cilantro. Season with salt and pepper, to taste. Add the orzo, corn, zucchini, red onion and the remaining chopped cilantro and mix well. Transfer to a platter and top with crumbled feta, for serving. Serves 6