The line between indoor and outdoor living is fluid — by design — at the Toombs' Perdido Beach dogtrot.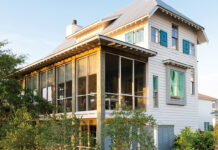 Local architect enjoys the fruit of his labor for the first time as he designs his own simplistic Orange Beach dream home.
The brothers running Resmondo Boat Works are doing more than repairing boats; they're keeping their father's legacy alive.