"Waste not, want not" applies to Thanksgiving leftovers, too.
The Thanksgiving holiday marks the date of the annual Poarch Creek Indians' Pow Wow — a time to celebrate heritage and pass it down to the next generation.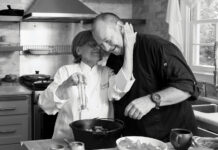 Explore the Thanksgiving recipes and story behind mother-son cooking duo Nancy and Will Hughes.
Pain is beauty — but Velcro rollers and mimosas may help.
Thankgiving and its traditional dishes may be widely accepted today, but Southerners haven't always welcomed the New England holiday with its cranberry recipes.
Figuring out what's on her plate is part of the Thanksgiving fun for writer Audrey McDonald Atkins.
Throw together an elegant, delicious morning meal using a few of the leftovers from your Turkey Day feast.