Shrimp Scampi and Garlic Bread 
 
It's appropriate that Roma Cafe is situated in the Westgate Shopping Center just minutes away from the Mobile Regional Airport. After all, the Italian eatery has made a name for itself by serving up tastes from faraway places. Or, as owner Alex Fayad likes to tell his patrons, "I'm saving you a plane ticket to Italy right now."
The welcoming restaurant and its delightful staff have created what manager Evan Wilson calls a "hybrid of fine dining and the family-style Mom and Pop restaurant." And sure enough, its dark red walls, muted lighting and casual tables and chairs create a romantic space without the formal stuffiness. Additional outdoor seating allows diners to enjoy a meal with a nice breeze (with the help of several ceiling fans).
Originally from Sicily, Fayad strives to provide the most authentic, traditional Italian fare at his 3-year-old restaurant. The recipes he uses all come from his mother, who still lives in Sicily. But that's not the only secret to his success: "Ninety to 95 percent of everything that we do is fresh. All of our sauces are made from scratch. That's why people like the food." Their goal is to do as much of their own food preparation as possible. They receive at least four vegetable deliveries a week. And that's why people keep coming back. Regular customers are the primary demographic of Roma's visitors.
The menu features all the staples of the Italian appetite in addition to the subs, burgers and sweet tea Mobilians have come to expect. One of the most popular items is the Philly Steak Sub, which features bread from Philadelphia and always draws in a hungry lunch crowd when it's discounted on Wednesdays. Also, be on the lookout for their winter weekend soup specials in the coming weeks. Want to make your own pasta at home, but tired of store-bought sauces? Stop by for Roma's made-from-scratch marinara to go.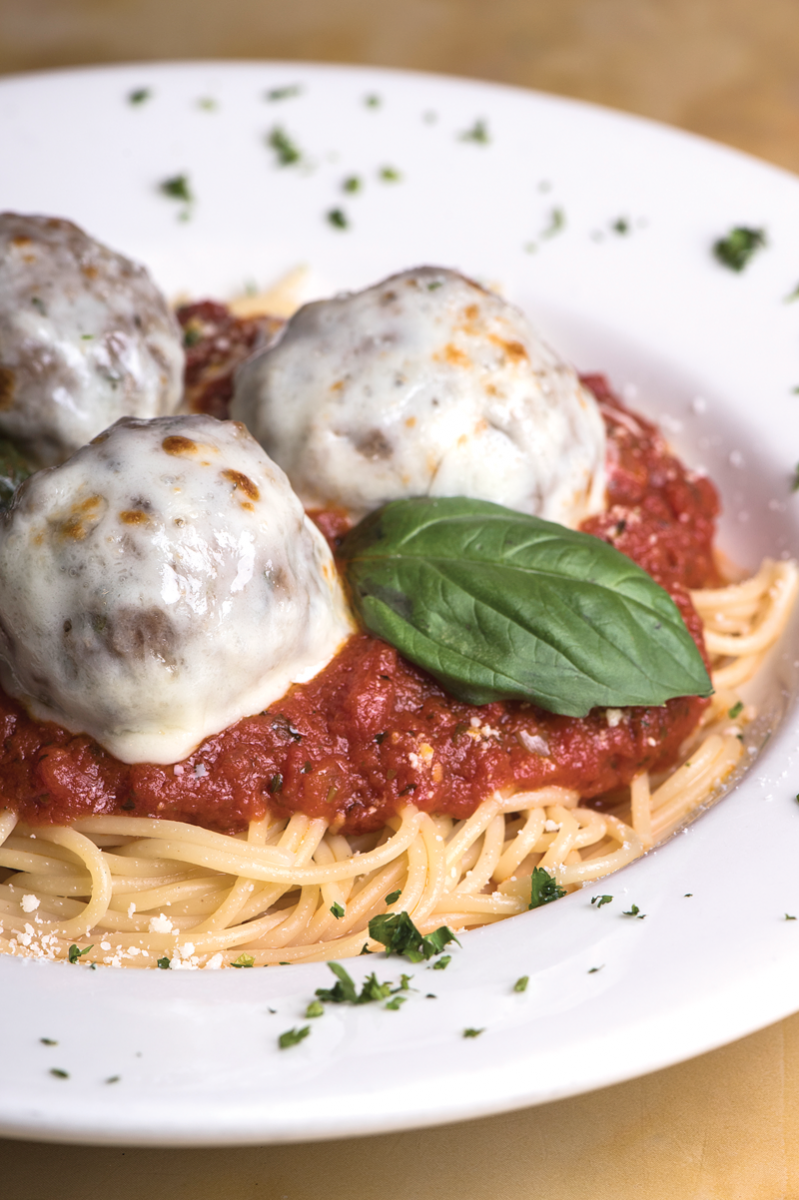 On the Menu
Shrimp Scampi and Garlic Bread
This flavorful appetizer almost steals the show. Plump shrimp are sautéed in a rich lemon butter sauce just begging to be sopped up with thick slices of crispy garlic bread delivered from Philadelphia.
Spaghetti with Meatballs
This tried-and-true traditional dish is a favorite. A homemade marinara sauce covers three hefty meatballs packed with flavor, and they are plopped on a heap of spaghetti and topped with Parmesan.
Toscana Oven-Roasted Salmon
An Alaskan salmon fillet is oven-roasted and smothered in a thick pesto cream sauce, juicy grilled shrimp and garden fresh garlic,  all served atop a hearty bed of angel hair pasta.
Chocolate Chip Cannoli
A Sicilian original, this pastry dessert  is served as a tube of fried dough wrapped around a white, creamy filling. A dusting of confectioners' sugar and plenty of chocolate sauce adds to the sweetness.
Roma Cafe • 11 a.m. – 9 p.m. M – Th • 11 a.m. – 10 p.m. F / Sa • 11:30 a.m. – 5 p.m. Su
7134 Airport Blvd. • 341-7217
 
---
text by Breck Pappas • photo by eLIse Poché