It wasn't until Sunday that a South African boater spotted Andre Lotz and his friends, a group of boys running amok on the island. The boater remembered something in the news about a group of local Capetown children who had been missing since Friday, so he called the police. 
"The police came out in a boat and picked us up, " recalls Lotz, who was 7 years old at the time. "When we got to the police station, all the other parents were waiting there, except mine, " he says with amusement. The police explained exactly what the children had done: The boys had commandeered a welded mass of 55-gallon drums from a local construction project and used it as a raft in order to camp out on a nearby island. 
"My father later showed up in his Volkswagen and asked, 'What did he do?'
"The cops were like, 'You didn't notice he's been gone?'
"I told my father we had been rafting and he said, 'Oh, sounds like fun.'"
In retrospect, Lotz admits that his parents' obliviousness of his whereabouts at the age of 7 "might sound terrible, " but the story speaks volumes about his childhood in South Africa and the life of adventure that inevitably followed.
Today, a 49-year-old Lotz sits at a table toward the back of Firehouse Wine Bar & Shop, the business he opened with his wife Margo Alderton on St. Francis Street in 2014. Over 150 years ago, this room would have held the stable of the Mobile Hook and Ladder Company No. 1. The advent of large gasoline firetrucks in the 1920s made the stable, and therefore the building, unfit for a fire station. And just as it was never intended to become a wine shop, Lotz never intended to open one, especially in Mobile, Alabama.
From South Africa
Andre Lotz was born in 1967, the summer of love, in a suburb of Capetown to a South African mother and a German father. "Notwithstanding apartheid, I wouldn't trade my childhood for anything, " Lotz says. "I had such freedom." 
Literally meaning "separateness" in Afrikaans, apartheid is the word used for the systematic racial segregation enforced by the South African government from 1948 to 1994. This dark period in South African history has left deep scars on the country and its people, but Lotz retains a certain
fondness for his early years.
"We lived bordering a mountain, so by the time I was 10,  very often, my folks wouldn't see me for the whole weekend. My friends and I would go camping and explore the mountains." To Lotz, those days were all about "fishing and surfing — and more fishing." It immediately becomes clear that Lotz's lifestyle as a young boy in South Africa — the curiosity and independence — carried over well into his adulthood and continues to flicker. He seems to agree with this assessment and explains another way in which South Africa influenced his worldview.
"Because of apartheid, I really don't have that much nationalism in me, " he explains. "To me, people are people."
On to Europe
After his two years of mandatory conscription in the South African military, Lotz received a federal grant to attend college for electrical engineering in South Africa. 
"After college, I just needed to get away, so I did the whole backpacking thing around Europe, " he says. He eventually found himself in London around 1990, where he didn't need a visa to earn money and everyone spoke English. He worked as an electrician for two weeks before a New Zealander who lived in his commune approached him with an opportunity.
"He asked if I could ride a motorcycle, " Lotz remembers. "He said, 'I'm returning home to New Zealand, and I'm a courier rider for ITV (Independent Television). You want the job?'"
For the next six months, Lotz skirted his way through London traffic on a motorcycle with a large courier box on the back, delivering videos to West End ad agencies in the days before satellite. "The agencies all had these funny, weird names like The Jolly Good Idea Company. And at that time, music videos were becoming huge, so I was often going to studios to get videos that had just been made.
"I did that for six months and had a lot of accidents, " he says. "But it was during that time that I met Billy Idol."
Lotz launches into a story that you wouldn't expect to hear from the owner of a cozy wine bar in Mobile. "I was with a few friends of mine on our bikes at a bar watching a punk band where we met this guy named Nearly Normal Norman. We got to chatting, and he suggested we should stop by the Slimelight." At the Slimelight, an invitation-only underground nightclub in London, Lotz and his friends told the bouncers that Norman sent them and immediately gained access.
"Billy Idol was there, and he saw that I was carrying a motorcycle helmet. He's a huge motorcycle guy so we ended up chatting, and he wanted to know what I rode." The two hit it off, and Lotz joined Idol and a large group of friends on a motorcycle ride to Wales the following weekend.
After a violent motorcycle crash several weeks later, Lotz decided it was time to hang up his helmet (that is, after three days of using a metal hook inserted into his cast to pull in the clutch). He strongly embellished his farming experience to land a job driving a harvester and raising heifers at a farm in the south of England. "I named them all after the dwarves in 'The Hobbit', " Lotz laughs. Of course, when the time came to take the animals to market, he was devastated. "That's when they asked, 'Are you sure you've worked on a farm before?'"
With money saved up, Lotz took off traveling again, first to Greece, then to the border of Turkey and Iraq with a photojournalist friend from New Zealand nicknamed Tackhead (due to his spiky haircut) to photograph Kurdish refugees, then north toward the Black Sea."I grew up in Africa and never got malaria, " he says, "only to get it on the Black Sea coast in Turkey." Tackhead took it upon himself to nurse Lotz back to health over a couple weeks. The two would later get separated at a bus station, an incident that Lotz refers to as one of his life regrets. "I never got his contact details, his full name, nothing!" That was the last Lotz ever saw of Tackhead.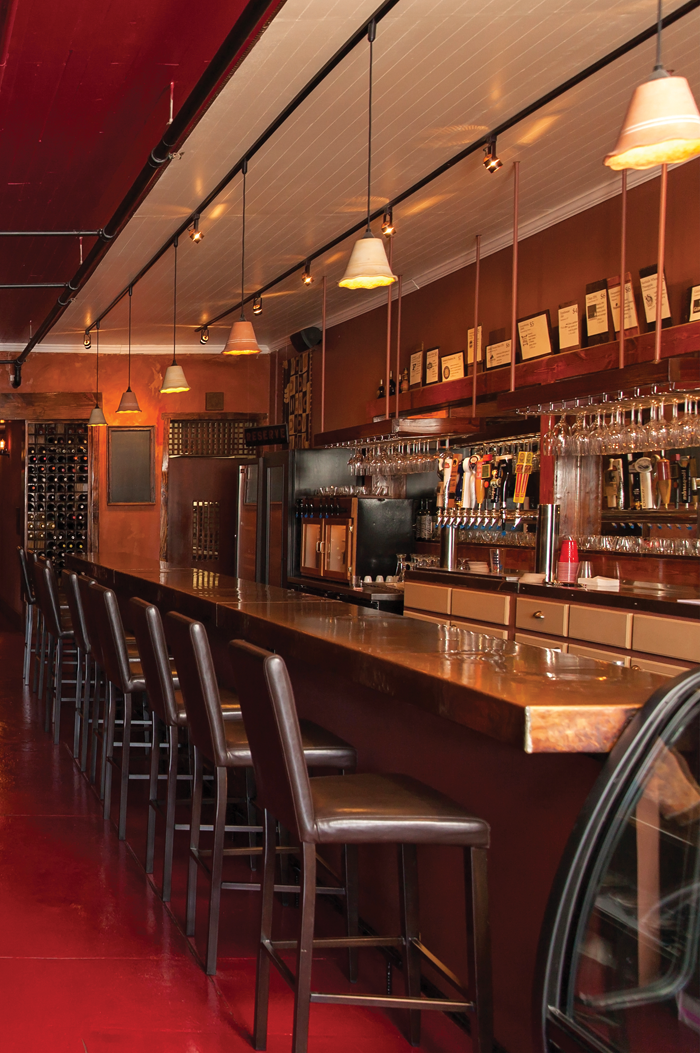 ABOVE AND BELOW The former firehouse has taken on a chic ambiance, yet cool details remain, such as the pole from the second floor. Lotz and Alderton now call the upstairs above the bar home so the hole to the next level has actually been closed off.
 
Over to America
Shivering in a pair of shorts and a denim jacket, Lotz and his then-girlfriend stood helplessly outside the locked gate of the College Point Marina in New York City. The pair was fresh off a flight from South Africa, eager to buy a boat to fix up and sail around the world. So far, things weren't going well.
A man leaving the marina stopped to ask what they wanted. By the end of their conversation, the man had offered Lotz a job as an electrician at the marina, offered his girlfriend a secretarial job and tossed Lotz the keys to his 40-foot boat parked nearby for the couple to sleep in.
"We just thought, 'Wow, this is America! Employed with a roof over our heads within two hours.'"
Lotz stayed in New York for the next 20 years, fixing up old wooden boats, then working for a boiler company. During that time, he became an American citizen. When Lotz met his wife Margo, another world traveler with a head-spinning passport, the two agreed that they wanted to try out another city.
While visiting her parents who had moved to Montgomery from Virginia, Margo took a day trip to Mobile on a whim. "She called me from Mobile and said, 'You should come down here. I think you'll like it, '" Lotz remembers. So he did. "As soon as we went down Government Street with all those trees, I was like, 'Yeah, this'll work for me.'"
The wine bar came as a bit of a surprise to both of them; neither had any experience in the wine industry, but Margo suggested the idea because she had always been fascinated with Lotz's casual attitude towards wine. The result is a comfortable space free of pretentiousness. "A good wine is a wine that's good to you, " Lotz explains. An observant visitor might pick up on clues about Lotz's life around the bar and shop, from the wide selection of South African wines to the woodwork and metalwork Lotz once applied to old boats in New York.   
"Sometimes if I hear a ship's horn from the port, I'll step outside on my balcony and watch it move up the river, " Lotz says. "I always get a kick out of that." Who could have guessed a makeshift raft would carry Lotz so far?
---
text by Breck Pappas • photos by Todd douglas