"When I die, my momma gets my soul." Words so simple and sweet, not even the snarkiest critic could disagree.
It's with words like these that The Mulligan Brothers – a locally based musical foursome – gently weave heartfelt tales of love and loss into a complex yet comforting quilt of bluegrass instrumentals, the combination of which will leave you nostalgic for something (or someone) that you can't quite put your finger on. With a remarkable universality, the band's self-titled debut album features songs that you could as easily imagine spilling from the mouth of a storied, laugh-lined old man as his teenage grandson grieving his first heartbreak. The Mulligan Brothers sing and play about where they've been in a way that makes us all realize we've been there, too. And given the band's local ties, "there" just might be the streets and shores of Mobile Bay.
As for The Mulligan Brothers' musical style, "you can't pigeonhole them, " John Thompson, co-owner of local music venue Callaghan's Irish Social Club, muses. "They blend so many genres." Some call it Americana; others call it folk. And the jury's still out on whether or not they can be classified as country. If so, it's a version that even people who loudly disavow the genre will appreciate. It is music so easily enjoyed that at first listen, you think it can't possibly be of substance. But it is. So much substance, in fact, that the four guys have garnered an impressive amount of praise and accolades, including boasting the eighth best-selling album at New Orleans Jazz Fest in 2014, a music festival patronized by more than 400, 000 listeners.
As they prepared to record their second studio album with Steve Berlin, a music legend with his hand in seven Grammy wins, we sat down with the scruffy quartet over burgers before a packed show at Callaghan's, where between self-deprecating jokes and infectious laughter we were able to get in some questions about where the virtuosos have been – and where they're headed.
Meet the "Mulligans"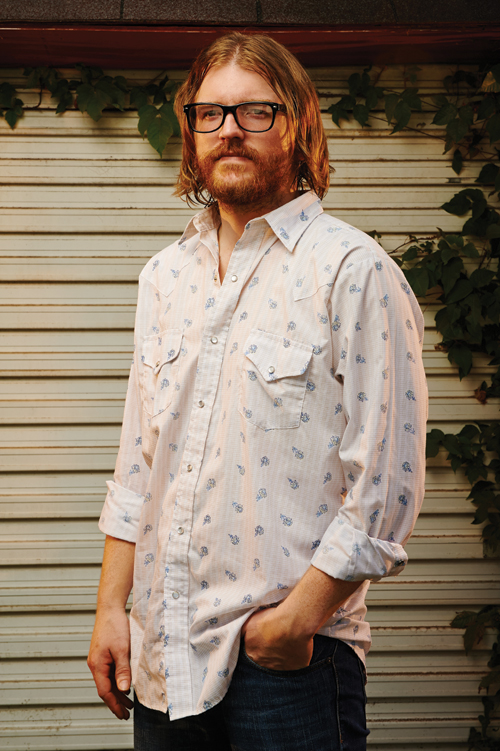 ROSS NEWELL
Lead vocals, guitar
Where is home? Mobile
Local schooling Mary B. Austin, Faith Academy and Baker High School.
Married Might as well be Kids I have four dogs.
Future autobiography title "For Christ Sake, Just Listen for a Minute"
BEN LEININGER
Suitcase bass, upright bass,  vocals, self-designated tour bus driver
Where is home? Spring Hill; originally from Baton Rouge
Local schooling Daphne High
Embarrassing favorite song "Tell Me Something Good" by Rufus, Chaka Khan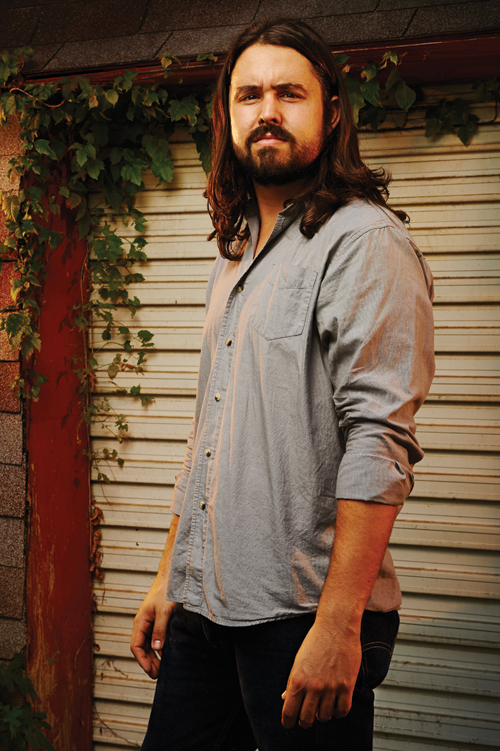 GREG DELUCA
Drums, vocals
Where is home? Midtown Mobile
Local schooling Daphne High and Faulkner
Embarrassing favorite song "Because of You" by Kelly Clarkson
Future autobiography title "Oh Crap, Oh Well"
GRAM REA
Fiddle, viola, mandolin, harmonica, vocals
Where is home? Ocean Springs, Miss., but originally from Baton Rouge.
Married For nine years Kids Lennon, 7
Future autobiography title "G Strings and F Holes"
Assembling the Brothers
What were y'all doing before you became a band and how did that happen?
Greg: Ben and I have been playing together on and off since middle school. After our last band disbanded, we performed with a lot of front men until we came across Ross. He and Gram were already playing together.
Gram: Ross and I met through a mutual musician friend who was also from Mobile. I would come over from Ocean Springs, and we would do some acoustic stuff. I loved his songwriting and his voice from the get-go. (puts his hand over his heart affectionately)
Others: Awwww! (sarcastically)
Gram: We were just toying around doing some acoustic stuff under the name The Mulligan Brothers because we all had other projects going on.
Ross: When we all started working together, it seemed like everybody's heads were in the same place at the right time. We just merged. There's an honesty that we're all looking for in music that helps us to agree on what it is we want to do.
Where does the name "The Mulligan Brothers" come from?
Ben: It comes from the golf term "to take a mulligan" which is like a second chance. Being that we've all been in different projects — separately and together — we've all learned some good and bad things in those projects.
Greg: Especially bad.
Ben: So, this is kind of our second chance. Our do-over.
Gram: We definitely learned what not to do.
What's an example of what not to do?
Gram: Any band that I've been in in the past was totally unorganized when it came to how we handle our merchandising — giving away so much stuff that it was hard to make a profit. We've been very disciplined in saving that money so we can reinvest it.
Ross: The biggest thing is not to be lazy. It's so easy to figure out that a few places will hire us three times a month so lets just do that. But, you realize pretty quickly that you're playing to the exact same crowd. It's hard to expand anything if you're sitting still, performing within a five-block radius all of the time.
Gram: It's constantly changing, too. We reevaluate what we're doing probably every three months or so. We ask ourselves, does this venue work? Is this doing anything for us anymore? Should we play here?
Ross: And, are we doing good stuff for the venue? We try to figure out if it can be a mutually beneficial thing for everybody involved. If not, then that deserves attention. Even if you quit a gig, at least you learn what you need to work on. And if we can't fix whatever that is, then I guess we should QUIT!
Get a day job! Wait, do y'all have day jobs?
Greg: Nope, which technically means we're professionals.
Gram: We're definitely willing to take a risk. In past bands, if someone asks you to go to another state and play tonight, the first question has always been "How much are we going to make?" Now, we're willing to go for nothing if we think there's a chance to build a fan base and a new market where we can get our music out.
The Nitty-Gritty
How do you like to define your music?
Gram: Americana.
Ross: That's the short answer: Americana, folk, singer / songwriter stuff. But, we play honest music that means something to us. It translates better that way. If we can feel it every time, then there are a lot better odds that the people listening can be moved by it as well. If you're trying to convince people that you emotionally feel "Pour Some Sugar on Me" night after night, then people are going to pick up on that fakeness – even on a subconscious level.
How did you get hooked up with Grammy-winning producer Steve Berlin?
Greg: A mutual friend passed along our CD. He called our friend back and said, "I want to do the next record; these guys are great." That was awesome to hear. Now we've got to get something for him to produce!
You have received lots of praise and accolades. Which has meant the most?
Greg: For me, it would be ranking No. 8 of CD sales for all of the artists at New Orleans Jazz Fest. That was pretty awesome and unexpected. It was our first year ever to play too.
Have you received any negative feedback?
Ben: People saying, "What do you mean you don't know 'Sweet Home Alabama?'"
Gram: I had a girl come up at a show and say, "Can you play something we can dance to? Like, 'The Wobble?'" I said, "Do we look like we play 'The Wobble?'"
What are your favorite venues in Mobile?
Greg: John Thompson does some really cool stuff here at Callaghan's.
Gram: There are a lot of venues that are really good to us. I know I'm appreciative of all the work that we've gotten.
What makes Mobile such an intriguing musical town?
Ben: On any Sunday night here, you can probably catch two or three really good musical acts. I don't think there's a night of the week that you can't find somebody talented playing somewhere. There are a lot of places you can't do that, even bigger cities.
Ross: There's hardly any musician in the area that we're not huge fans of, and there's a huge support system. It's a bit of a double-edged sword, though. Because there are so many incredibly talented world-class musicians here, the people, in general, get so spoiled. I can throw a dart at the Mobile map and within three blocks, I can find a phenomenal musician, which can make it tough to play here.
Gone Giggin'
How do you get around on tour?
Ross: Rosanne is our bus.
Gram: It's a 13-year-old shuttle that used to carry old folks around Piedmont, Ala.
What's the favorite tour stop so far?
Ross: I loved the Bottle Cap Barn in Edmond, Okla. My favorite thing about traveling is those venues that you find. A lot of places you can't Google. They don't want to be found because they've got such a cool thing going on. There's a network all over the world of places that have a common goal. There's a group in every town — there's a group in this town — that really supports good music. Like at The Frog Pond out in Silverhill.
Gram: We love that place. And we had some really great shows doing our overseas tour for the troops.
Tell us more about those concerts.
Gram: Can't. It's top secret. (laughs) We did a showcase in Houston and a commander for the Navy asked us "How do you guys feel about playing in a war zone?" and we were just like, "OK, great! Yeah, we'll do it." We did three shows in Bahrain on different Navy bases. The troops there don't get to see a lot of people from home, and the entertainment that comes through is few and far between. It's very rewarding to give them a break in their everyday routine and to see how happy they are. Then, we did the U.S.S. George H.W. Bush aircraft carrier. We've been fortunate in getting cool single gigs, too, like Fenway Park in Boston. It was such an iconic, American place to be able to do what we love.
And you are playing BayFest this year…
Greg: Yeah, and they did an awesome job with the lineup. And I like the fact that they always take care of the local talent that a lot of the bigger festivals forget about. I understand that they've got to sell tickets and stuff, but what about the little guys? BayFest always remembers them.
Where do you see yourselves as a band in two years?
Ross: I don't even know what time we're leaving Thursday.
Gram: I think we'd like to see us still out there writing songs and making records. Doing what we're doing, trying to develop this band into a long-term career with a following of people who buy our albums year after year. For me, personally, I'm not trying to be hugely famous playing arenas or anything.
Ross: The main thing is that we are successful enough to continue doing this. I think that's the most any of us are able to hope for.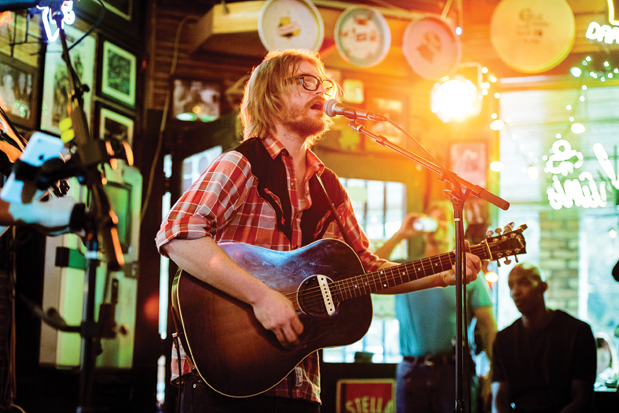 Local Lyrics According to Ross
"In the south of Alabamy
Near the Gulf of Mexico
On the banks of the ol' Tombigbee
Walks an old lost forgotten soul"
Dale Drinkard Jr. and I came up with this story that takes place during the 1837 Racer's Storm — the largest storm that we know of to ever hit our area. Most people from here can visualize the Gulf of Mexico and the Tombigbee River, and we wanted to write a tragic song around all that imagery that we're all so familiar with.
"Round about last call on Dauphin Street there's a short parade that scatters from the bars
A bunch of pretty girls with blistered feet that dig for their keys and try to find their cars"
I'm a simple man with simple tastes, I suppose, but every time I see a woman in high-heeled shoes having to hide a wince every time she takes a step … it's like "Why are you doing this? You have so many other options!" I'm sure there are men who prefer to see women in high-heeled shoes, but who cares? Get comfy.
"So when you're crossing this city
This city will cross you"
This is about Mobile. Unless that offends you, then it's about somewhere else (laughs). I love Mobile. It's been great to me. But, you do have those bad nights that can negatively inspire you enough to write an album worth of songs.
"Everybody know from here
That you can't go to hell without passing through Atlanta first"
That is from a conversation that I had with my grandfather years ago. Everybody from our area knows that no matter where you're headed, if you're driving, then you're going to have to fight that Atlanta traffic, and if you're flying, you're going to fight that Atlanta airport. You can't even go to hell without going through Atlanta first.
---
text by haley potts • photos by matthew wood and chad riley