Hauling all the vegetables, meat, utensils, pots, pans and dinnerware needed for a week's worth of gourmet meals for 10 people into the backcountry mountains of Wyoming by mule is a feat most people would never attempt. But then again, Jeremiah Matthews isn't most people.
As the head backcountry chef of the Spotted Horse Ranch in Jackson Hole, Jeremiah carried a mobile kitchen into the mountains where he prepared gourmet meals for hotel guests seeking elegance in the great outdoors. During this time under the big sky, Matthews honed his skills cooking wild big game like elk, bison and even bear, but this classically trained chef always felt the call back to the Gulf Coast.
Matthews has been cooking off the land since he was a child. When he moved from Maine with his father and brother to the Alabama Gulf Coast as a young boy, the inseparable trio made themselves at home along our waters. Matthews soon also found himself at home in the commercial kitchen, landing his first restaurant job at the age of 12, washing dishes at Bogart's in Gulf Shores for three dollars an hour. "For a while I didn't even know I was getting paid," he laughs, remembering how his dad held his checks for him. "We didn't have a lot of money growing up, we all needed to pull our weight."
Despite trying his hand at numerous other jobs as a young man, Matthews found his way back to the kitchen. After four years studying the culinary arts at Paul Smith's College near Lake Placid, New York, an externship program in France and time at Le Cordon Bleu, Matthews is as comfortable cooking in the Michelin-starred kitchen of Alain Poussard in Paris as he is cooking over the hot coals of a dusty campfire. His outdoorsy streak does not camouflage a love of fine ingredients and perfect methods. These days, this man of few words and intense focus can be found hunting Chuckfee Bay in the Delta for wild duck, inshore fishing in the Mississippi Sound for big specks, stalking wild pigs in Monroe County, and of course, manning the pass at his restaurant in Daphne — Southwood Kitchen.
Roasted Oysters with Butternut Squash and Conecuh Sausage
There will be extra stuffing, which can be frozen for later use.
3 cups butternut squash, small diced
olive oil
salt and pepper, to taste
1 1/2 cups Conecuh sausage, diced as small as you can
1/2 cup onion, small diced
1/2 cup red bell pepper, very small dice
1 teaspoon garlic, minced
4 leaves fresh sage, rolled and shaved thin
2 tablespoons chive, thin sliced
1/4 cup grated Parmesan
2 dozen oysters in shell, opened
1. Preheat oven to 400 degrees. In a bowl, toss squash with a small amount of olive oil, salt and pepper. Place in glass Pyrex sprayed with cooking spray. Roast until soft, 6 – 10 minutes. Allow to cool.
2. Heat a 10-inch saute pan over medium-high heat. Add Conecuh and saute 1 minute, then add onion, red pepper and garlic and continue to saute until onions are translucent and the garlic aroma begins to soften. Toss in sage and chive, stir and remove from heat.
3. Place squash in the same bowl it was tossed in and mash with a fork (doesn't have to be mashed until smooth, it can be lumpy). Add sausage and onion mixture along with any rendered fat to the squash. Add Parmesan and season with salt and pepper, to taste.
4. Bump the oven up to broil. Place the opened oysters on an oven-proof pan and top with 1 tablespoon of squash mixture (if the oysters are small use less and vice versa — the oyster is the star here). Broil 3 – 5 minutes until the topping begins to take color. Be careful to not overcook the oysters. Serve immediately. Makes 2 dozen
Wild Boar Meatballs
Matthews buys all his seafood from Billy's Seafood in Bon Secour. He also suggests having a few brews from Fairhope Brewery on hand.
1/2 pound bacon, diced
1/4 cup onion, finely diced
1 teaspoon garlic, minced
2 pounds ground wild boar or venison 
2 cups panko breadcrumbs
1/2 cup grated Parmesan
2 eggs, beaten
1 1/2 cups water
1 teaspoon dried basil 
1 teaspoon dried oregano
salt and pepper, to taste
1. Preheat oven to 350 degrees. In a cast-iron skillet, saute bacon until rendered. Add onion and garlic, cooking until garlic aroma softens. Allow to cool.
2. Place boar in mixing bowl with bacon mixture and all other remaining ingredients. Mix well. It should feel like soft ground beef and be a little sticky.
3. Fill a small bowl with water. Dip your hands in the bowl as you roll the meatballs to keep them from sticking to you.
4. Each ball should be about 1.5 ounces, or slightly smaller than a golf ball. Roll meatballs in your hands until they are smooth and uniform. Place on baking sheet or glass Pyrex pan sprayed with cooking spray. Bake for 10 – 15 minutes, until cooked through.
5. Once they are baked, you can sear them in the same cast-iron skillet if you want a crust.
6. Serve in a pan with Sherry Mushroom Sauce (see below). Makes 24 – 30 meatballs
Sherry Mushroom sauce
1 cup mushrooms, sliced
1 shallot or 1/4 cup onion
1 teaspoon garlic, minced
1/2 cup sherry wine
2 cups cream
1/4 cup Parmesan
salt and pepper, to taste
Saute mushrooms, onion and garlic in a nonreactive pan until soft. Remove from heat and add sherry. Return to heat and allow it to flame, burning off the alcohol. Add cream and bring back to a simmer. Let reduce for 4 – 5 minutes or until slightly thickened. Whisk in Parmesan and simmer 1 minute. Season with salt and pepper, to taste.
Duck Strudel
Matthews serves his strudel with a horseradish sour cream.
2 pounds assorted mushrooms, chopped (can be white, shiitake, crimini, etc.) 
olive oil
few sprigs each fresh thyme, oregano and flat parsley
2 carrots, very small diced
1 cup yellow onion, small diced
1 tablespoon minced garlic
1 tablespoon butter
2 pounds duck meat, cooked and shredded (can be wild or store-bought)
1 8-ounce log goat cheese
salt and pepper, to taste
1. Preheat oven to 350 degrees. Toss mushrooms with a small amount of olive oil and herb sprigs, and saute over medium-high heat for 8 – 10 minutes until mushrooms are soft and slightly dry. Remove herb stems and strip the leaves back into the pan. Allow to cool.
2. Saute carrot, onion and garlic in butter until softened. Add shredded duck meat and roasted mushrooms. Crumble in the goat cheese and stir until melted. Season with salt and pepper, to taste. 
FOR THE STRUDEL:
2 10-by-12-inch puff pastry sheets, usually found in the freezer section
2 eggs, beaten
1 cup panko breadcrumbs
Preheat oven to 400 degrees. Line two baking sheets with parchment pepper and spray with cooking spray. Lay each sheet of pastry on its own pan. Brush borders of pastry with beaten egg. Working with the long edge facing you, sprinkle panko in a horizontal line down the middle of the pastry. Spoon half of the duck filling on top of panko, then sprinkle more panko on top. It will absorb any excess liquid. Roll the pastry tight like a burrito, and lay with the seam-side down. Brush the top with egg and sprinkle with salt and pepper. Bake 10 minutes, then rotate pans and bake 8 – 10 minutes more. Allow to cool slightly and slice before serving. Makes 2 strudels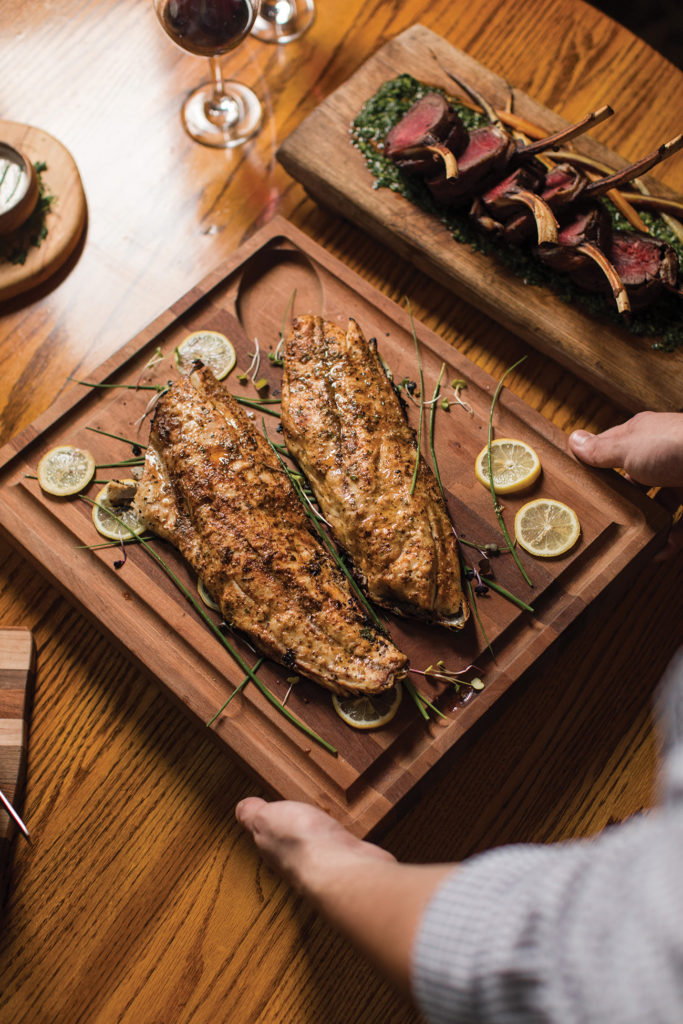 Redfish on the Half Shell
"Half shell" means with the skin (and sometimes scales) still on the fillet. Cooking fish in this way keeps the meat moist. Matthews likes to serve with remoulade or rouille.
2 1-pound redfish fillets, skin and scales on
8 ounces Garlic Lemon Butter, almost melted (see below)
Creole seasoning, to taste
Brush each fillet with the butter and season with Creole seasoning (we make ours but you can use whichever you prefer, just be careful since some are mostly salt). Place fish fillets skin-side-down on the preheated grill and close lid. Grill 1 – 2 minutes then open lid and brush again. Close lid and repeat the process several more times. Fish is done after 10 – 15 minutes or once it turns opaque and begins to flake around the edges. Serves 4
Garlic Lemon Butter
1 pound softened unsalted butter
zest and juice of 2 lemons
1 tablespoon granulated garlic or 2 tablespoons fresh minced garlic briefly sauteed to soften
1 tablespoon chopped flat parsley
1 teaspoon Creole seasoning
salt and pepper, to taste
1. Mix all by hand or place in food processor and pulse several times. Makes 2 cups
Bacon-Wrapped Elk or Venison Loin with Chimichurri
Bone-in chops make a striking impression at the table, but boneless works just fine.
8 slices bacon 
1 elk or venison loin (back strap) bone-in or boneless, about 3 pounds
salt and pepper, to taste
1. Lay out bacon as individual pieces and allow to come up to room temperature. Season loin with salt and pepper, to taste.
2. Preheat oven to 400 degrees. Begin wrapping loin with bacon, starting from one end and making sure the edges of the bacon overlap. Stick it with toothpicks where the bacon ends meet. If working bone-in, just work around the bones, leaving them exposed.
3. Sear in a large cast-iron pan, then finish in oven for 15 – 18 minutes, until medium rare. Allow to rest, then slice and serve with chimichurri. Serves 6
Pickled Garlic Chimichurri
12 cloves pickled garlic, chopped
2 bunch cilantro, chopped
2 bunch parsley, chopped
1/2 red onion
1 ounce red wine vinegar
1 tablespoon salt
1 tablespoon fresh oregano
1 cup olive oil
Juice of 2 lemons
1/2 teaspoon fresh ground black pepper
1. Combine in small processor, pulse until smooth but slightly chunky. Serve immediately or store in an airtight container in the refrigerator until use. Makes 2 cups