See the 1907 female basketball squad of Mobile's Baker Graded School in vivid color.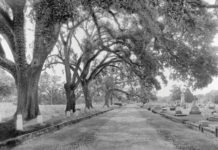 The soil of Mobile and Baldwin counties is rich with history, lore and stories of those long departed.
Follow the migratory flight of an Eastern monarch, a trip four generations in the making.
A warm bowl of seafood chowder is the ultimate Southern comfort food.
Cool October mornings call for a warm slice of bread bursting with fall flavor.
In honor of Mobile Opera's 75th anniversary, Forrest Wilson Jr. recalls the early days of his 45-year stint in the chorus.
Potter Charles Smith, known the world over for his meticulous Afrocentric and ceremonial vessels, sits down with MB to reflect on his purpose, passion and legacy.
Half the recipe for a busy weeknight pick-up or make the whole batch for a socially-distant tailgate party.
Brenda and Jeff Bledsoe host a musical evening in Silverhill.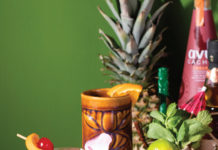 In honor of Mobile's annual Tiki Week — our fingers are crossed it happens this year — MB issues a challenge and checks in with local barkeeps to see how they're doing.