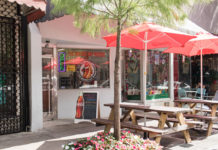 Downtown Mobile's coolest summer spot for tasty, creative hot dogs.
Rising temperatures and longer days beg us to spend time on our sun-kissed waters. By investing in a kayak, canoe or paddleboard, a bright new horizon opens up for exploration.
Shades of blush and gold transform a downtown Fairhope venue into a classic, romantic wedding.
On the heels of his most recent book, "Beast: Face-to-Face with the Florida Bigfoot," local author Watt Key talks inspiration, unusual food — in unusual places — and the unexpected pleasures of a slowed pace.
You don't have to live on the waterfront to be inspired by this Southern porch designed for lingering.
A treasured square of silk, perhaps passed down and now in the back of a drawer, finds new life as unexpected art.
Our favorite local picks for the special woman in your life.
A colorized image of Booker T. Washington on a fishing trip to Coden in 1905
1951's Miss America Yolande Betbeze cuts the ribbon on the year's Azalea Trail
Chelsea Lipford Wolf's master bathroom addition proves small spaces can pack big style.